This post may contain affiliate links. Please read my disclosure.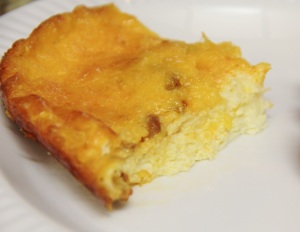 I love a good egg casserole for breakfast or brunch. I've had a few good ones, a few that were just okay, and a ton of not so good ones. I haven't been able to find a good recipe, so I decided to just come up with my own. I've been playing around with variations of this one and I think I finally have it. I'm not saying it's perfect, but it's really good. And honestly, it really isn't that spicy.
Yesterday, I hosted a Ladies Brunch. Eggland's Best provided my guests and I some eggs, other goodies, and a great reason to get together. We had a lot of egg dishes and tasty food! And, of course, I shared this recipe with everyone. I have pictures and recipes for all the other wonderful dishes that were brought, so look for those over the next couple weeks.
There were 9 moms and 12 kids in my little house and I couldn't have asked for a better crowd! Everyone shared their favorite way to enjoy eggs. How do you like YOUR eggs? Here's the run down from everyone at brunch:
deviled
spinach and goat cheese omelet
eggs benedict with hollandaise sauce
scrambled
over medium
veggie omelet
egg salad
Spicy Egg Casserole
4-7 slices white bread
1/2 lb pork chorizo
3-4 cups sharp, shredded cheddar cheese
6 eggs
1/2 teaspoon salt
1 teaspoon dry mustard
2 cups half and half or milk
Remove crusts from bread and cut slices in half. Arrange bread slices in the bottom of a 9 x 13-inch buttered baking dish. Brown chorizo, using spatula to break up. Drain and pat with paper towels. Sprinkle chorizo over bread slices and then cover with cheese..
In a large mixing bowl, whisk together eggs, salt, dry mustard, and milk until well blened. Pour egg mixture over cheese. (At this point you can cover and put in the fridge overnight, let stand at room temp for 15 minutes before baking.)
Let stand for 15 minutes. Preheat oven to 350°. Bake, uncovered for 35-45 minutes or until casserole is lightly browned. A knife or toothpick inserted into the center should come out clean. Let stand for 15 minutes after baking.
Serves 8
Disclaimer: Eggland's Best provided the egg and supplies for the Plate Date Party. Check out Eggland's Best on website, Facebook and Twitter!