This post may contain affiliate links. Please read my disclosure.
Holy Cow….hubbyman's aunt brought these to Christmas Eve supper and I couldn't stop eating them. I even managed to bring the remaining home without anyone noticing. They were so good.
Did you know that pepitas are just the inside part of a pumpkin…I figured that one out just a few months ago. I found them at Trader Joes, but places like Whole Foods has them and I bet many stores with health food sections have them too. But if you can't find them….just substitute regular pumpkin seeds.
These are an excellent snack by themselves or add to soups or salads for extra crunch…or crush them up and use as the "breading" on chicken or fish. This recipe is from The Elote Cafe Cookbook by Jeff Smeadstad.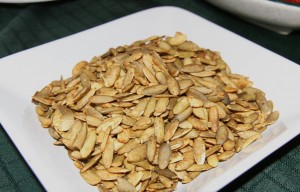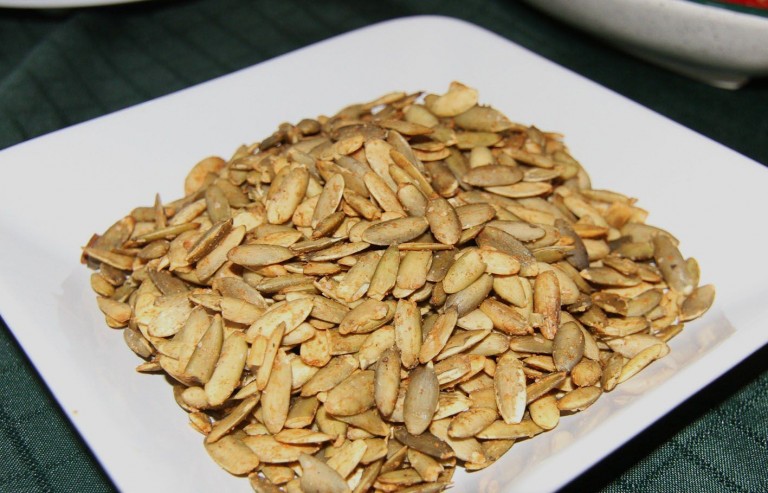 Spicy Pepitas
1 cup raw pepitas or pumpkin seeds
1/2 tsp kosher salt
1/2 tsp sugar
1/2 tsp black pepper
1/4 tsp garlic powder
1/4 tsp cumin
1 tbl hot sauce (Cholula or Franks would work)
Preheat oven to 450. Mix everything together in a bowl. Then spread the mix on a baking sheet lined with parchment or foil (for easy clean up). Bake for 5-8 minutes or until seeds are lightly toasted.