This post may contain affiliate links. Please read my disclosure.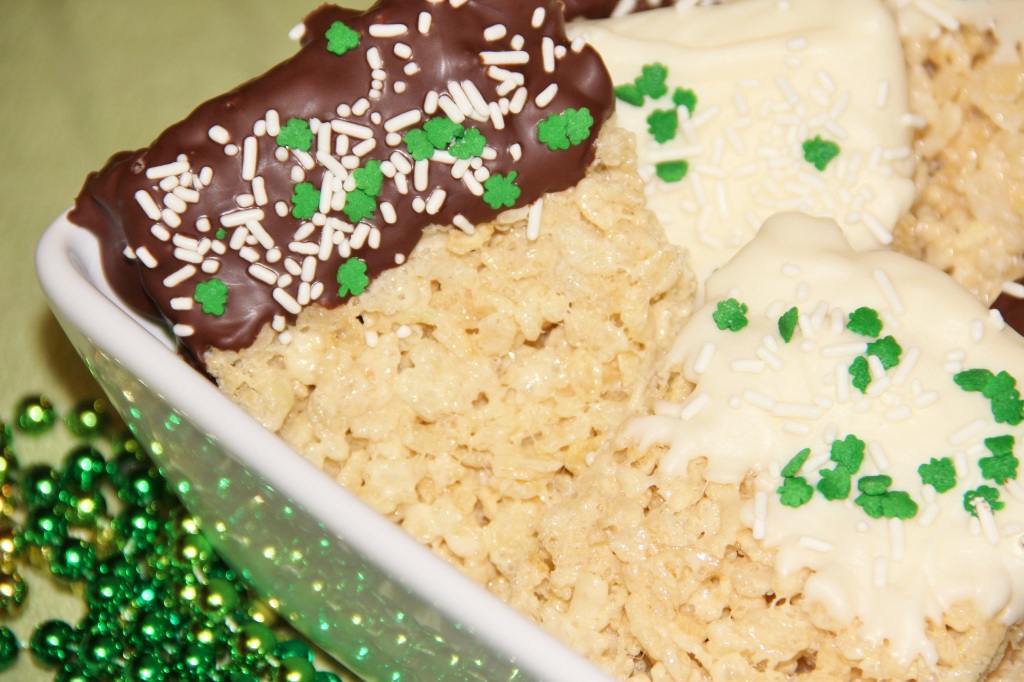 I know what you are thinking! I do, really I do! You are thinking that I post way too many Rice Krispies treat recipes. LOL! I can't guarantee this will be my last, but probably my last for awhile. I still had some ingredients left over from the last challenge that I needed to use up before it they went bad. I didn't want to make just plain treats….that's not my style. So I dug and dug through my pantry and found some chocolate chips and almond bark! Light bulb moment!!!
I made St. Patrick's Day inspired treats, but how easy are these…and so customize-able for any holiday or occasion. I'm thinking treats to match a birthday theme in my son's near future. What do you think? Aren't they adorable?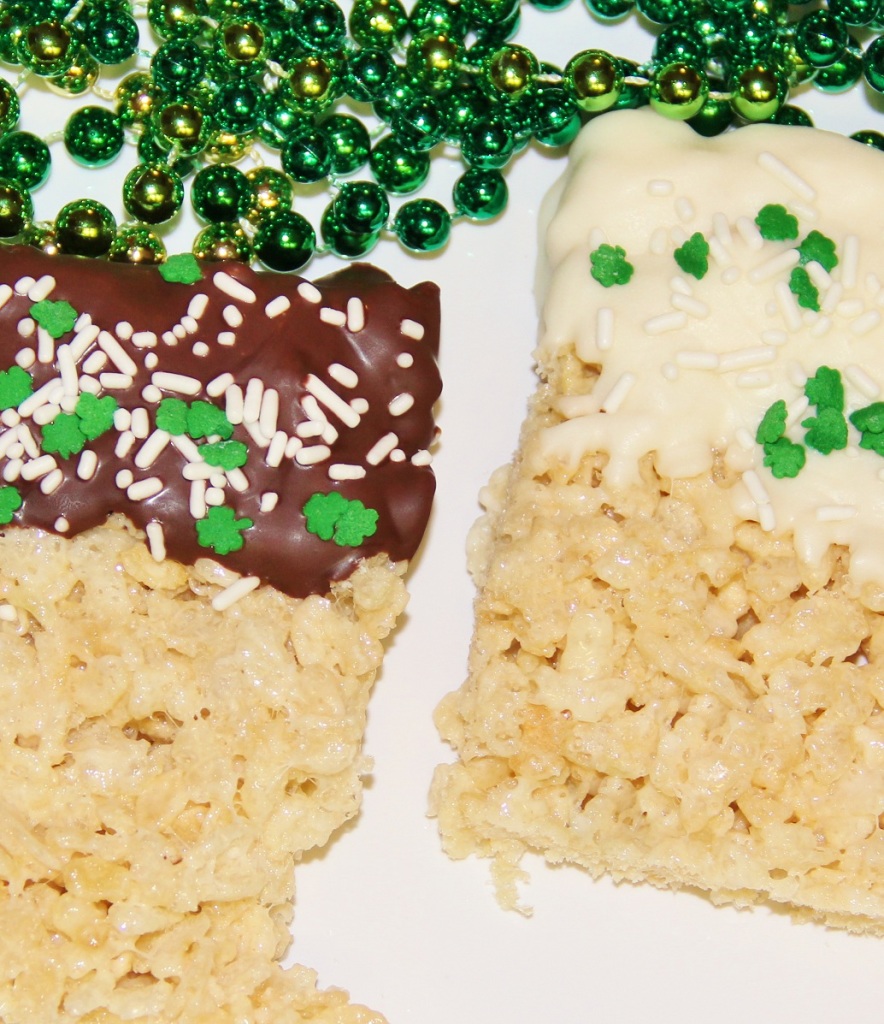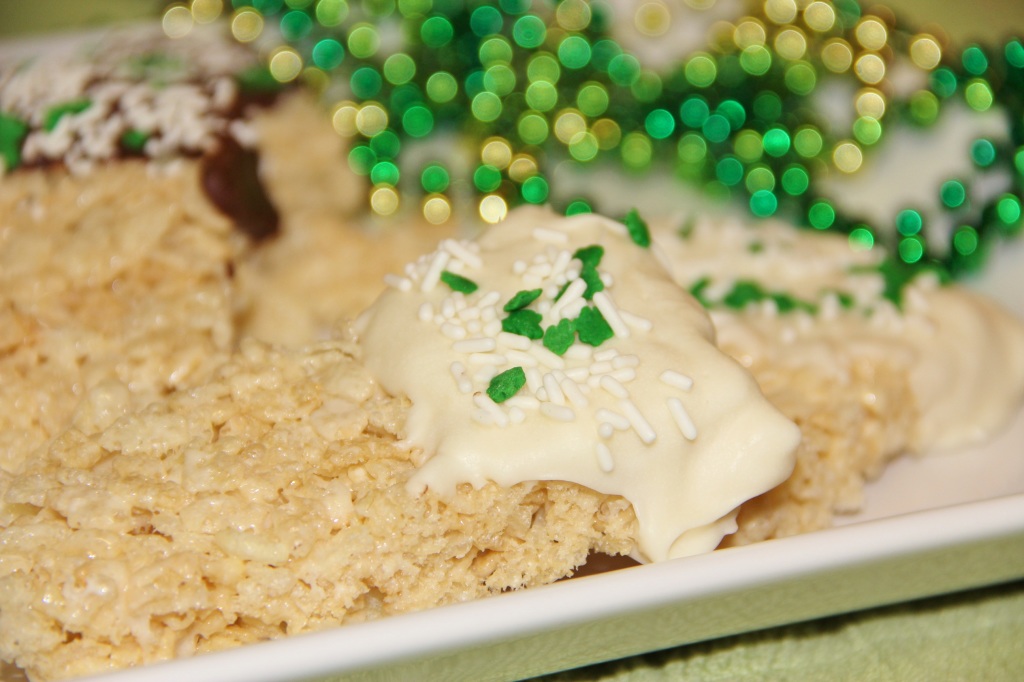 Join me on my quest as I discover the most delicious rice krispies treat recipe on the planet!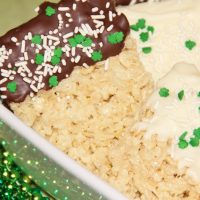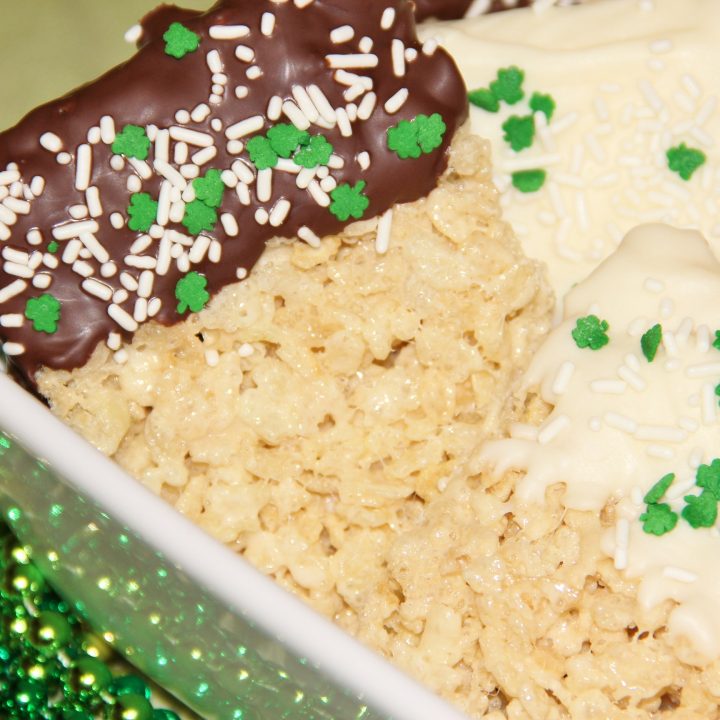 St. Patrick's Day Rice Krispies Treats
Ingredients
4 tbls butter
1 10 ounce bag of marshmallows
6 cups Rice Krispies
1 pkg almond bark
1 16oz bag chocolate chips
2 tbls shortening
holiday sprinkles
Instructions
Heat butter in a sauce pan over medium heat until melted. Add the marshmallows and stir until completely melted. Remove from heat and stir in Rice Krispies.
Make sure your hands are clean and greased well to avoid sticking. Gently press your treats into a rimmed baking sheet. Allow to cool completely and then cut into large strips (about 2 inches by 4 inches).
Add chocolate chips and shortening to a deep bowl or coffee mug. Melt according to package instructions. Add almond bark to a separate bowl and melt according to package. Dip treats in chocolate or almond bark, sprinkle with decorations, and lay flat on wax paper until chocolate is hard.
Join the Club!
Get delicious recipes delivered straight to your inbox each week! Plus learn how to take back suppertime in your home.

And get started with my NEW Take Back Suppertime 5-Day Jump Start Guide.