This post may contain affiliate links. Please read my disclosure.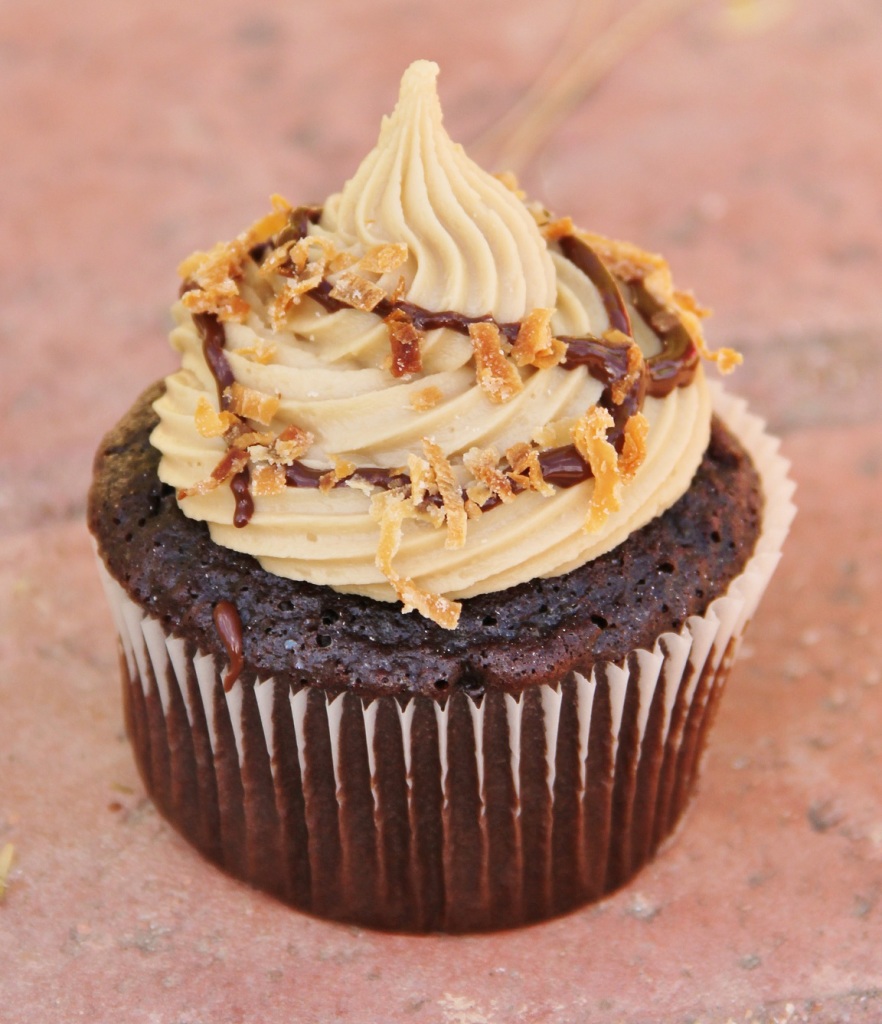 If you have been alive the last month and a half then you know it's Girl Scout cookie time! My daughter is a Brownie this year and her first cookie booth was last week. She was so excited! I usually buy way to many cookies but they freeze well, right. At least, I tell myself I will freeze them, but I usually just put them in the cabinet and we eat them in about a month.
One of family's favorite cookies are the Samoa's! They are chocolate caramel coconut bite of heaven in a cookie. Luckily, not too many cookies come in one box because we will eat the whole box in one sitting. So what did I do? I created a whole cupcake with the flavors of this two bite wonder! Oh it is delicious! The kids were telling everyone about the new cupcake mommy made…seriously, I think my daughter told her teacher at school about it and to watch for the recipe. What a sweetie!
The frosting to this cupcake is to-die-for. I joked that I would put it in the bath tub and bathe in it….yes it was that good. Hmmmm….maybe I shouldn't be telling you that. But don't say I didn't warn you.
This is not my first attempt at recreating a Girl Scout cookie into a cupcake. Have you tried my Thin Mint Cupcake? It is super easy. The Samoa Cupcake is a bit more involved, but totally worth it!!!! I suppose you could use a boxed cake mix, but why would you want to do that…cake from scratch is so easy and tastes so much better!
What is your favorite Girl Scout cookie?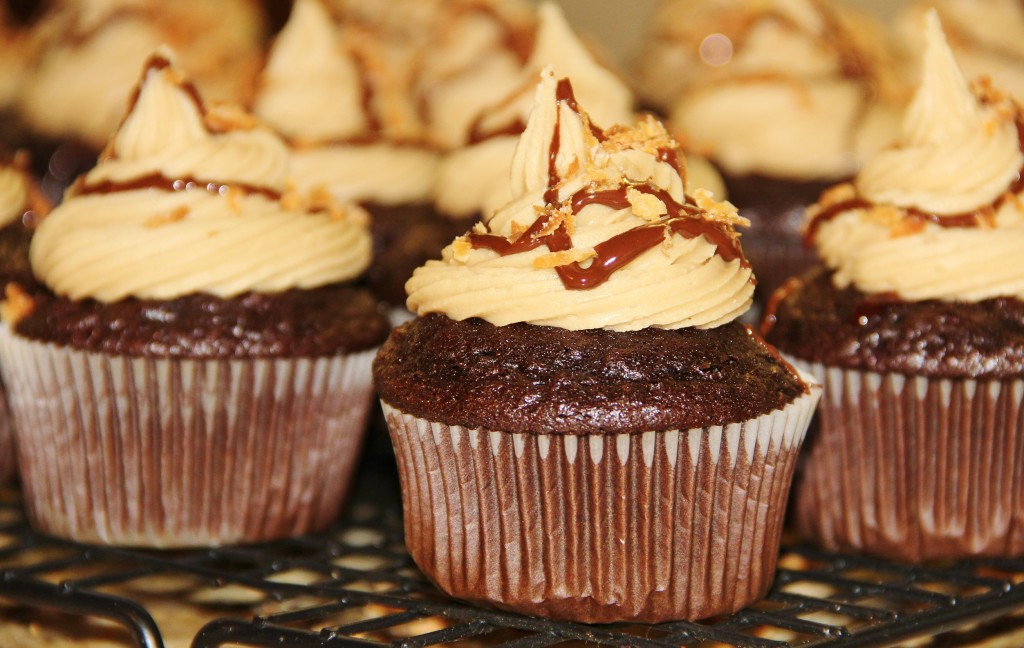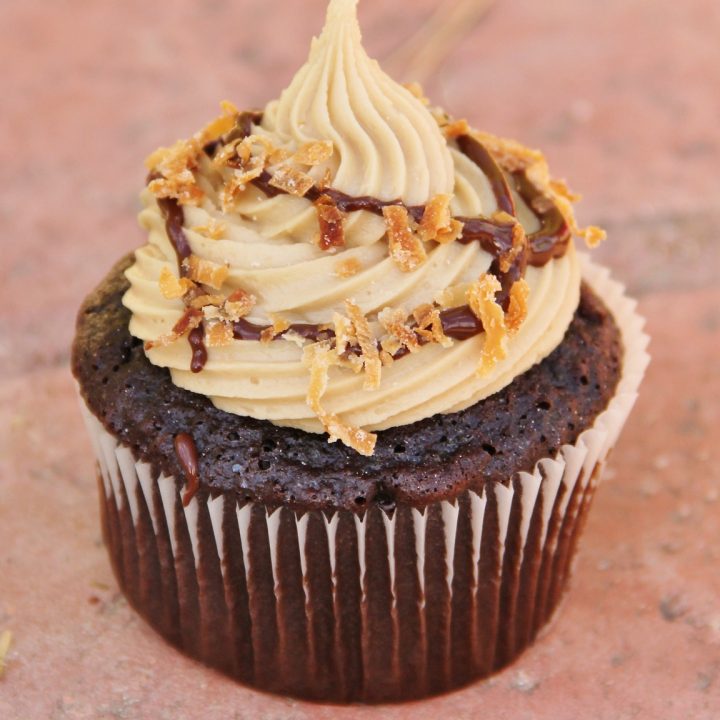 Samoa Cupcakes
Samoa cupcakes have the same flavors as the classic Girl Scout cookies!
Ingredients
Cupcakes:
2 cups sugar
1 3/4 cups all-purpose flour
3/4 cup cocoa powder
1 1/2 tsps baking powder
1 1/2 tsps baking soda
1 tsp salt
2 eggs
1 cup milk
1/2 cup vegetable oil
2 tsps vanilla extract
1 tsp coconut extract
1 cup hot coffee
Filling:
1/2 cup chocolate syrup
1/3 cup sweetened shredded coconut
Caramel Frosting:
16 tbsp (8 oz) butter
2 cups packed brown sugar
1/2 cup milk
2 teaspoons vanilla extract
4 cups powdered sugar
1 cup sweetened shredded coconut
1/4 cup milk chocolate chips
Instructions
Cupcakes
Preheat oven to 350°F. Line 24 cupcake tins with liners and lightly spray with nonstick cooking spray.
Combine sugar, flour, cocoa, baking powder, baking soda and salt in large bowl. Add eggs, milk, oil and extracts. Beat on medium speed (using a stand or handheld mixer) 2 minutes. Stir in hot coffee (the batter will be thin). Pour the batter into prepared pans.
Bake 22 to 25 minutes or until toothpick inserted in center comes out clean. Cool 10 minutes; remove cupcakes from pans onto wire racks. Cool completely before frosting.
Filling:
Combine chocolate syrup and coconut in a small bowl.
When cupcakes are cooled,scoop out the center of each cupcake with a melon baller or the big end of a large frosting tip. Saving the removed portions. Use a small spoon to fill the holes with the chocolate coconut mixture. Replace tops.

Caramel Frosting:

Melt the butter in a heavy 2-quart saucepan.
Stir in brown sugar and heat the mixture to boiling, stirring constantly. Cook over low heat for 2 minutes or until the sugar is dissolved. Add the milk and return to a boil, stirring constantly.
Remove the pan from heat and cool to lukewarm (~30-40 minutes) stirring occasionally. Stir in the vanilla extract and then gradually stir in the powdered sugar. Adjust consistency using more milk or powdered sugar, if necessary. Use while frosting is still a little warm, it will start to harden as it cools.
To toast the coconut, spread the coconut onto a rimmed baking sheet.
Toast in a 350°F oven, stirring frequently, until the coconut is an even brown color, about 10 minutes.
When the cupcakes are completely cool, frost them then drizzle with melted chocolate chips or chocolate syrup. Sprinkle with toasted coconut.

Nutrition Information:
Yield:

24
Serving Size:

1
Amount Per Serving:
Calories:

342
Total Fat:

8g
Saturated Fat:

2g
Trans Fat:

0g
Unsaturated Fat:

5g
Cholesterol:

17mg
Sodium:

245mg
Carbohydrates:

67g
Fiber:

1g
Sugar:

55g
Protein:

3g