This post may contain affiliate links. Please read my disclosure.
This post first appeared over at Real Housemoms where I'm a contributor.
Lighten up with a big bowl of STRAWBERRY & GOAT CHEESE SPINACH SALAD with an easy and delicious homemade Strawberry Vinaigrette!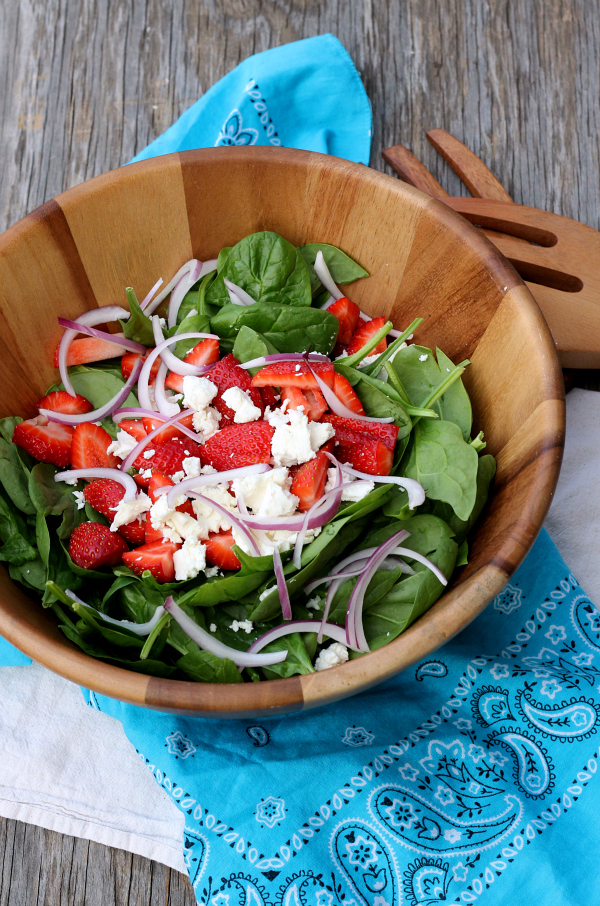 I crave salads. I crave delicious and unique salads….don't give me a salad with iceberg lettuce because I won't eat. I love creating amazing combos and making my own dressing is a must. If you've never made your own dressing you are totally missing out. It's so easy and completely customizable to what you like or have on hand.
Spinach is such a healthy option for a salad, it's full of so many good things like Niacin and Zinc plus it's a good source of Dietary Fiber, Protein, Folate, Calcium, Iron, Vitamins A, B6, C, E, and K. I could go on and on, but that gets boring. Just make this delicious Spinach salad and you'll be a happy camper.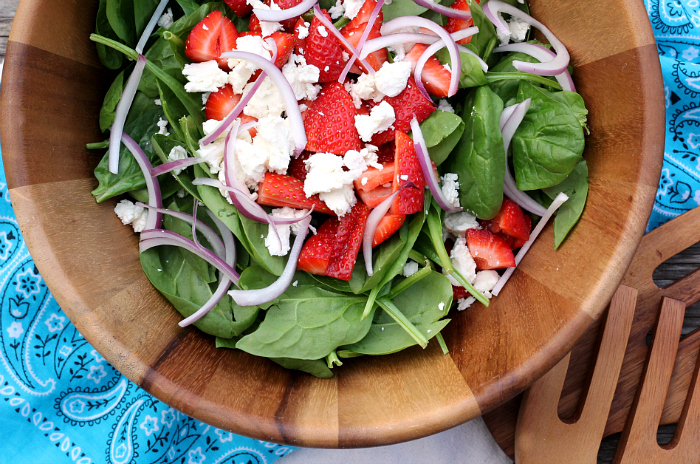 Check out more of my great salad recipes, like my Vegan Cobb Salad.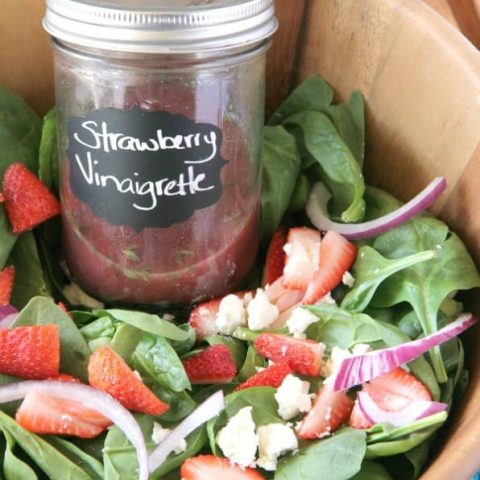 Strawberry and Goat Cheese Spinach Salad
Lighten up with a big bowl of Strawberry & Goat Cheese Spinach Salad with an easy and delicious homemade Strawberry Vinaigrette.
Ingredients
1 package pre-washed baby spinach
1 pint strawberries, tops removed and quartered
1/2 small red onion, thinly sliced
3 oz honey goat cheese, crumbled
1/4 cup strawberry jam
1/4 cup vinegar
1/3 cup olive oil
2 sprigs thyme, leaves removed
1/2 tsp kosher salt
Instructions
In a large salad bowl add spinach. Top with strawberries, onion, and goat cheese.
In a small mason jar, combine remaining ingredients (jam, vinegar, oil, thyme, and salt. Place lid and ring on jar and shake for a minute to completely combine.
Drizzle lightly over salad.