This post may contain affiliate links. Please read my disclosure.
Change up your traditional Oreo BonBons! My Strawberry Oreo BonBons are always a huge hit and they only have 3 ingredients!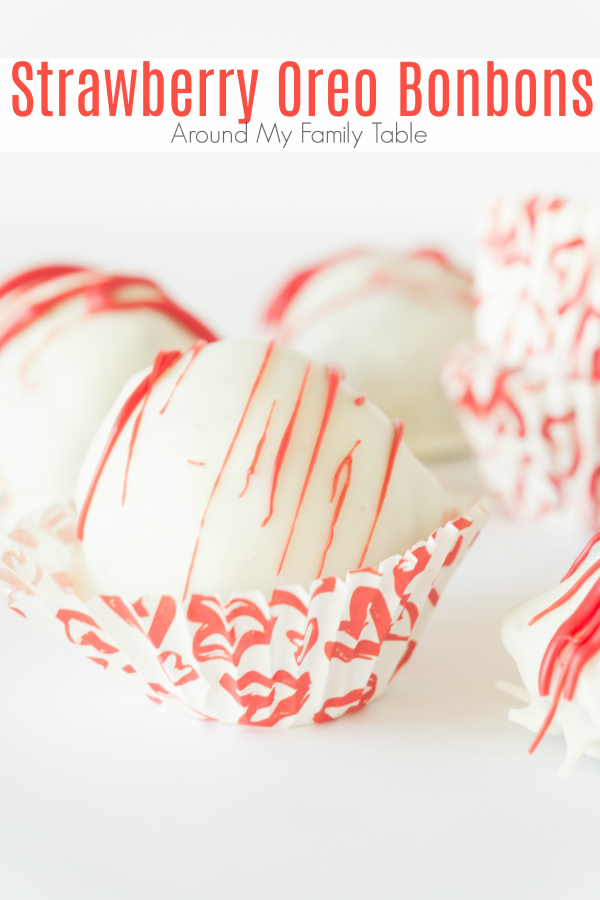 Be sure to sign up for my email list….seasonal recipes in your inbox every week!
Strawberry Oreo BonBons
The first time I had some Oreo BonBons I about died and went to heaven. Something about the flavors of the Oreos and the cream cheese and the almond bark…they go perfectly together. I've made them almost every year since I first had one 20 years or so ago at a Christmas work party.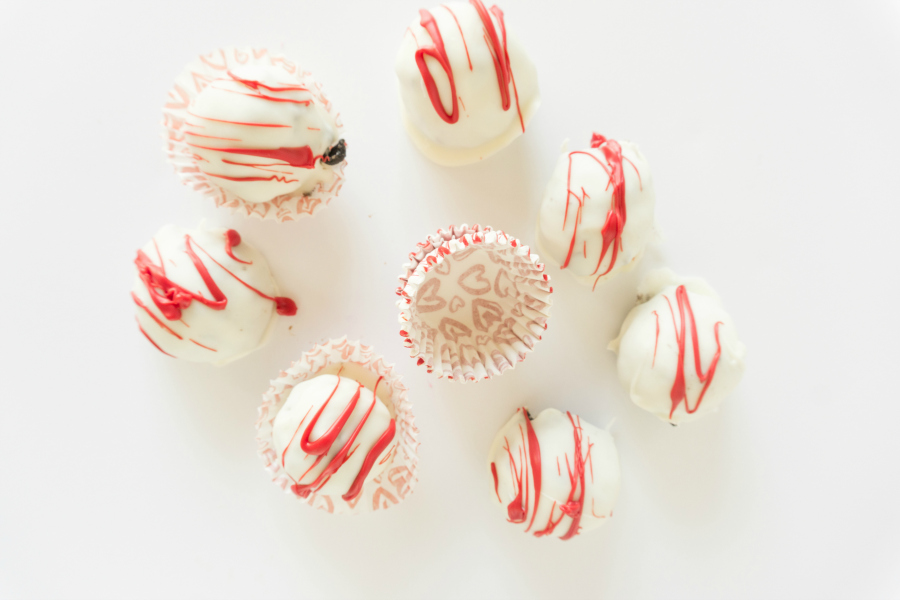 Last year, I was feeling creative. I wanted something new and different and I was craving chocolate covered strawberries. Then it hit me! Strawberry Oreo BonBons! I think I'm onto something here because they have been requested so many times by my family and friends that I just keep making them! Y'all, they are just as easy to make as the original with no extra ingredients! Shocker!
How to make Bon Bons with Oreos
Making dessert bon bons out of oreos is one of the easiest desserts that really impresses everyone. Using a food processor to crush the Oreos and incorporate the cream cheese is the only way to go, although doing it by hand can be done but it is harder and more time consuming.
I love to use a small cookie scoop to ensure all the bon bons are the same size and freezing them for an hour before dipping keeps them together. Keep the almond bark or white chocolate warm for easy dipping. No special dipping tools are needed…just two forks and some parchment paper to set the dipped Oreo bonbons on after they are coated in almond bark.
They really couldn't be easier. And dipping will get easier with practice.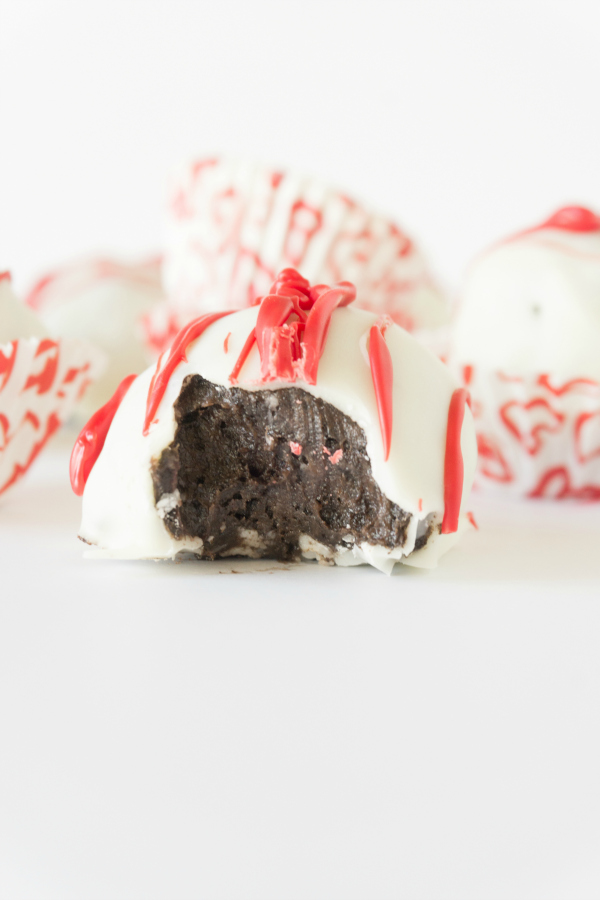 How to Make Strawberry Bon Bons
Just swap the traditional cream cheese for strawberry cream cheese (don't get the whipped variety) and there you have it! Strawberry Oreo Bon Bons! It's the strawberry cream cheese y'all! It gives these strawberry oreo balls just the right amount of flavor. If you want even more strawberry goodness, add a couple drops of strawberry extract. But I think they are just perfect without the extract.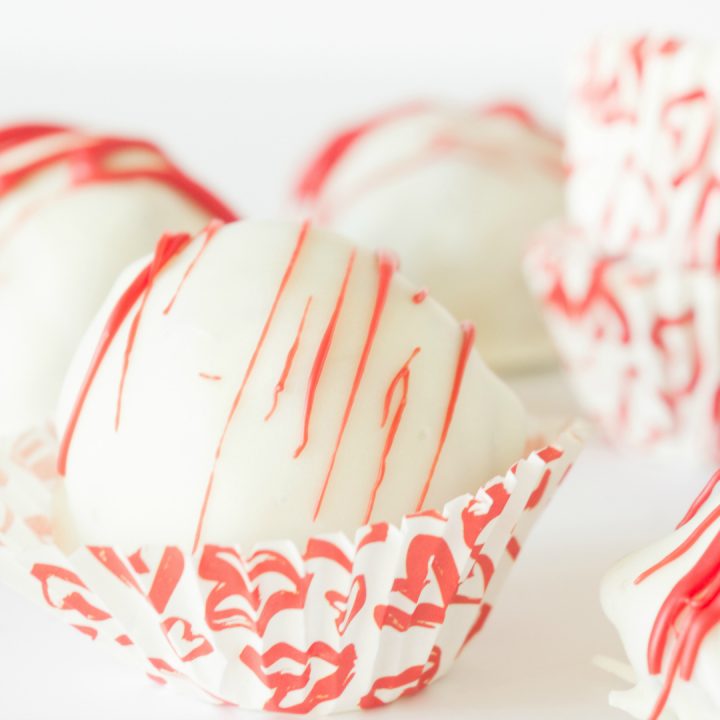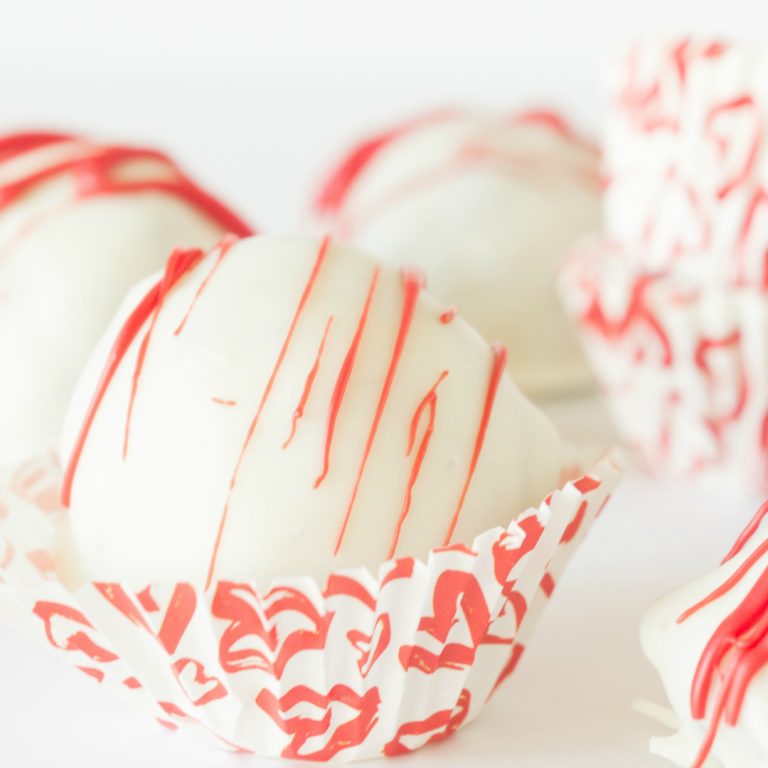 Strawberry Oreo BonBons
Total Time:
1 hour
32 minutes
Change up your traditional Oreo BonBons!  My Strawberry Oreo BonBons are always a huge hit and they only have 3 ingredients!
Ingredients
1 bag Oreo cookies
1 8 oz container strawberry cream cheese (not whipped), softened
1 package almond bark chocolate
1/2 cup red candy melts
Instructions
Crumb Oreo Cookies in food processor. Pour crumbs in large bowl. Beat in little chunks of the softened cream cheese until mixture resembles a thick paste. Add a splash of milk or heavy cream if needed.
Use a small (size 60) cookie scoop to scoop out mixture onto a pan lined with parchment paper (or roll into 1 inch sized balls). Place in freezer for 30 minutes.
Melt almond bark in the microwave in 30 second bursts, stirring every 30 seconds until the bark is smooth and melted. Dip frozen oreo balls into melted almond bark and return to parchment paper. Heat red candy melts and drizzle over the balls. Place in the refrigerator for about 1 hour to cool and harden and then enjoy. Store in an airtight container in the refrigerator.
Nutrition Information:
Amount Per Serving:
Calories:

120
Total Fat:

9g
Saturated Fat:

5g
Cholesterol:

10mg
Sodium:

38mg
Fiber:

1g
Sugar:

10g
Protein:

1g