This post may contain affiliate links. Please read my disclosure.
75 of the best Nutella Dessert Recipes all in one place! This list includes all of my favorite Nutella desserts that are sure to satisfy your chocolate cravings.
Be sure to sign up for my email list….seasonal recipes in your inbox every week!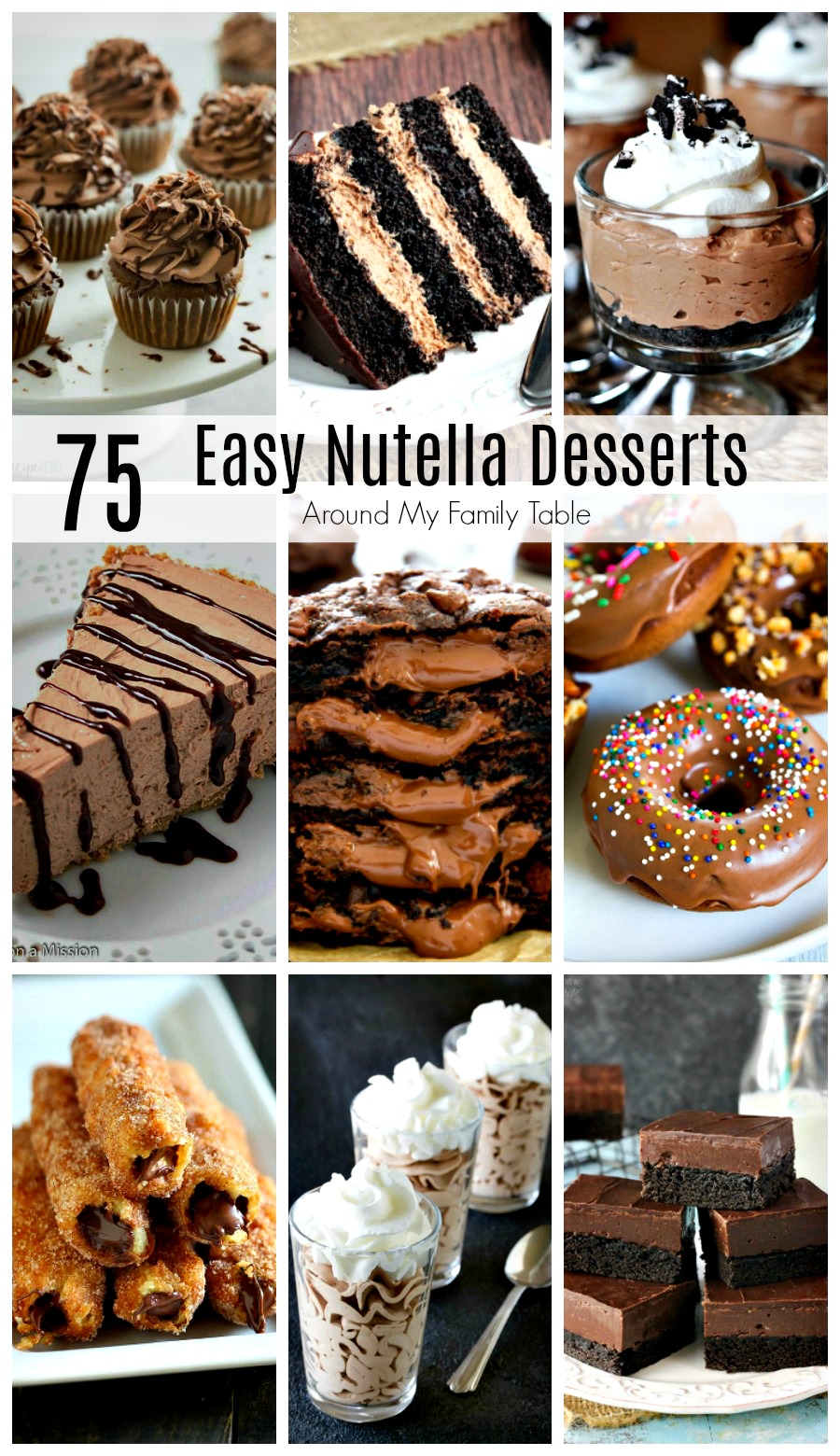 Nutella Dessert Recipes
I first heard of Nutella about 10 years ago when my little niece came to visit for a week. She was only about 3 years old at the time, but she definitely knew what she liked. Every day, after her nap, she would ask me for a snack of toast with Nutella spread on it. I can still remember my first taste when she offered to share her special snack with me. It was so creamy and rich with the perfect blend of chocolate and hazelnut. I fell in love with it right then! And I made a point to make Nutella toast with her every afternoon that week. The memory of the chocolate-y smile on her face still makes my heart happy.
Over the years, we've made a special tradition of cooking yummy treats together whenever she visits. Of course, our preferred ingredient is still always Nutella. On occasion, we still love sharing a simple piece of toast spread with the smooth, chocolatey goodness, but we've experimented with so many different types of easy Nutella desserts, including cookies, pies, crepes, and truffles. And we haven't been disappointed yet. Nutella just always seems to make some of the best desserts that my whole family loves. They are incredibly easy, but turn out amazing.
Of course, my all-time favorite way to eat Nutella is as a soft, creamy frosting topped on a decadent dark chocolate cake. Absolutely to die for! But I wouldn't pass up any of these tasty treats, and I'm sure you will feel the same way when you see how lucious they look.
75 Nutella Dessert Recipes
Nutella Fritters
Oops Nutella Truffles By Accident
Nutella Buddies
Chocolate Cupcakes with Nutella Frosting
Shortbread Nutella Bites
Nutella Blended Coffee Drink
Flourless Nutella Cookies
Nutella No Bake Cookies
Braided Nutella Bread
Nutella Mousse
Nutella Fudge
Nutella Stuffed Crepes
No Bake Nutella Cheesecakes
3 Ingredient Nutella Truffles
Nutella Cool Whip Popsicle
No Bake Nutella Pie
Nutella Chocolate Cake
Nutella Frozen Yogurt
Nutella Lava Cookies
Fluffy Nutella Buttercream Frosting
Nutella Thumbprints
Nutella Shortbread Hearts
Mocha Nutella Cupcakes
Nutella Smores Bars
Nutella Tart With Toasted Hazelnut Crust
Puff Pastry Flowers
Creamy Nutella Dip
Nutella Biscotti Cookies
Baked Nutella Doughnuts Nutella Glaze
Nutella Swirl Loaf Cake
Nutella and Strawberry Wantons
Nutella Cream Cheese Crescent Rolls
Homemade Nutella Oreos
Nutella Fudge
Nutella Pie
No Bake Nutella Eclair Cake
Nutella Cinnamon Rolls
Nutella Brownie
No Bake Nutella Bars
Nutella Deviled Strawberries
Super Easy Nutella Mug Cake
Nutella Crunch Dessert Shooters
Sugar Free Chocolate Nutella Truffles
Nutella Poptarts
No Bake Nutella Oreo Icebox Cake
Strawberry Nutella Turnovers
Nutella Stuffed Churros
Nutella Muffins
Nutella Fudge Brownies
Nutella Scones
Nutella Lava Cookies
Nutella Rice Krispie Treats Gluten Free or Not
Nutella Brioche Braid
Strawberry Nutella Pizza
Nutella Pumpkin Tiramisu
Nutella Milkshake
Nutella Stuffed Peanut Butter Cookies
The Best Chocolate Nutella Poke Cake
Nutella Dipped Frozen Bananas
Softbatch Cream Cheese Chocolate Chip Cookies
Nocciolato Hazelnut Cream Pie
Mexican Nutella and Banana Empanadas
Nutella Cream Puffs
Chocolate Nutella Dutch Baby
Baked Pumpkin Nutella French Toast
Nutella Berry Bruschetta Recipe
Pumpkin Nutella Whoopie Pies
Nutella Crumble Cake Bars
Twisted Nutella Danish
Chocolate Macarons with Nutella Mousse
Double Chocolate Nutella Sandwich Cookies
Nutella Pudding Cups
Nutella Pudding
Nutella Pudding Strawberry Tart
Nutella Chia Energy Bites
Nutella Mousse Cookie Cups
Nutella Peanut Butter Brownies
Chocolate Hazelnut Candy Bars