This post may contain affiliate links. Please read my disclosure.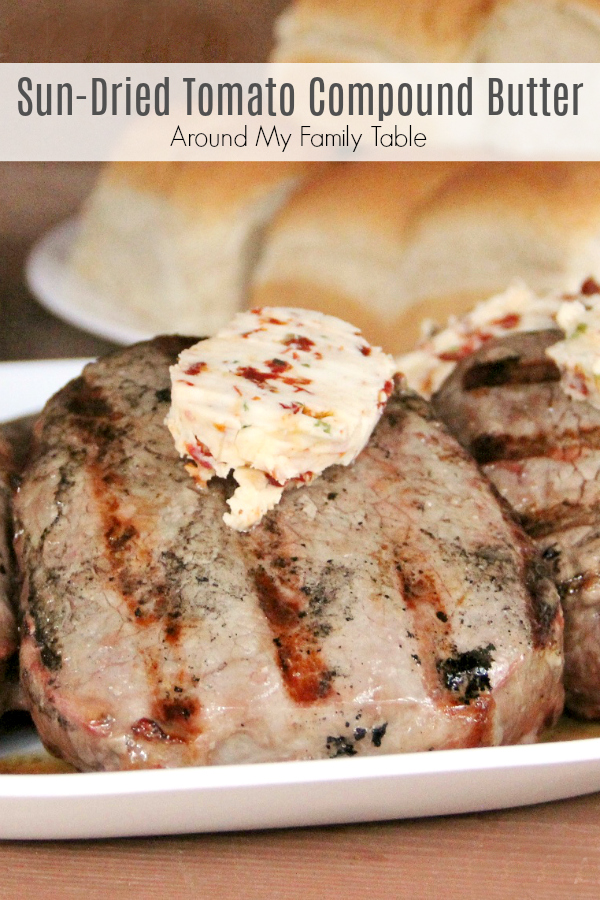 Add flavor to summer meals by making your own compound butter, like my Sun-Dried Tomato Butter. Plan ahead because it needs to chill, but it only has 4 simple ingredients!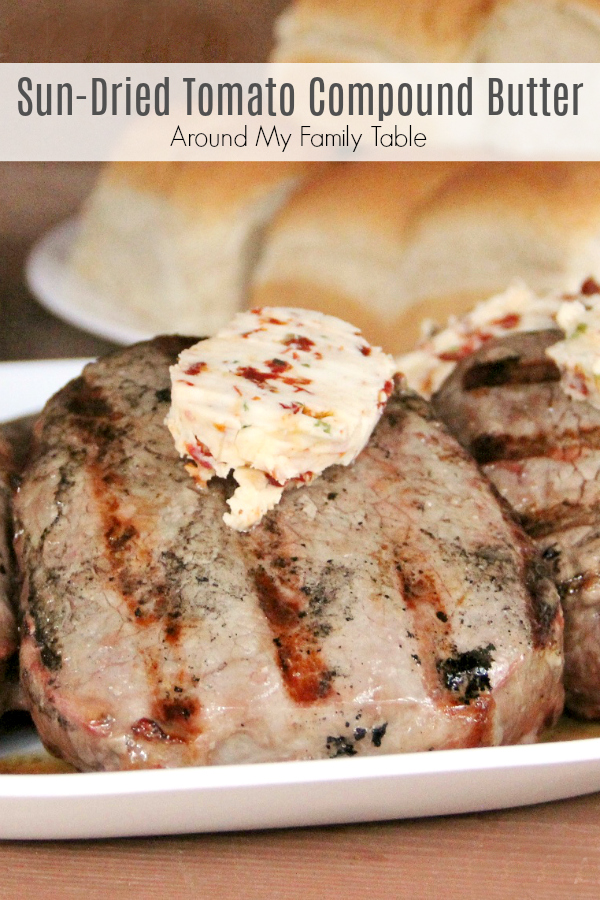 Once you start making compound butters, there really is no going back to plain butter. It's so fun to change up a recipe with a simple addition of a flavored butter. I'll make up a whole bunch of them and then store them in the freezer in smaller packages (about the size of half a stick) until I'm ready to use one.
Adding a flavored butter to corn on the cob is such an easy way to change up your side dish. Use them on steaks, chicken, on side dishes, vegetables, but my favorite is on corn on the cob. Use a corn butter spreader to butter the corn and it will keep hands clean and makes sure there is the perfect amount of butter on every bite of corn.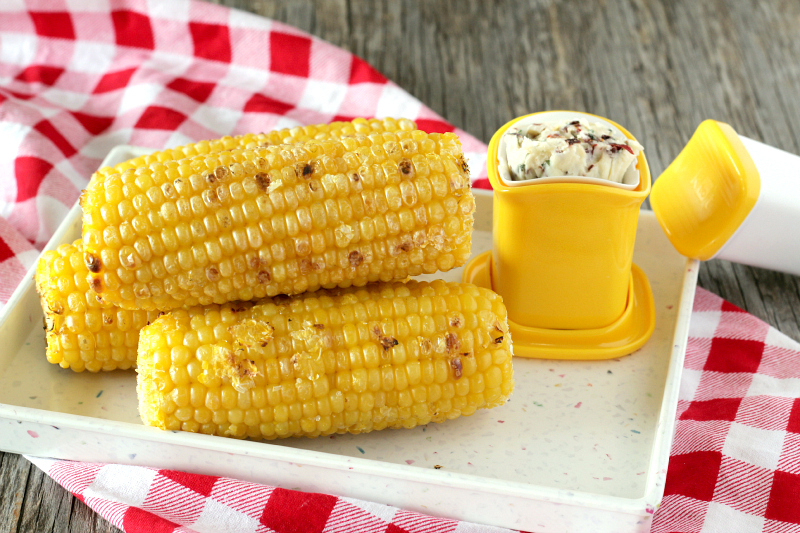 How to Make a Compound Butter
Bring a stick of butter to room temperature. Make sure the butter's softened and place in a bowl or food processor. Add ingredients like sundried tomatoes, herbs, garlic, cheese, fruits, etc. Combine with a heavy duty wooden spoon or gently pulse in the food processor until combined. Dump out on a large piece of plastic wrap. Roll up plastic forming the butter mixture into a log and twist to seal. Place in refrigerator to firm up for use.
How Long Does Compound Butter Keep
Compound butters will last a week or so in the refrigerator. It's not the butter that will go bad, but the extra ingredients added to the butter. I tend to make compound butter the morning I plan to use or the day before.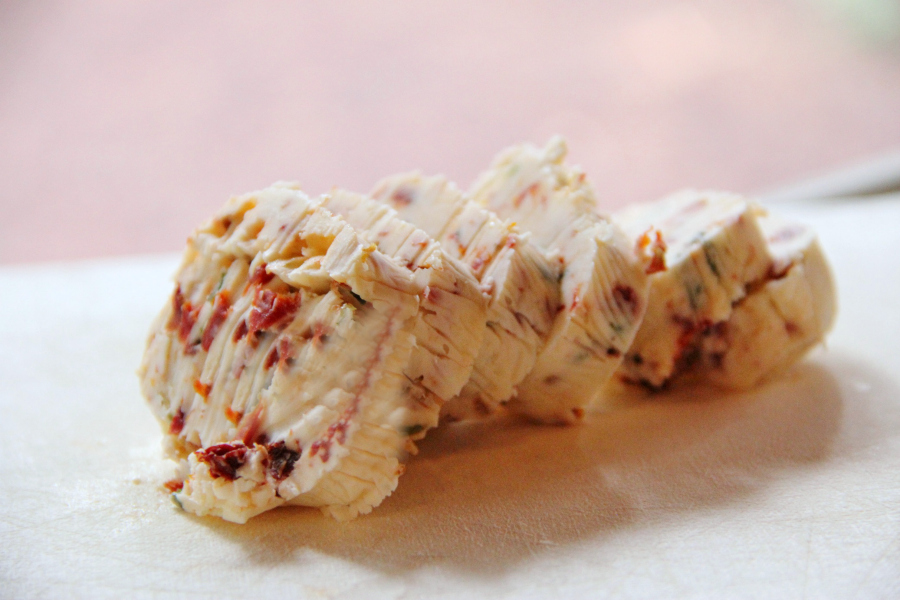 How to Freeze Compound Butter
Yes, compound butter can be frozen. After forming butter into a log shape using plastic wrap. Place wrapped butter into a freezer safe zip top bag. Squeeze out all the air and place in the freezer. Compound butter will last 2-3 months in the freezer, just be sure to leave time for butter to thaw in the refrigerator before use.
How to Use Compound Butter
Using compound butter is so easy. Use it anywhere you'd use butter, but want an extra bit of flavor. I love it on steak, chicken, corn on the cop, roasted (or grilled or steamed) veggies, fish, etc. The sky's the limit.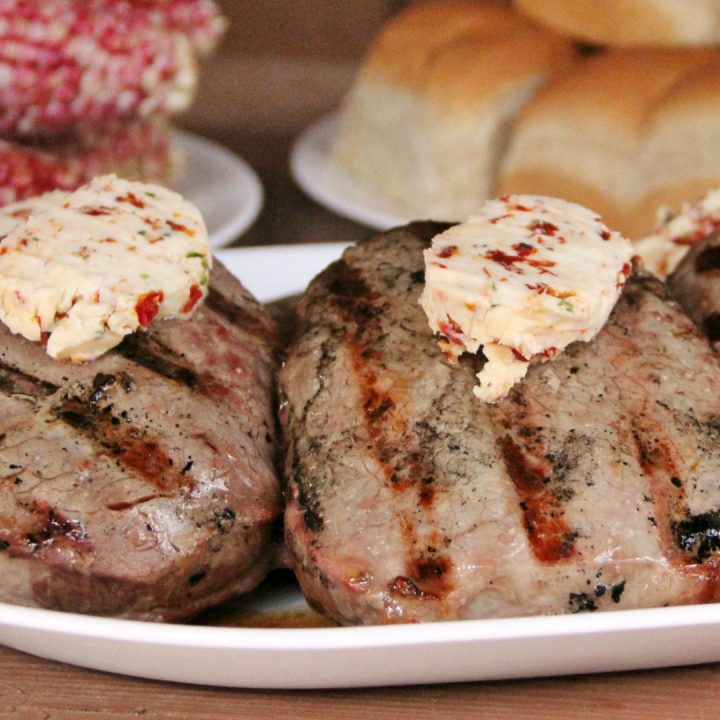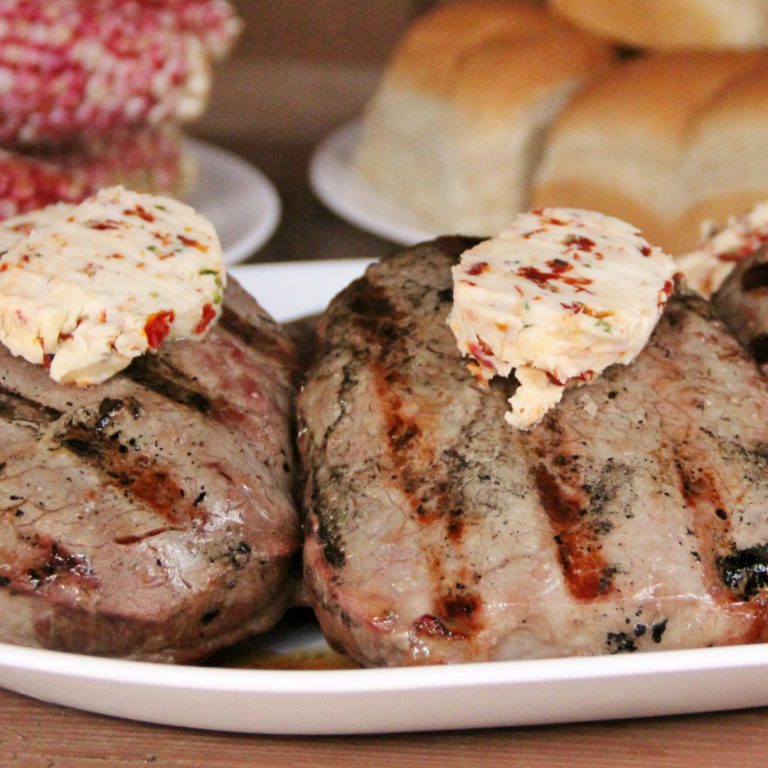 Sun-Dried Tomato Butter
Total Time:
4 hours
5 minutes
Sun-Dried Tomato Butter. Plan ahead because it needs to chill, but it only has 4 simple ingredients!
Ingredients
1 stick (1/2 cup) salted butter, softened
2 tablespoons roughly chopped sun-dried tomatoes in olive oil
1 teaspoon finely minced garlic
1 teaspoon finely minced fresh basil
plastic wrap
Instructions
In a small bowl, combine all ingredients until well combined.
Layout at 6-10 inch long piece of plastic wrap and scoop butter out of bowl into the center of plastic wrap. Roll up plastic wrap, forcing the butter into a log shape. Twist over ends to shut. Place in freezer for several hours or the refrigerator for at least hours to firm.
If frozen, allow it to thaw in the fridge until ready to use. Add to pasta, burgers, steaks, rolls, etc.
Nutrition Information:
Yield:

8
Serving Size:

1 tablespoon
Amount Per Serving:
Calories:

148
Total Fat:

14g
Saturated Fat:

8g
Trans Fat:

0g
Unsaturated Fat:

5g
Cholesterol:

30mg
Sodium:

135mg
Carbohydrates:

6g
Fiber:

0g
Sugar:

0g
Protein:

1g