This post may contain affiliate links. Please read my disclosure.
These 60 Sensational Summer Salads are perfect for those hot summer days when you need an easy side dish or a light meal.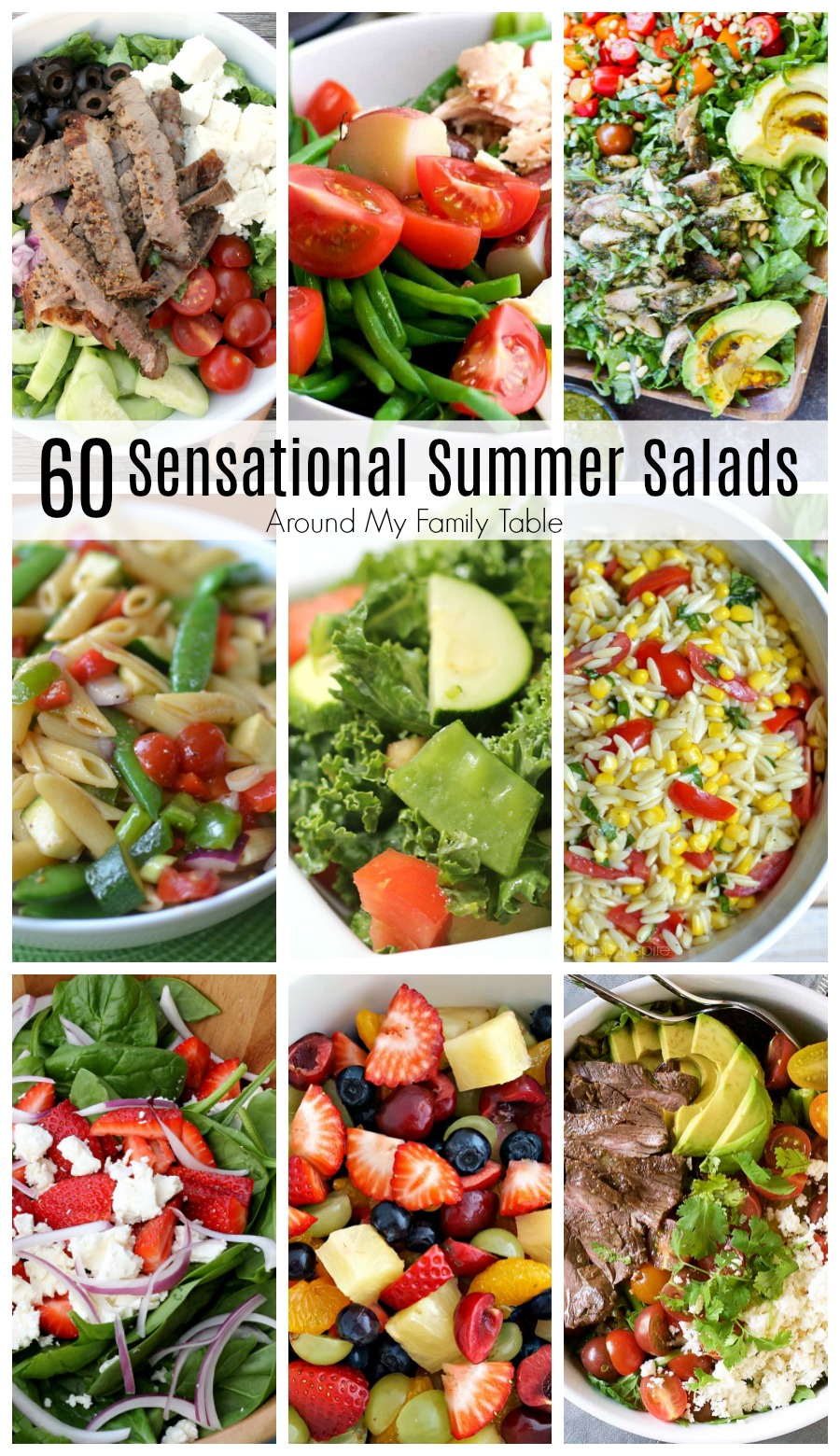 Sensational Summer Salads
Summer is one of the best times of the year! Not only do we get to be sleep in, be lazy, not worry about a schedule, but the produce and farmers markets are amazing. How can you not want to make a big summer fruit salad, cucumber salad, broccoli salad, caesar salad, corn salad, or my favorite potato salad?!?! I've been know to just serve a hearty salad for dinner in the summer because it's just too hot to turn on the appliances in the kitchen.
My other favorite parts of summer is just hanging out with friends and family at all of the backyard barbeques, block parties, pool parties, and potlucks. We drag out the extra chairs and enjoy a little fellowship while dining on grilled burgers, brats, and ribs. It's probably the most American summer pastime, but oftentimes we just get stuck into taking the same ol' sides. You know the ones I'm talking about; you see them at every barbeque. But it can really add to the fun to explore new tastes and new combinations. How about trying a Dragon Fruit Salad instead of your mom's old jello salad recipe? It's just as cool and refreshing, just as easy to throw together, but tastes so much better.
Summer Salads
On these dog days of summer, when the temps are rising and the sun is beating down on me, I really don't want to serve a heavy, hot side dish. I much prefer a light salad, whether it is a fresh green salad, a cool fruit salad, or an easy pasta salad. Even better, in my opinion, is one easy dish with both a protein and a veggie, especially at lunchtime. Over the last couple of weeks, my family has asked several times for my Strawberry Almond Chicken Salad. It makes a great healthy lunch that is easy to prepare. And best of all, everyone absolutely loves it.
This summer, I want to try a shrimp salad, avocado salad, tomato salad, and even a chopped salad (which happens to be my favorite when we go out to eat).
I've put together a list of 60 summer salads to share with you. You will be sure to find tons of delicious, new salads to try.
Dragon Fruit Salad
Blackberry Nectarine Salad
Strawberry Almond Chicken Salad
Strawberry Goat Cheese Spinach Salad
Steak and Feta Salad
Tex Mex Taco Salad
Vegan Cobb Salad with Honey Poppy Seed Vinaigrette
Muffaletta Salad
Summer Squash Zucchini Tomato Salad
Summer Salad
Summer Berry Salad
Pressure Cooker Pasta, Cheese, and Peas Summer Salad
Easy Summer Couscous Salad
Quick Cabbage Coleslaw
Easy Summer Chicken Salad
Tzatziki Salad
Summer Berry Burrata Salad
Summer Fruit Salad with Cinnamon Honey Syrup
Strawberry Avocado Salad with Poppy Seed Dressing
Zesty Cucumber Ranch Salad
Fresh Summer Vegetable Pasta Salad
Summer Vegetable Pasta Salad
Summer Kale Salad
Summer Fruit Salad with Honey Lemon Dressing
Chicken Salad with Grapes
Summer Veggie Pasta Salad
Summer Tomatoes Panzanella Salad
Summer Chopped Salad with Honey Lime Vinaigrette
Colorful Summer Squash Salad
Summer Pasta Salad with Pineapple Dressing
Carrot Salad
Apple and Tomato Arugula Salad
Pressure Cooker Summer Picnic Potato Salad
Rainbow Buckwheat Salad
Zesty Summer Pasta Salad
Easy Salad Nicoise
Bacon Bowtie Pasta Salad
Asian Cold Noodle Salad
Roasted Orzo Pasta Salad
Indian Cucumber Peanut Salad
Dole Summer Ambrosia Salad
Summer Watermelon Jicama Salad
Summer Veggie Pasta Salad
Tastes Like Summer Fruit Salad
Creamy Pea Salad
Cilantro Lime Shrimp, Avocado, Chickpea Salad
Refreshing Cucumber Salad
Creamy Broccoli Salad
Refreshing Mango Salad
Grilled Sweet Potato and Wilted Kale Salad
Southwest Steak Salad with Spicy Avocado Dressing
Carne Asada Steak Salad with Mojo Dressing
Steak Salad with Cilantro Jalapeno Pesto
Chimichurri Steak Salad
Grilled Chicken Garden Salad with Homemade Ranch Dressing
Chicken Cobb Salad
Pesto Chicken Avocado Salad
Grilled Chicken Chimichurri Salad
Salad with Nuts, Feta, and Cranberries (Two Ways)