This post may contain affiliate links. Please read my disclosure.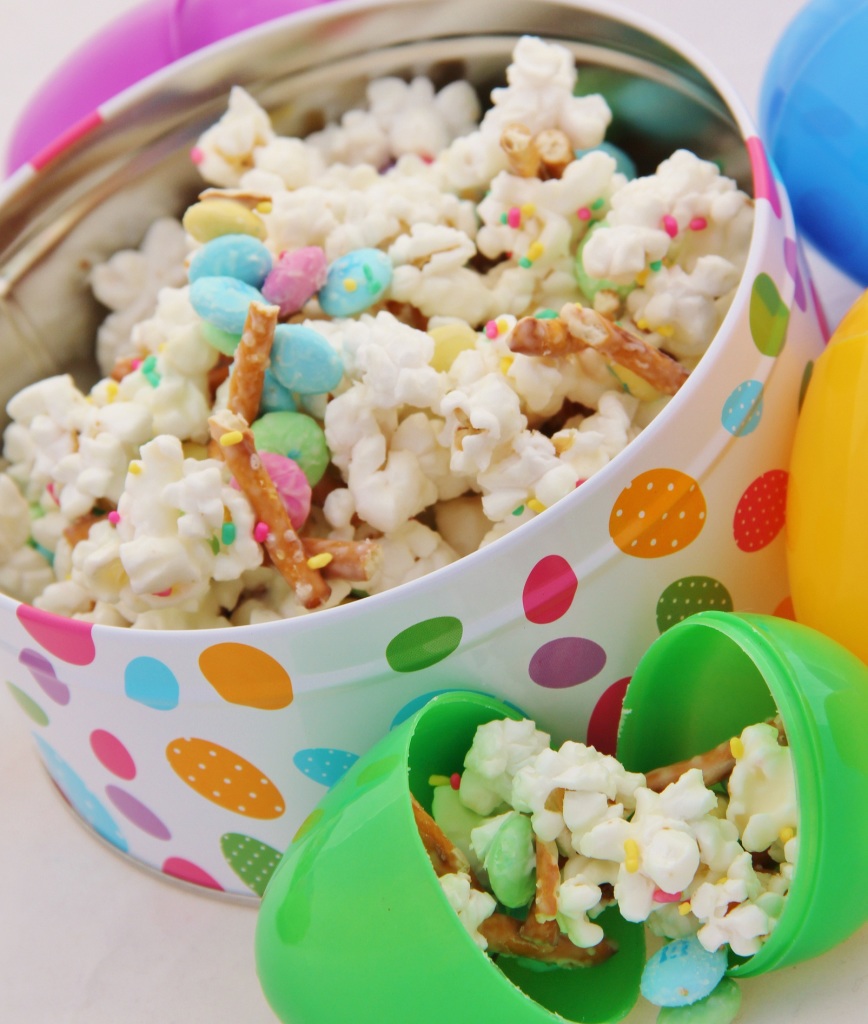 I just love the colors of Spring and Easter. The pastels this time of year are so pretty. I don't normally have a reason to buy the colorful candies, but I needed a snack for a bunch of kids for a road trip…so I thought it would be fun. My kids were in a separate car, so it was easy to make a different version for them and there would be no hard feelings. If you don't do dyes, then the plain version is just as good…really there was no difference!
My niece and nephews loved the mix and gobbled it up right away. Okay, I knew they would! It's salty, it's sweet, it's crunchy, it's colorful…all the best rolled into one little snack. Notice I didn't say healthy. But we can pretend, right? All that plain popcorn and pretzels….at least I tell myself that it makes up for all that sugar. Besides, the calories don't count if you're on a road trip!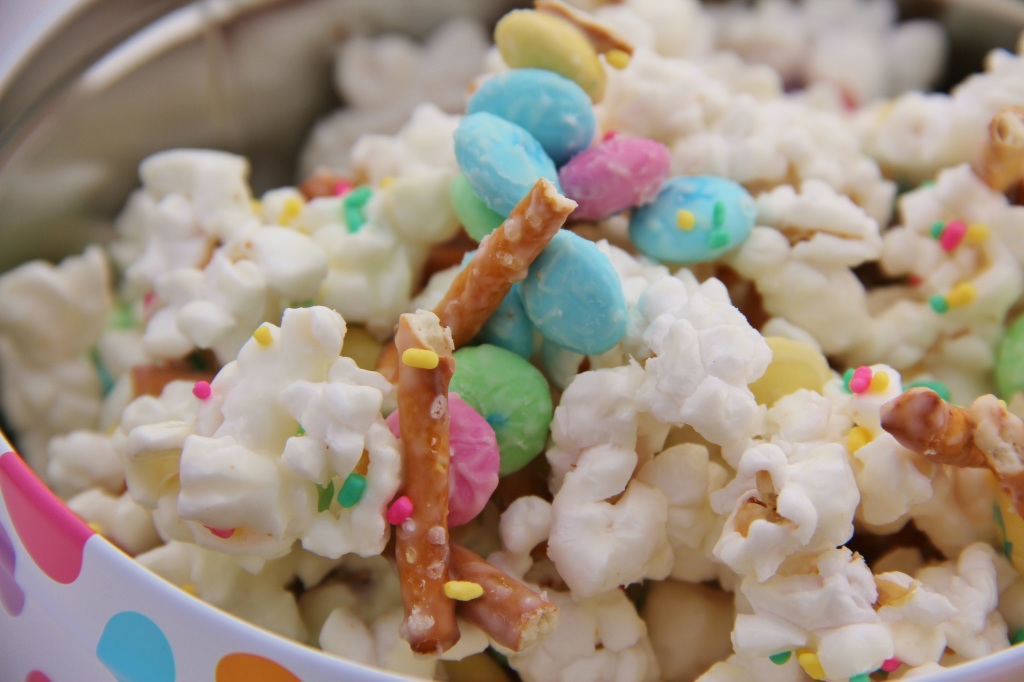 This tasty little treat can easily be made for just about any holiday since M&Ms are made in all different colors for the holidays. Or buy the single color bags and make a great party gift that matches your party colors.
To make these dye free: replace the M&Ms with chocolate chips and use dye-free sprinkles or omit the sprinkles all together (they're just for show anyway).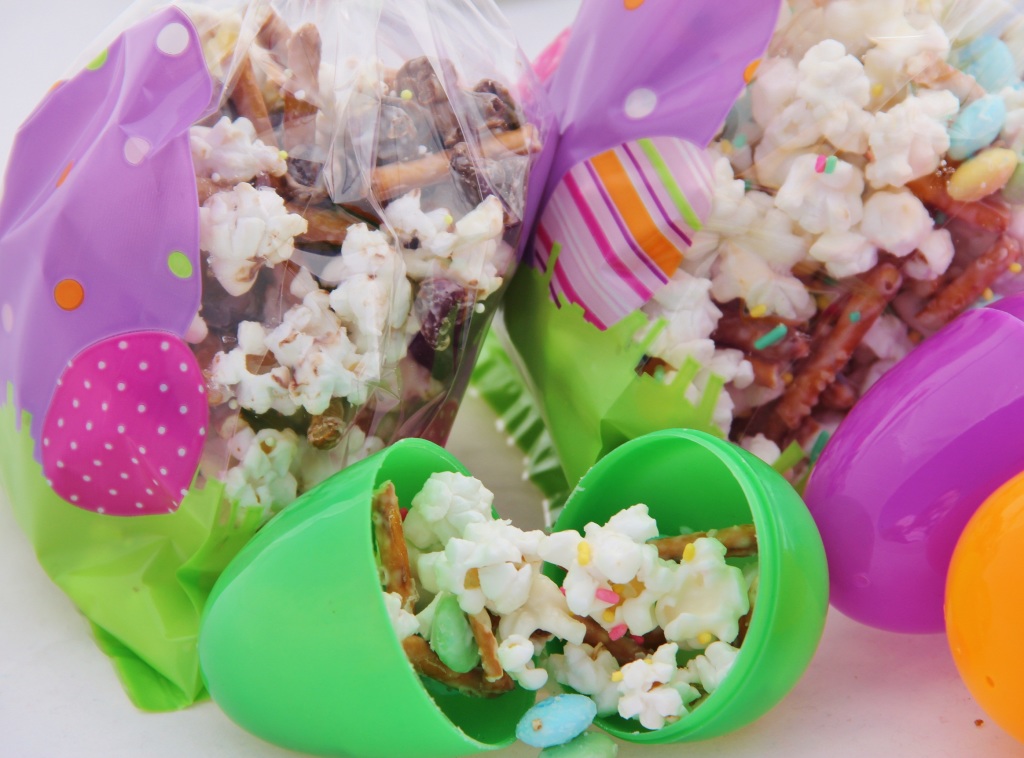 Looking for more recipes with almond bark? Check out my White Chocolate Dipped Strawberries! They are gorgeous.
Sweet and Salty Spring Mix
Ingredients
1 bag popcorn, popped (non-buttery type is best)
7 oz. almond bark
1 bag Easter M&Ms
pretzel sticks, broken into small pieces
colorful sprinkles, if desired
Instructions
Place the popped popcorn in a large bowl with the broken up pretzels and M&Ms. In a medium, microwave safe bowl, heat the almond bark in the microwave in 30 second intervals, stirring after each time, until melted and smooth (follow instructions on package for melting).
Allow to cool for about 30 seconds, you don't want the M&Ms to melt. Drizzle the almond bark over the popcorn mixture and stir to coat. The pretzels and M&Ms tend to sink to the bottom, so stir well until everything is evenly coated and well combined.
Spread out on a large piece of wax paper, top with sprinkles (if desired) and let cool. Break into pieces and serve in a large bowl or package in individual holiday bags.
*Note: use chocolate chips instead of M&Ms and omit the sprinkles for a dye free version (or find dye-free sprinkles).
Nutrition Information:
Amount Per Serving:
Calories:

1385
Total Fat:

109g
Saturated Fat:

14g
Cholesterol:

7mg
Sodium:

31mg
Fiber:

26g
Sugar:

39g
Protein:

44g
FREE Resurrection Cookie eBook
Add your information to subscribe to the weekly newsletter filled with delicious, seasonal recipes and you'll get the Resurrection Cookie eBook delivered to your inbox.