This post may contain affiliate links. Please read my disclosure.
Out of necessity, I had to come up with a Tex-Mex rice that had no tomatoes or citrus in it. So this is what I came up with.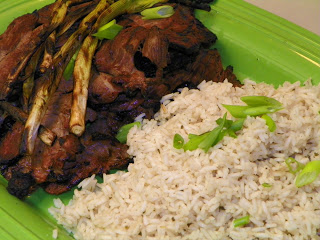 It has a very mild flavor, so it goes nicely as a side dish to almost any Tex-Mex meal. I served it with Carne Asada….one of our favorites. I need a good recipe for Carne Asada, so for now Hubbyman just hits one of the local Carnicerias and gets it pre-made. Easy!
Tex-Mex Rice
1 c rice
1 1/2 c water
2 tbls olive oil
1/4 tsp onion powder
1/4 tsp cumin
1/2 tsp garlic powder
1/2 tsp dried oregano
salt to taste
In a medium sauce pot, bring water to a boil. Add remaining ingredients and cover. Reduce heat and simmer for 10-20 minutes until rice is done. Stir gently with a fork to fluff.