This post may contain affiliate links. Please read my disclosure.
I love this easy (no ice cream machine needed) Tiger's Blood Sorbet. It's made with only 3 simple ingredients, including tons of fresh fruit!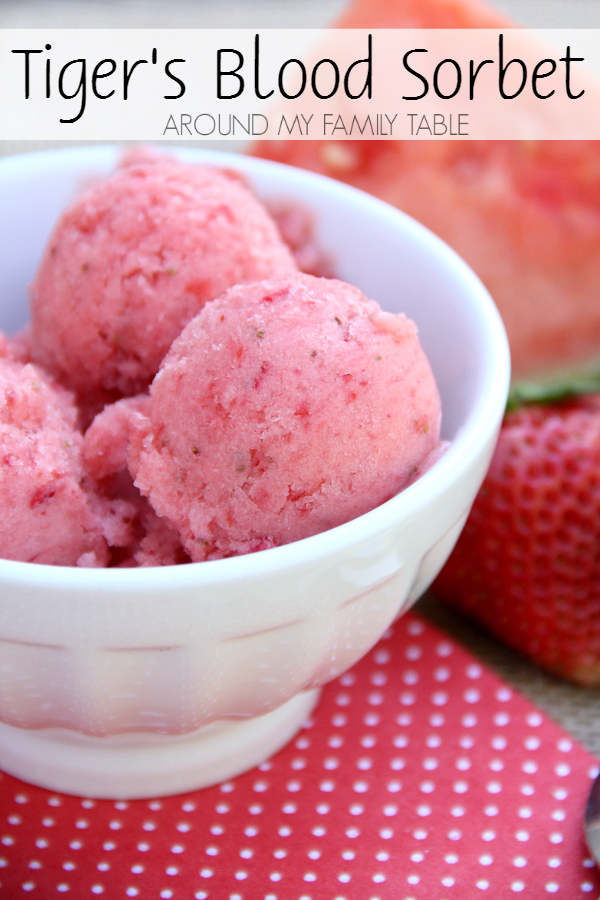 What is Tiger's Blood?
Tiger's blood flavored treats are a mixture of strawberry, watermelon and coconut. It took me years to figure that out, but now that I know I just can't believe I didn't figure it out sooner.
Tiger's Blood flavored yogurt, snow cones, and popsicles are almost always my #1 choice when we grab a treat out.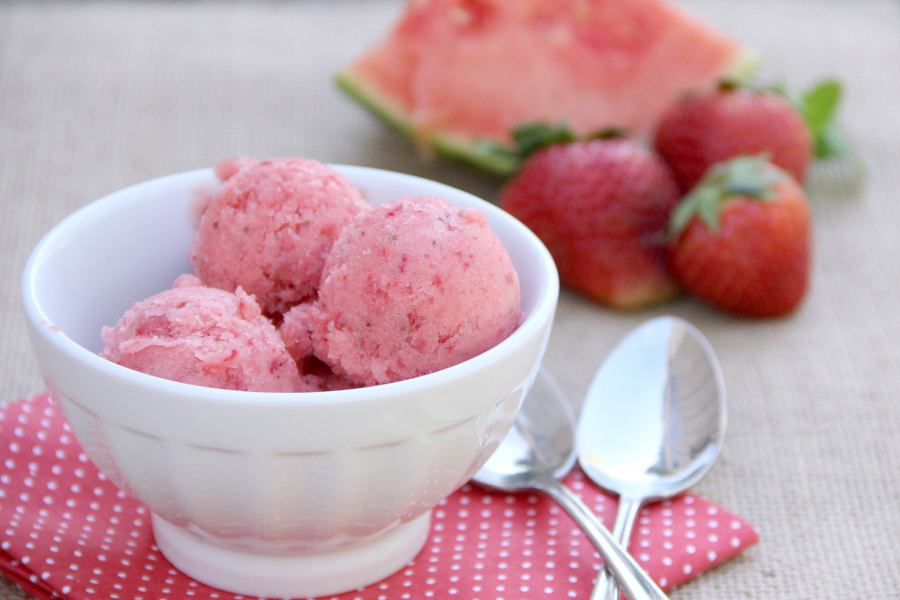 Tiger's Blood Sorbet
The little yogurt shop across the street from my house always has a Tiger's Blood Sorbet option and the kids always bring me home a little bowl when they go. The only thing I hate is that there is no real fruit or juice in that sorbet. Making my own from real ingredients was a no brainer and something I've been wanting to try for awhile.
I know, I know Coco Real isn't exactly healthy or a "real food" but it's easy and already has the sugary goodness mixed in, so it helps this sorbet come together in like 5 minutes before it goes in to the freezer.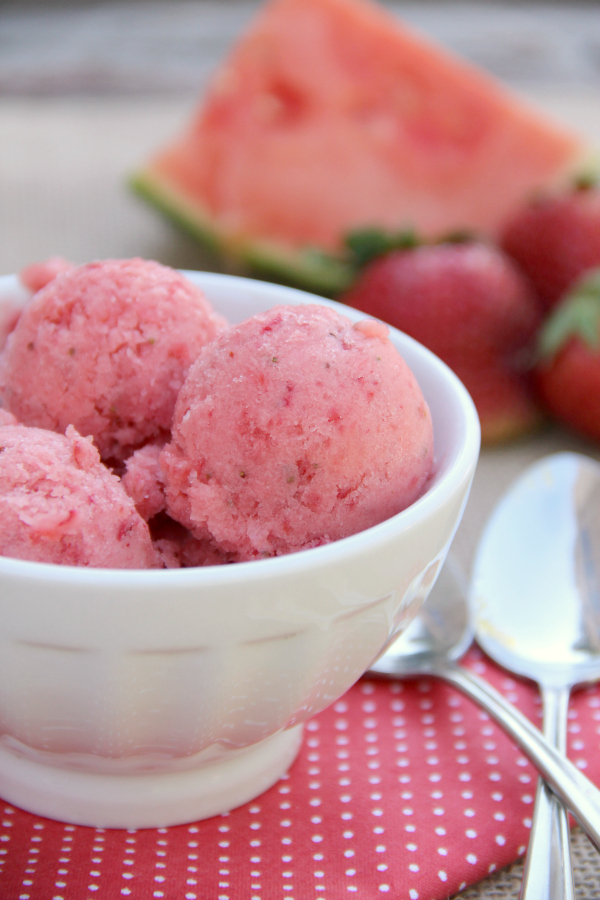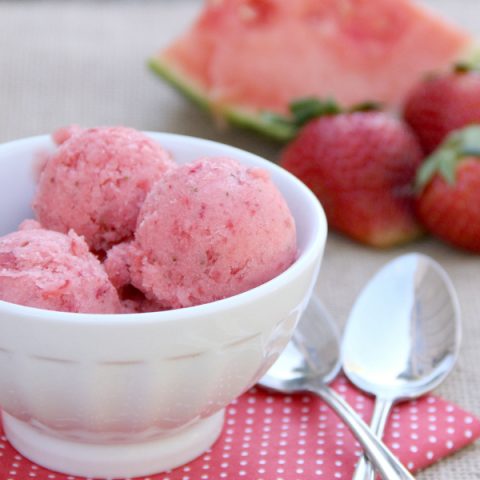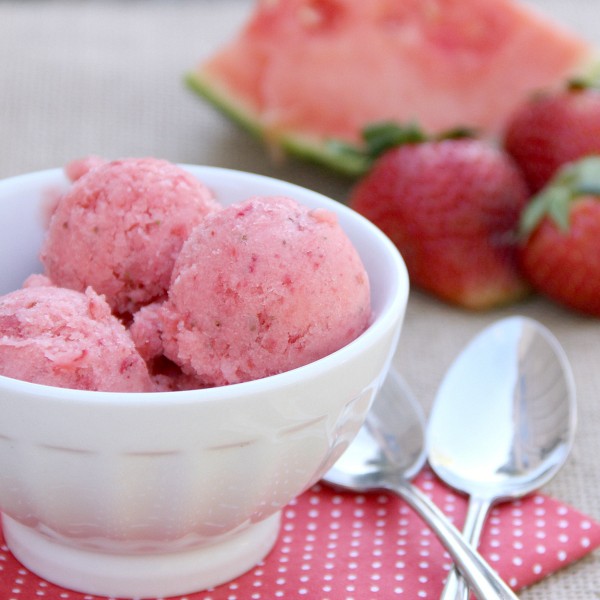 Tiger's Blood Sorbet
Total Time:
4 hours
15 minutes
I love this easy (no ice cream machine needed) Tiger's Blood Sorbet.  It's made with only 3 simple ingredients, including tons of fresh fruit!
Ingredients
1 pint fresh strawberries, washed and tops removed
1/2 personal sized watermelon
1/2 -1 cup Coco Real, Cream of Coconut (found in the liquor section of the grocery store)
1/2 lime, juiced (opt)
1/4 cup Malibu Rum (opt)
Instructions
In a blender, pulse strawberries until mostly broken down, leave it a little chunky. Pour into a large bowl. Add watermelon (fruit part only) to the blender and process until smooth. Strain out seeds while pouring into the bowl of strawberry puree. Add Coco Lopez, lime juice, and rum to bowl and stir to combine.
Taste mixture and make sure that one flavor doesn't over power the others. (I find starting with 1/2 cup Coco Real is best and slowly add more to adjust the sweetness and balance of flavors.)
Pour sorbet mixture into a 8" metal cake pan or other freezer safe container. Place in freezer. and then remove from freezer every 30 minutes and use a fork to break up and stir sorbet. Smooth out sorbet before returning to the freezer. Continue stirring process until mixture is complete frozen.
Notes
Note: The rum helps to keep the sorbet from freezing solid. Using a metal cake pan helps the sorbet freeze evenly and quickly.
Nutrition Information:
Yield:

6
Serving Size:

1
Amount Per Serving:
Calories:

231
Total Fat:

6.5g
Saturated Fat:

5.8g
Sodium:

16mg
Carbohydrates:

39.1g
Fiber:

2.2g
Sugar:

33.8g
Protein:

12g
_________________________________________________
So, some friends and I got together to create some fun ideas that would be perfect for Jungle Book themed party…the kids will love some of these ideas!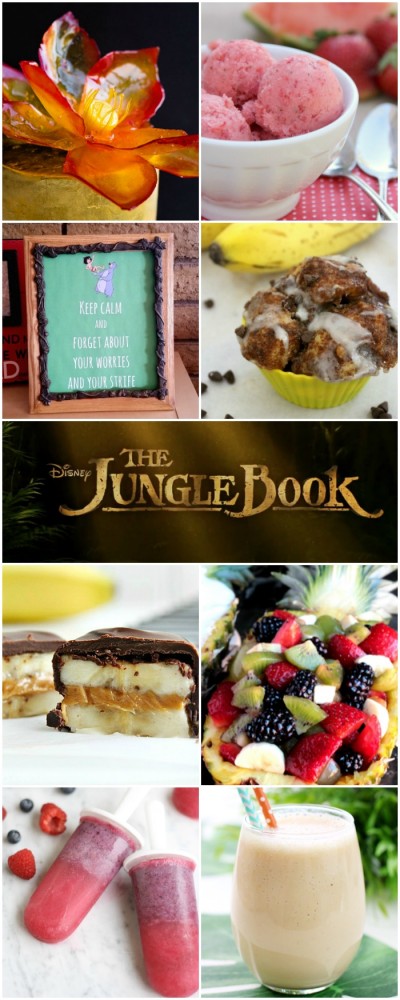 Tiger's Blood Sorbet from Around My Family Table
Jungle Pineapple Boat (Mixed Fruit Pineapple Boats) from Big Bear's Wife
Isomalt Lotus – Man's Fiery Red Flower from Ashlee Marie
Jungle Cooler from Love Bakes Good Cakes
Jungle Book Free Printable from Celebrating Family
Chocolate Covered Peanut Butter Banana Bites from Home.Made.Interest.
Banana Monkey Bread Muffins from Life Anchored
Baloo Berry Coconut Popsicles from Liz on Call
Tropical Safari Sundaes from For the Love of Food