This post may contain affiliate links. Please read my disclosure.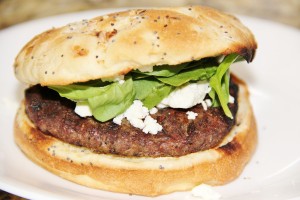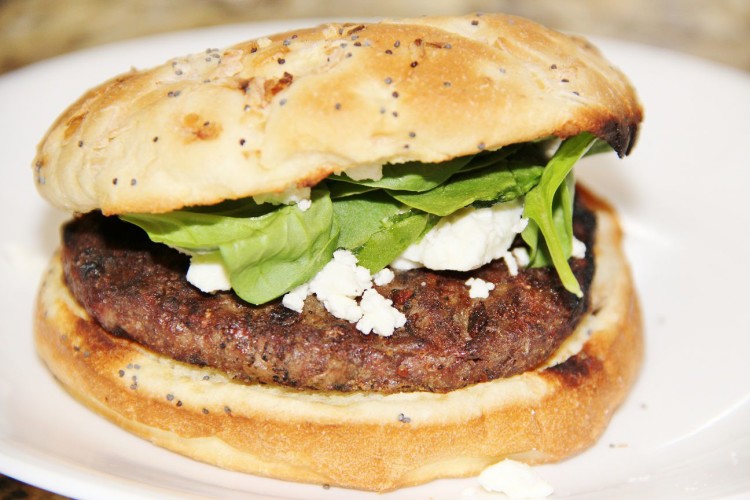 I think I have an unnatural obsession with good hamburgers. There are very few restaurants that have a hamburger that I like…they just aren't seasoned well. Nothing ruins a good hamburger than the lack of salt and pepper. You can put all the toppings in the world on a hamburger, but if you don't properly season it…then it's not worth eating. I prefer to just make fancy hamburgers at home…so when we grilled last I raided the fridge and came up with this burger and it is now one of my favorites! The feta gives the burger a creamy texture which was a nice change from the normal crunchy from bacon or jalapenos.
Burgers with Feta & Spinach
4 onion hamburger buns
4 hamburger patties (pre-made or press your own)
4 oz crumbled feta cheese
1 cup baby spinach
1/4 cup mayonnaise
2 cloves garlic, finely minced
salt, pepper, and garlic powder
Preheat grill to medium. Season patties on both sides with salt, pepper, and garlic powder. Grill over medium heat, flipping once, until they are thoroughly cooked ~10 mins. Toast buns at the same time, if desired.
Meanwhile, combine mayo and garlic to create garlic aioli. Spread on the top half of the bun. Place burger on bottom half of bun, top with feta and spinach. Add top of bun!
Want another great hamburger recipe? Try my Jalapeno Bacon Cheeseburger