This post may contain affiliate links. Please read my disclosure.
Now that your pantry is well stocked, it's time to make sure you have the essential cooking utensils, kitchen tools, kitchen gadgets to prepare all that food. Having the right tools of the trade will make your time in the kitchen more efficient. In this cooking 101 class I will give share with you list of basic must have essential kitchen tools. Keep reading to find out about my online cooking school and which cooking utensils I can't live without!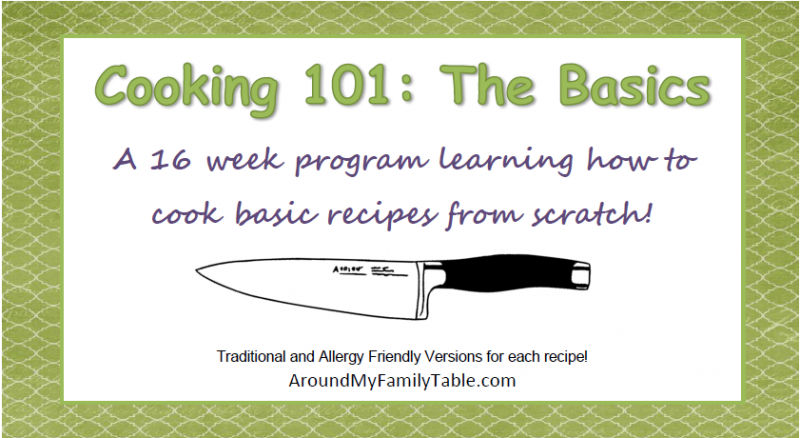 How To Sign Up:
If you'd like to join the cooking classes challenge, sign up by joining the Cooking 101: The Basics group on Facebook. Over there you can ask questions, post tips and recipe photos, and help each other along the way.
Please Grab a Button:
If you are following along, the please grab a class button. Put it on your sidebar and/or in your recipe posts you link up (just link it to my home page). I'd love for you to share the classes with your family, friends, on Facebook, and on Twitter!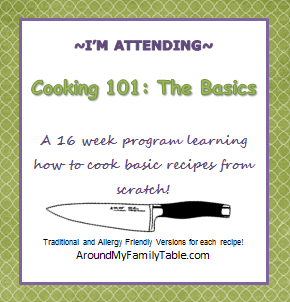 How the Classes and Challenge Work:
Cooking 101: The Basics is a 16 week class on Wednesdays. I will post a new recipe with tips on getting great results along with pictures. It's like your own personal online cooking school! Take as long as you need, but once you make the recipe (or a similar version) come back and add your link to the post to share with everyone. No blog…no worries…add your pictures to the Facebook group, we'd all love to see them!
Got questions? Email, leave a comment, but the best place will be the facebook group!
Grab your aprons and let's get cooking!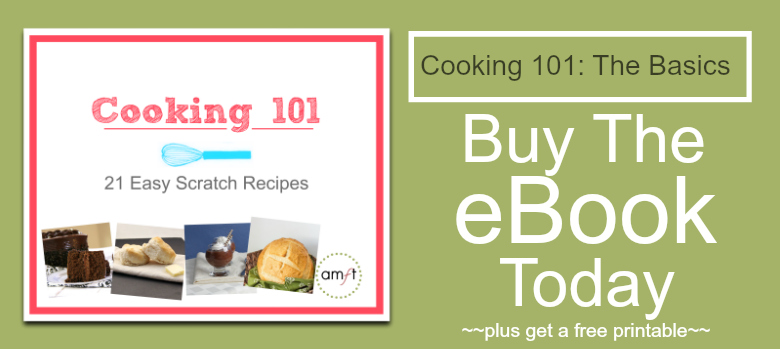 WEEK #2 – Tool of the Trade

Hubbyman and I came to an agreement many, many years ago that I could get what I needed for the kitchen (within reason) and he would not fuss at the cost. I figure he gets what he needs for doing yard work and gets whatever will do the job best, no matter the cost. He has to have the right tools for the right job…I would never ask him to use his weed whacker to trim the trees, so why should I have to use a knife to make a smoothie. Or a cheap $100 blender to make a smoothie when I really need the $350 because it does much better work and will last longer in the long run.
So, here is a list of some of my must have tools of the trade. These are so important to me that I've already started saving for some of the bigger items so that I can bless my daughter with them when she moves out.
1. Assorted Peelers for Cheese and Other Uses
3. Tongs
4. Microplane
8. Knife
10. Whisks
11. Potato Peeler
13. Thermometers: Candy and Cooking
14. Large Stock Pot
15. Various Sized Mixing Bowls
16. Large Strainer
17. Medium Skillet
18. Basic Bakeware
19. Pepper Grinder
20. Hand Mixer
22. Good Blender
23. Hand Juicer
25. Parchment Paper
26. ZipTop Baggies
{Last week: A Well Stocked Pantry Next Week: Gravy}