This post may contain affiliate links. Please read my disclosure.
I've been using only natural cleaners to clean my house since Hubbyman and I bought our house 14 years ago. Everyone is always asking me for my best household Vinegar Cleaning Tips…I think you'll find a bunch of useful tips below. I've shared my love for using vinegar before and how versatile it is. Grab my free vinegar printable 9 Uses for Vinegar and some ideas for keeping your kitchen tidy with my Kitchen Cleaning Checklist.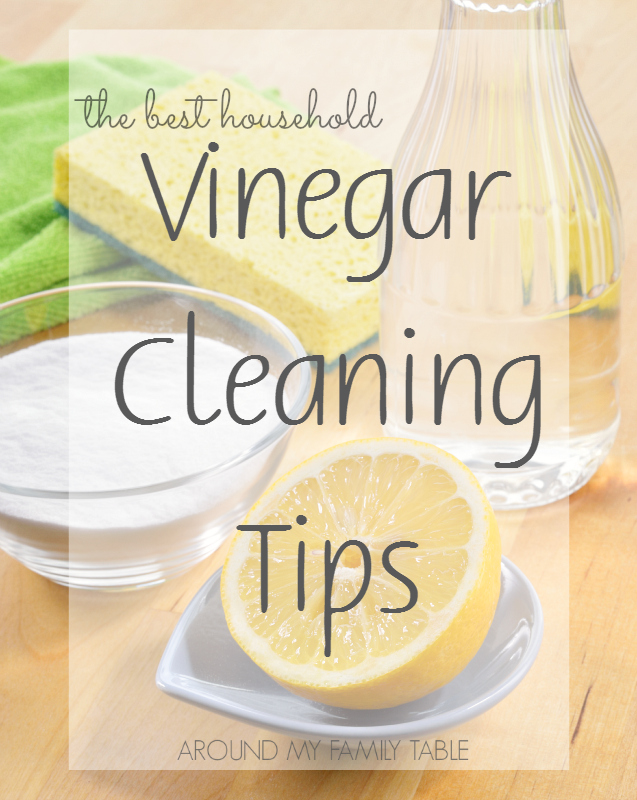 Vinegar is a great and effective way to keep things clean and looking their best. I use it to clean everything in my kitchen because it is safe, non-toxic, and bio-degradable. (However, if you truly need to sanitize something you'll need add in another product.) For day to day kitchen cleaning, vinegar is my favorite option. It's able to handle dirty messes, hard water stains on my stainless steel sink and faucet, safely cleans my granite counter tops, and even cleans up the floor with little effort.
When we first moved into our home we quickly realized that the previous owners were smokers. Everything just had an odd odor, so we would fill up little bowls of vinegar and place them around the house to help absorb odors. We'd change out the bowls every week until there were no more cigarette odors. What I've noticed that when I consistently clean with vinegar, the pet odors and just random kid stickiness are much less. I use vinegar all throughout the house on a regular basis, so after that "vinegar smell" dissipates so do the other odors. I use it in the bathrooms, on my hardwood floors, on the walls, and more.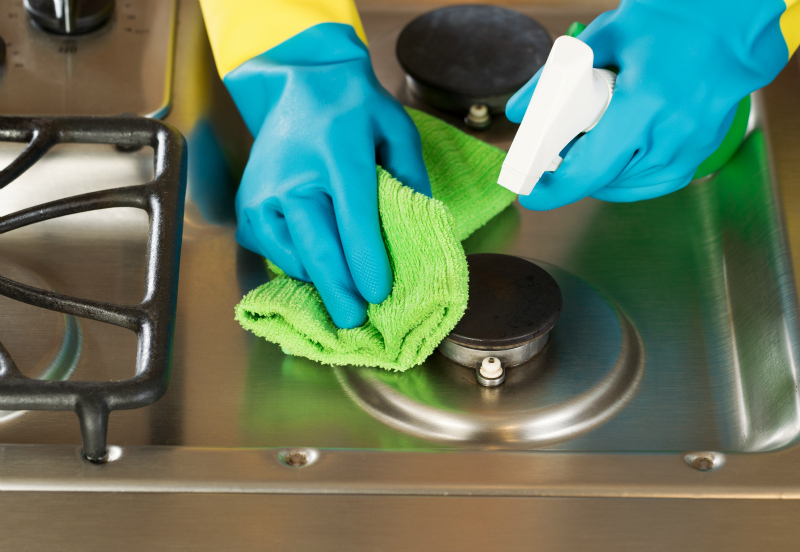 Vinegar Cleaning Tips
Basic Vinegar Household Cleaning Tips
Fill the rinse-agent dispenser of dishwasher with plain white vinegar, run normally.
Deodorize the toilet: pour 1/2 cup of white vinegar into the bowl. Let sit 15 minutes and then flush.
Remove hard-water deposits on the tub and glass shower doors: Heat 1 cup of white vinegar in a pot and then, spray warm vinegar onto surface, let sit 15 minutes and wipe clean.
Soak shower heads in a bucket of vinegar to remove hard water.
Remove stickers on furniture and other surfaces, moisten with vinegar. Let sit for at least ten minutes, then remove.
Vinegar for Kitchen
Remove odors from the sink or garbage disposal, pour in 1 cup of vinegar, let sit for an hour before rinsing.
Spray hands with vinegar after chopping garlic or onions to remove the smell.
To clean wooden cutting boards, spray with vinegar.
Clean all kitchen surfaces with vinegar, like counters, refrigerators, stovetops. It's an excellent cleaner.
Clean microwave by putting a microwave-safe bowl with 1/2 cup vinegar and 1 cup water and cook long enough to boil (just a minute or two). It will remove odors and will loosen any baked-on food from the microwave's walls. Just wipe clean with a damp cloth.
Remove coffee or tea stains from china by cleaning with a mixture of vinegar and salt.
Vinegar for Laundry
Combat "pit stains" on white T-shirts: soak clothing in about 4 tablespoons of white vinegar and enough water to cover the stain. Leave overnight and then wash.
To keep colors from running in the wash, soak in vinegar before washing.
To decrease lint on clothing and make your brights brighter, add 1/2 cup vinegar to the rinse cycle.
Remove persistent stains such as coffee, chocolate, ketchup, jam, cola, wine by gently rubbing stain with vinegar, then wash.
Remove soap residue from the washing machine, run an empty (no laundry) cycle with one cup vinegar added.
Remove the smell of smoke from clothes by adding 1 cup of vinegar to a tub full of hot water. Let clothing hang in the same room for several hours.
Gardening with Vinegar
Clean rusty tools: soak in a pail of white vinegar and brush to clean. Or let them sit overnight.
Freshen up cut flowers by adding 2 tablespoons vinegar and 1 teaspoon sugar for each quart of water.
Deter ants by spraying vinegar around doors and windows and also along ant trails.
Eliminate calcium buildup on brick or on limestone with half vinegar and half water. Spray on and then just let it set.
Remove skunk odor from a dog by rubbing down fur with full strength vinegar and then rinse clean.
Keep cats away from garden or play areas (think sandboxes) by sprinkling vinegar in those areas.
Vinegar Recipes