This post may contain affiliate links. Please read my disclosure.
I don't normally post on Saturday's, but I had to post this drink. It will be a perfect addition to your 4th of July party or picnic. It is so refreshing. Not too sweet, not too tart, and just a hint of watermelon.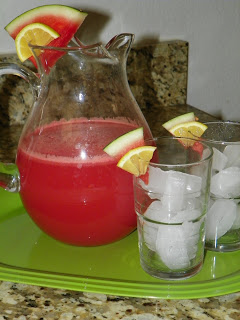 Watermelon Lemonade
3/4 cup sugar
2 3/4 cup water, divided
1 cup freshly squeezed lemon juice
2 cups fresh watermelon puree, strained to remove the seeds
1. Combine sugar and 3/4 cup water in a sauce pan (you are making a simple syrup). Heat until sugar dissolves. Let cool.
2. Combine remaining ingredients into a pitcher, add cooled simple syrup. Stir.
3. Serve over ice.
TIP: I used frozen lemon juice that I squeezed from the lemons off my tree. I pick the lemons when they are perfectly ripe, squeeze all the juice, and freeze in various size portions (1 cup, 1 tbl, and 2 tbls sized portions) to use in dishes and drinks all year long. Nothing beats fresh squeezed lemon juice.