Follow Me on Pinterest
Spring is here and so is Christine from Cook the Story bringing you a quick and easy side dish recipe full of bright spring flavors and colors: Oven Roasted Radishes with Peas and Dill. First, she has a funny little story to tell about her troubles in the garden and check out her post all about properly cooking radishes too!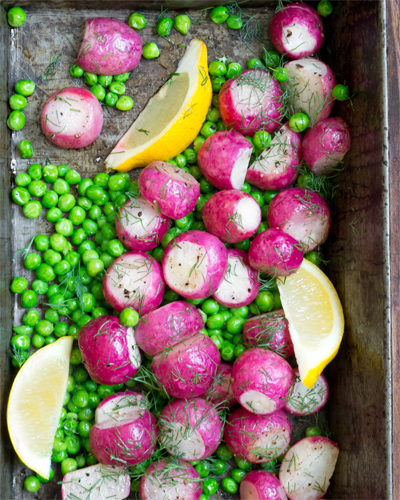 Spring has sprung!
Gloriously, the peas that my son and I planted also did some springing up.
And then most of them did some springing down. (Yup, the died).
The carrots didn't make it either.
As you've already guessed, I'm not a great gardener. I used to be a mediocre one when I had more time (i.e., before I had kids). Since then though, every single live green thing that has entered my house has vacated it in a shriveled brown state.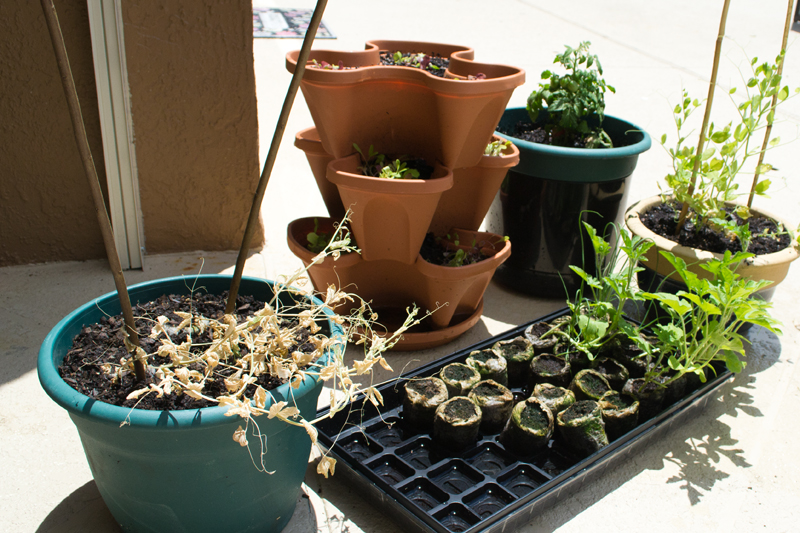 You see, I don't really enjoy gardening. I used to do it because I loved the fresh organic produce that arrived in my kitchen as a result of the work. But I didn't relish the process. Therefore, when free time began to evaporate, gardening (and keeping house plants alive) became a low priority.
Why then, you might ask, when my son enthusiastically declared that he wanted to plant a garden, did I enthusiastically respond with, "Yes! Let's go choose some seeds from the hardware store!"
Why did I buy him a little notebook for us to write down our observations?
Why did I start taking pictures of every part of the process and tape them into his notebook?
Didn't I realize that at some point I would be adding pictures of brown dead things and that I would be writing down the following words from my son's mouth:
"The peas died.

They wanted more water but we forgot to water them.

And they didn't like the sun.

It burned them brown."
He was pretty sad about it. But he's 5. His emotions change quickly. The next day he seemed to have forgotten his sadness entirely and was just plain delighted to discover and devour the very first red cherry tomato from our tomato plant.
What my son has learned from this gardening experience is very different from the "How long does a seed take to sprout" kind of thing that I expected.
Instead, he's learned how hard it is to keep something alive.
He's learned how much goes into one perfect cherry tomato and what a wondrous thing that little globe really is.
He's learned how precious the life of a new plant really is.
He's also learned not to take gardening lessons from his mom. But that's o.k.. I wasn't enjoying them that much anyhow.
Maybe next year his dad will take over. And then, if I know those two guys, they'll probably learn how to design a self-watering garden with a retractable roof.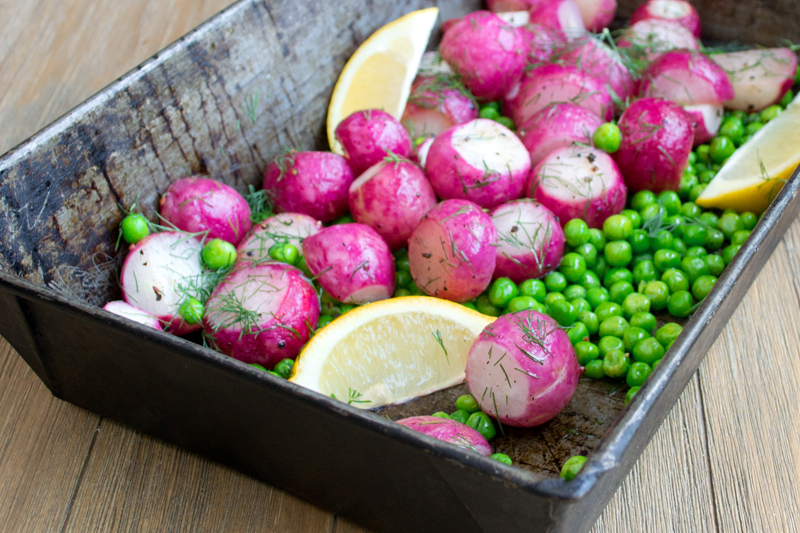 And now, here is my easy side dish recipe packed with spring flavors and colors, flavors and colors that have not come from our gardening efforts but from plastic packets and from the freezer section of the grocery store. Still tastes good though!
Oven-Roasted Radishes with Peas and Dill
In this easy side dish recipe you are actually cooking radishes. And they are l-o-v-e-l-y. The short roasting time leaves them with a little crunch but mellows out their flavor so they're not quite as spicy. This is a great recipe for introducing radishes to kids (or to people who think they don't like radishes). The reduced heat is easier for them and, if they don't like the radishes, they can always eat the peas! ~Christine
Ingredients
1 lb radishes, washed and trimmed of both ends (larger ones cut in half)
1 tbsp olive oil
kosher or other coarse salt
black pepper
1 cup frozen green peas
2 tbsp chopped fresh dill
½ of a lemon, cut into 4 wedges
Instructions
Preheat the oven to 450ºF.
In a medium baking pan, rattle the radishes around with the olive oil, ¼ teaspoon of salt and a dash of black pepper. Put the pan into the preheated oven for 10 minutes.
Meanwhile, clatter the frozen peas into a medium bowl and then drown them with hot tap water. Let them stay under until defrosted, 3-5 minutes. Drain and pat dry with a kitchen towel.
Remove the pan from the oven. Add the defrosted peas to the radishes. Rattle the pan again and then put it back into the oven for 2 minutes (just to heat the peas through.
Remove the pan from the oven, sprinkle everything with the dill and another ¼ teaspoon of coarse salt. Snuggle in the lemon wedges and serve.
Serves 4