Follow Me on Pinterest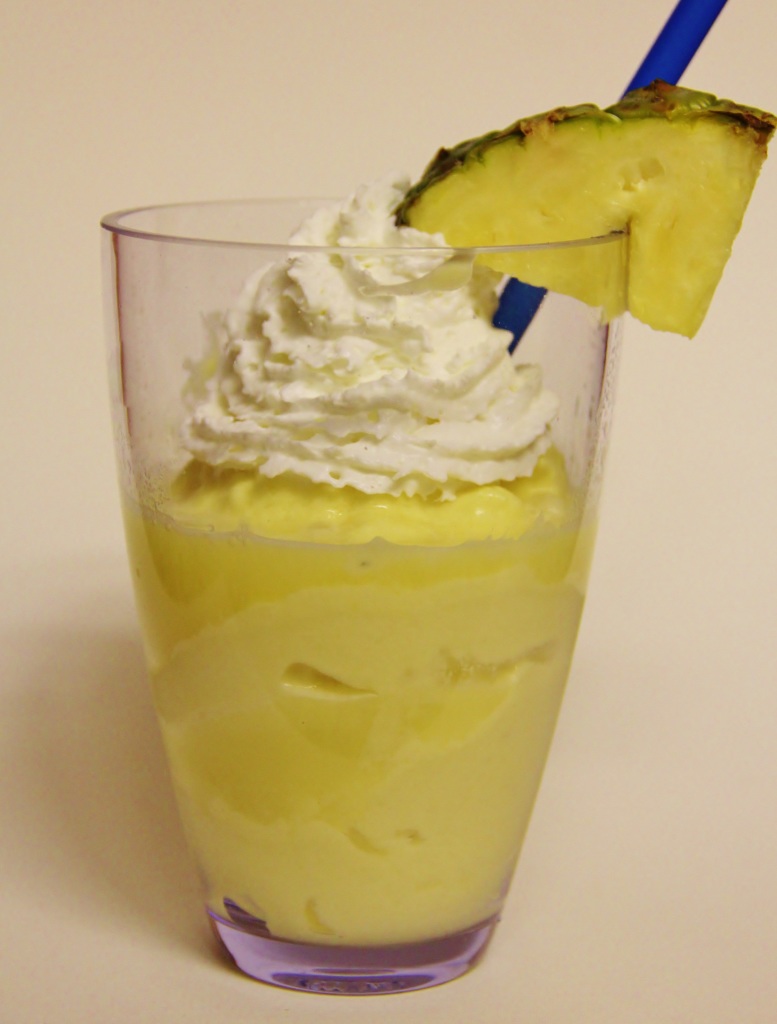 Yesterday, I received an email in my inbox from one of my best friends requesting that I quickly (apparently she had a deadline) come up with a little healthier version of the Dole Whip that everyone loves at Disney World.  I've only been to Disney World once when I was really little and so I have idea what this tasty concoction actually tastes like.  I haven't seen it at DisneyLand…maybe it's there, I don't know.   Anyway, I've heard from a few people that it's really good.
All the recipes that I came across call for canned pineapple.  Why?  Why not real, fresh, sweet pineapple?!?!  And I took out the sugar and used a little agave nectar instead.  It's healthier and a low glycemix index food.  I used my VitaMix to make most of this dessert; however, a BlendTec or food processor would work and an ice cream maker is needed!
For such short notice, I think I did okay.  Not the best picture, but the kids were on top of me begging for their drinks and licking the counter where it spilled a little. I could not keep those little ones away from it.  That is the downfall of blogging and making yummy new treats.  Those darn kids…they just don't understand a photo shoot and getting a great picture.
Pineapple Whip
Ingredients
2 pineapples, peeled and cored*
1 lime, juiced
2 tbls agave nectar
1 1 /2 cups whole milk, half & half, or heavy cream
½ tsp vanilla
Instructions
Blend pineapple with lime juice and agave nectar in heavy duty blender or food processor until smooth. Pour into a bowl, cover, and store in the refrigerator until well chilled.
In blender or processor, process cold cream and vanilla until thick and creamy. Add in pineapple mix and blend well.
Pour into ice cream maker and follow manufacture's instructions for making ice cream. When it's done, place in a freezer safe container and allow it to harden for an hour or two before serving.
*If you have VitaMix or BlendTec, use the core too! It adds lots of great nutrients!
Other Posts You Might Enjoy....