This post may contain affiliate links. Please read my disclosure.
Moist and a little sweet and a little salty, this Bacon Chocolate Zucchini Bread will blow your mind! Trust Me!
Let's be honest here….I was trying to be creative for Bacon Month, but I was running out of ideas. I was craving my dad's secret recipe for Chocolate Zucchini Bread and I just happened to have some leftover bacon from breakfast, so I thought….I wonder how it would taste if I added the bacon to the mix. Bacon makes everything better right, so it had to work!
I got mixed responses when I told people what I was making. However, when it was done and everyone got to try a slice the results were unanimous….it was a huge HIT and the loaves I made was gone in an instant.
There were no leftovers for breakfast the next day. People were angry there was only 2 loaves. I thought there were going to be riots!
So for whatever reason, the bacon gods have smiled upon us! The bread is moist chocolate-y, and a little sweet….but it's got hints of saltiness and little bits of crunchy goodness!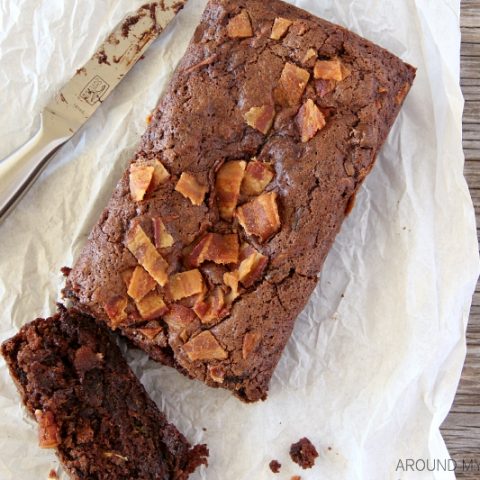 Bacon Chocolate Zucchini Bread
Moist and a little sweet and a little salty, this Bacon Chocolate Zucchini Bread will blow your mind! Trust Me!
Ingredients
1/2 cup butter (regular or dairy free)
1/2 cup vegetable oil
1 3/4 cups sugar
1 egg
1/4 cup applesauce
1/2 cup milk (almond, soy, or regular)
1 tsp vanilla
2 1/2 cups flour (or all purpose gf flour, with xantham gum)
4 tbls cocoa powder
1/2 tsp baking powder
1 tsp baking soda
2 cups shredded zucchini
1 cup chocolate chips
8 slices thick cut bacon, cooked & crumbled
Instructions
Preheat oven to 325F and prepare 2 regular-sized loaf pans.
In a large bowl, cream butter, oil, and sugar. Add in egg, applesauce, milk, and vanilla. Stir well to combine. Mix in flour, cocoa, baking soda, and baking powder. Gently stir in zucchini, chocolate chips, and 3/4 of the bacon. Divide evenly into prepared pans and sprinkle remaining crumbled bacon on top.
Bake at 325F for 40-50 minutes or until toothpick comes out clean.

Check out some of these other delicious BACON RECIPES from my friends
Shrimp + Bacon Bisque
Bacon Chocolate Zucchini Bread
Bacon Mac & Cheese
Southern-Style Green Beans
Bacon Onion Tart
Join the Club!
Get delicious recipes delivered straight to your inbox each week! Plus learn how to take back suppertime in your home.

And get started with my NEW Take Back Suppertime 5-Day Jump Start Guide.