This post may contain affiliate links. Please read my disclosure.
My recipe for Baked Sweet Potato Fries with Chipotle Dipping Sauce is my all time favorite way to eat sweet potatoes. They're spicy with a cooling dip!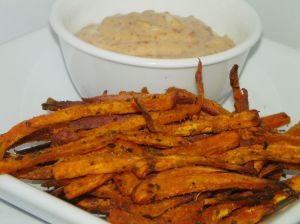 Growing up I hated sweet potatoes; however, since being pregnant with my son I just can't seem to get enough of them. If it's on the menu in any way, shape, or form I will order it! YUM! I quickly realized that I needed to figure out how to make my own at home.
I could eat the entire pan of fries myself, but I think hubbyman would fight long and hard for a plateful. I really like this recipe because it takes the sweet potato from that traditional sweet, cinnamon-y side to a wonderful spicy, savory treat. I love all the seasonings and spiciness of the chipotle dipping sauce. I usually mix up a double or triple the seasoning for the fries. It saves time when you make it again and is just a nice seasoning mix to have on hand.
Looking for more Sweet Potato Recipes? I've got a bunch of Easy Sweet Potato Recipes <—- click for more!
Or learn how to bake restaurant style sweet potatoes!
Baked Sweet Potato Fries and Spicy Chipotle Dipping Sauce
sweet potatoes
olive oil
2 tablespoons ground coriander
1 tablespoon ground fennel
1 tablespoon ground oregano
3/4 teaspoon ground chili pepper flakes (or to taste)
1 tablespoon salt
Chipotle Dipping Sauce
1/2 cup mayonnaise
1 chipotle pepper
1 tablespoon adobo sauce
1/2 teaspoon cumin
Preheat oven to 425°.
Mix together seasoning. In a bowl combine 1 Tbsp oil and 2 tsp seasoning per sweet potato. Toss and place on greased baking pans. Making sure that potatoes are spread out in pan (If they aren't in a single layer, they will steam instead of crisp). Bake for 30-40 minutes turning every 10 minutes. Leave done potatoes on the pan to cool for about 10 minutes and they should crisp up even more.
Serve with chipotle dipping sauce. To prepare: combine mayonnaise, chipotle pepper, adobo sauce, and cumin. (*I use a canned chipotle peppers that is in adobo sauce already. I find it in Mexican food aisles.).
Save remaining seasoning mixture in zip top baggie bag and freeze the leftover chipotle/adobo for next time.