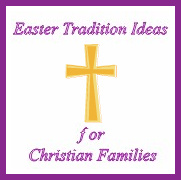 Today, Good Friday, is the beginning of Easter weekend. There are so many different ways to celebrate.  For us, Good Friday is a day of remembrance and a day of fasting and prayer which leads to a wonderful day of praise and rejoicing on Sunday.  How do you celebrate Easter?
I wanted to share some fun ways to celebrate Easter with your family and kids.  Some are pretty common, but I hope you'll find something new to try.  I would love hear if your family has any unique Easter traditions?
Oh,  I have a tasty way to use up all that ham.
Easter Tradition Ideas:
-make Resurrection Cookies
-have an Easter basket scavenger hunt (for the older kids)
-have the Easter bunny leave foot prints (paper cutouts) from the younger kids bedrooms around the house leading to the Easter baskets
-have an egg toss in the driveway
-make Empty Tomb Rolls
-avoid pre-packaged baskets and make your own…get creative
-another fun egg game: two people each take an egg (hard-boiled) and crack them against each other. The one that doesn't break is the "winner" and gets to "play" against someone else until they are all broken except one
-leave carrots out for the Easter Bunny to eat
-watch The Passion
(adults only)
-Watch The Animated Passion for the whole family
– have the kids hide eggs for the adults to find
-attend a sunrise service
Join my Weekly Newsletter
And get my Free Slow Cooker Resource Guide! It's full of recipes with 5 or fewer ingredients plus plenty of slow cooker tips!

Plus, you'll get access to my free EXCLUSIVE downloads & printables for newsletter subscribers.