This post may contain affiliate links. Please read my disclosure.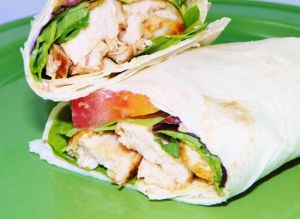 I was totally not in the mood for plain ol' BBQ chicken the other night, despite the begging of two little children. I was a nice mommy and made it anyway, but searched the fridge for another option for me and this is what I came up with. It was actually a great way to use up a bunch of odds and ends I had lying around in the fridge. Everyone was happy…the kids got their BBQ chicken and the adults got something a bit more fancy.
BBQ Chicken Wraps with Garlic Ailoi
4 chicken breasts (boneless, skinless)
1/2 cup of BBQ sauce
8 flour tortillas (burrito size)
1/4 cup mayonnaise
1/2-1 tbl finely minced garlic
2 tomatoes, finely sliced
baby greens
salt, pepper, garlic powder
Preheat grill with a medium high flame. Season chicken breast with salt, pepper, and garlic powder. Cook chicken on grill directly over the flame for about 5 minutes per side. After the first side is cooked, flip, and brush on BBQ sauce. Continue cooking on second side until chicken is done and juices run clear. Flip and sauce second side. Remove from heat and let rest for a couple minutes. Slice chicken thinly on an angle.
Meanwhile, combine mayonnaise and garlic in a small bowl (add garlic to suit your tastes). Lay out tortillas and spread with a spoonful of aioli, top with sliced chicken, tomatoes, and a handful of baby greens. Roll up like a burrito, cut in half, and enjoy!