This post may contain affiliate links. Please read my disclosure.
Weekends demand waffles! It's a thing…promise. So, I've gathered 25 of the best homemade waffle recipes for a delicious breakfast the whole family will love.
Be sure to sign up for my email list….seasonal recipes in your inbox every week!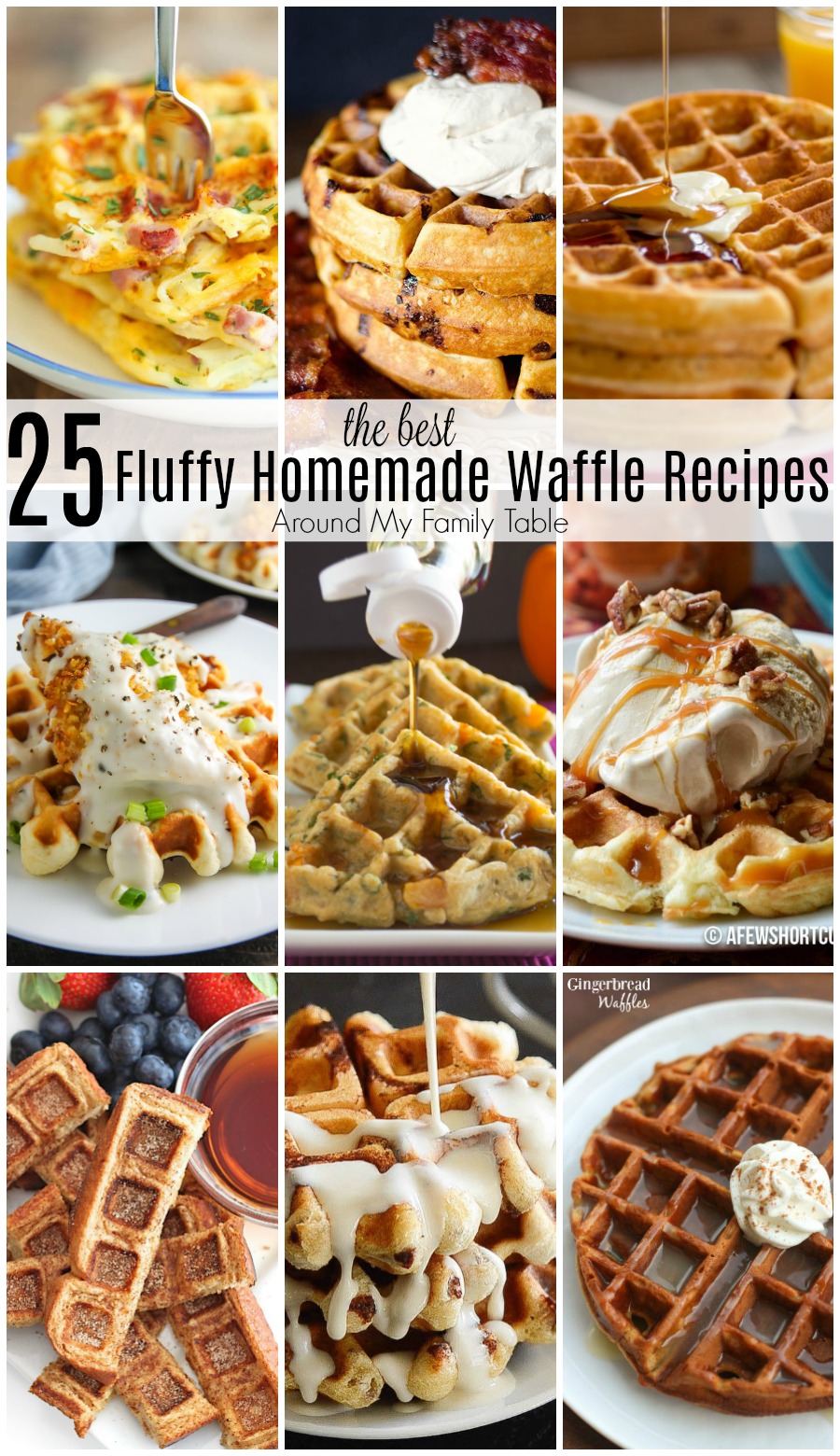 When I first got married, I bought a small, cheap waffle maker. I used it a couple of times, but it turned out to be clunky and difficult to use. The waffles never really cooked evenly and it just wasn't worth trying to use. I stashed it in the back of a cabinet and forgot about it until I decluttered my old, unused kitchen gadgets.
Then, a few years ago, my family surprised me with a very nice waffle maker. The next morning, I tried out a simple recipe. It was so easy to use and the waffles turned out delicious. They had a crispy, golden brown crust, with a light, puffy middle. The waffles were a hit with my whole family. The kids were thrilled to get such yummy homemade waffles so I started making a waffle breakfast once a week.
I'm not a huge
syrup fan
, so I wanted to change up the options and vary the recipes (Although, I do like making my own
fruit syrups
on occasion). I began experimenting with different flavors and different combinations of ingredients. My kids get in on the fun too and take turns joining me in the kitchen. They really take pride in helping prepare our waffle breakfast. They mix up the batter and pour it on the waffle iron. After serving their creations, they wait in anticipation for everyone's reactions.
The Best Homemade Waffle Recipes
This list is made up of some of our favorite and the best homemade waffle recipes I've found. Y'all are going to love all of the different versions.
Sunday Morning Waffles
Bacon Stuffed Waffles
Easy Pumpkin Pie Waffles
Buttery Golden Buttermilk Waffles
Cinnamon Roll Waffles
Peanut Butter Waffles with Peanut Butter Syrup
Greek Yogurt Waffles
Strawberry Waffles
Cake Batter Birthday Waffles
Ham and Cheese Hashbrown Waffles
Gingerbread Waffles with Vanilla Cream Syrup
Buttermilk Blueberry Waffles
Oven Fried Chicken with Waffles and White Gravy
Caramel Macchiato Dessert Waffles
French Toast Waffle Sticks
Savory Veggie Waffles
Peaches and Cream Waffles
Red Velvet Waffles
Churro Waffles
Lemon Sour Cream Waffles
Mashed Potato Waffles and Creamy Avocado Basil Sauce
Protein Packed Malted Waffles
Easy Freezable Applesauce Waffles
Neapolitan Waffles
Brownie Batter Waffles