This post may contain affiliate links. Please read my disclosure.
Who doesn't love chips and dip? This roundup has some of the best chip and dip recipes on the Internet! Easy dips that are super quick to whip up!
Be sure to sign up for my email list….seasonal recipes in your inbox every week!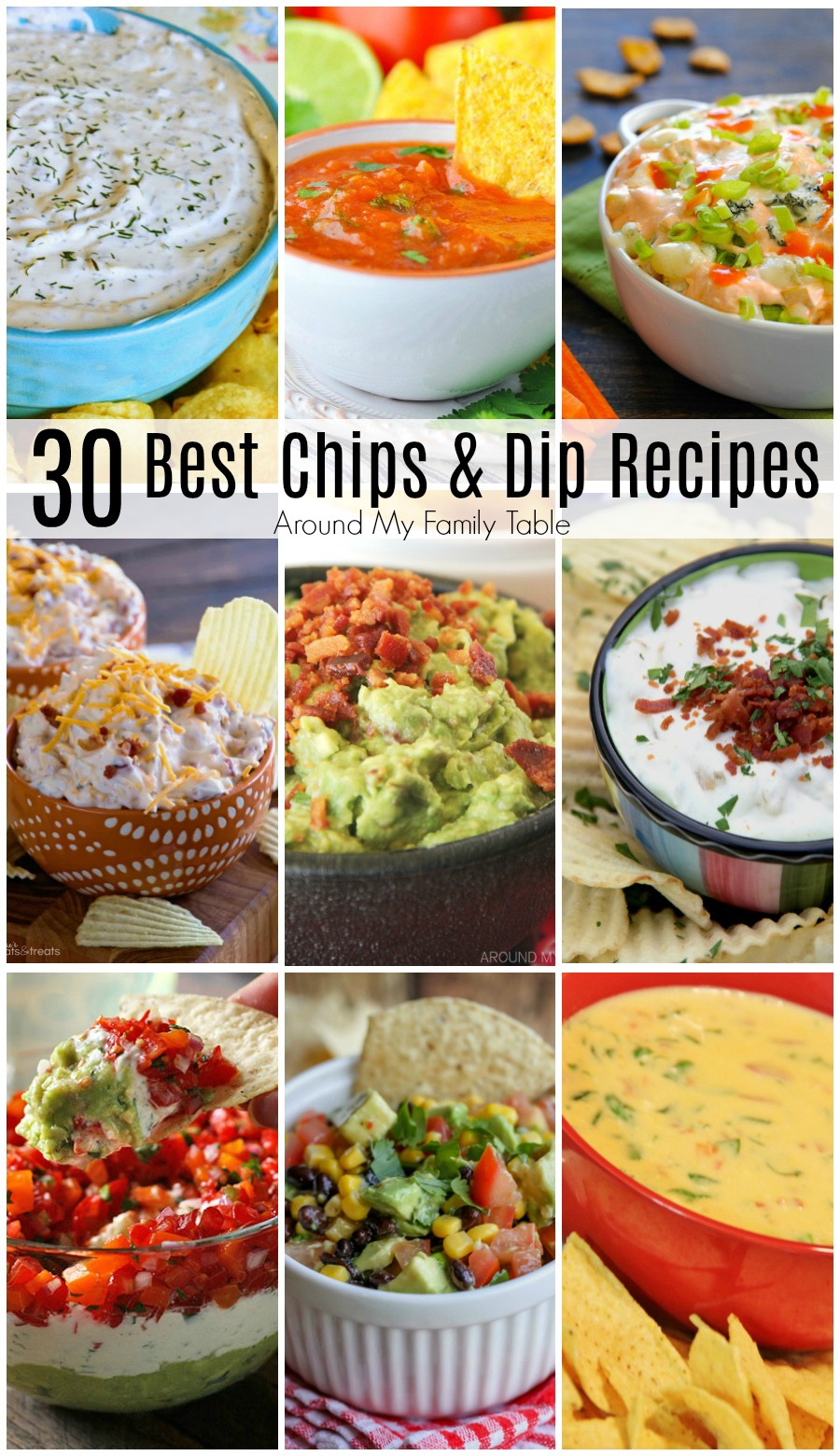 My husband has always been a sucker for chips and dip. It has always been his go-to snack for as long as I can remember. Specifically, he likes nacho cheese Doritos with French onion dip. So Gross! But he always loved that combination and has been snacking on it since his single days. I suspect that is probably because it was fast and easy when he was a bachelor without any cooking skills and before he had a well-stocked kitchen.
After we got married, it didn't take me long to realize that he really likes having a plate of chips and dip for movie night. I continued to mix up that sour cream and onion soup mix at least once a week for him, but I got bored preparing the same plate of chips week after week. And honestly, I wanted to create a delicious snack that we could share together so I started experimenting with different flavors and different combinations. Guess what? He loved them all. I still prepare his old stand-by on occasion for him, but we really enjoy mixing it up more now for our movie nights. His favorites still seem to always be the creamy dips and I usually prefer fresh guacamole, queso, or salsa, but it's always fun to have change.
The Best Chip and Dip Recipes
I've put together this roundup of 30 of our newest favorite chip and dip recipes that I know you'll love too. You'll find traditional flavors and textures in this list, as well as some unfamiliar ones. I'm sure y'all will enjoy trying out all the recipes on this list.
The Best Chile Con Queso
French Onion Bacon Dip
Slow Cooker Cheddar Bacon Dip
Bacon Guacamole
Slow Cooker Sausage Dip
Spinach Con Queso
Crockpot Buffalo Chicken Dip
Crack Dip
5 Ingredient White Queso
Cream Cheese Bean Dip
Best Ever Chip Dip
Guacamole Creamy Cojita Confetti Salsa Party Dip
Cheesy Bacon Jalapeno Popper Dip Recipe
Oh Simple Creamy Cucumber Dip
Cheesy Taco Dip
Easy and Smooth Hummus Recipe
Best Bean Dip
Cobb Dip
Skinny Kale Artichoke Dip
Lightened Up Buffalo Chicken Dip
Creamy Pickle Dip
Black Bean and Corn Salsa
Fresh 5 Minute Homemade Salsa
Loaded Potato Chip Dip
Hot Broccoli Dip
Chipped Beef Dip
Roasted Southwest Vegetable Cheese Dip
Sour Cream Cheddar French Onion Dip
Did I miss one of your favorite dips? Tell me your favorite in the comments below…I'd love to hear! I think these budget friendly snack ideas are great too.