This post may contain affiliate links. Please read my disclosure.
Have you fallen in love with the FREAK SHAKE movement yet? This one is my take on the classic Disney ride…introducing the Big Thunder Mountain Freak Shake.
Be sure to sign up for my email list….seasonal recipes in your inbox every week!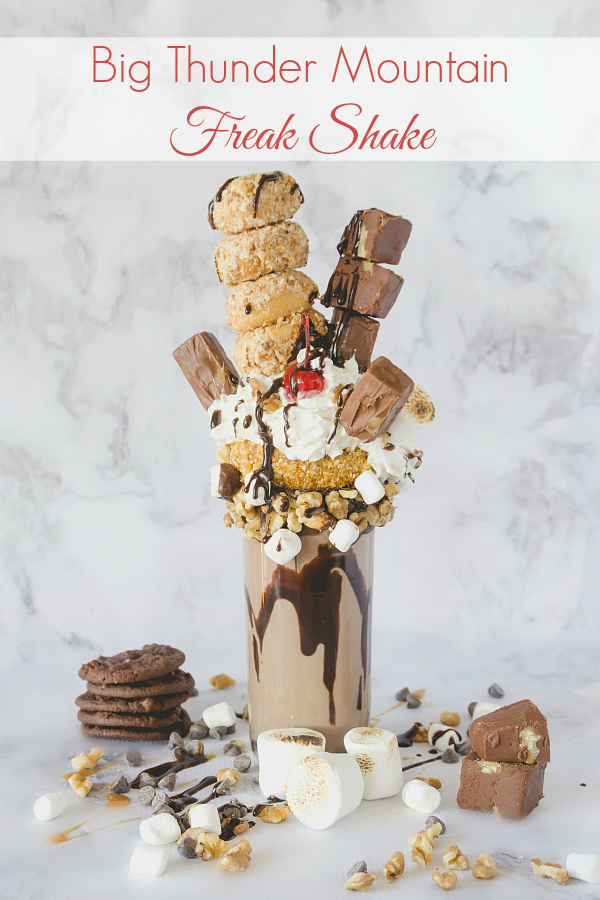 Freak shakes are taking social media by storm these days, so a friends and I got together to create freak shakes based off some of our favorite Disney rides and movies. One of my favorite rides at Disney is Big Thunder Mountain Railroad. I ride it as much as possible and it's usually the first place I go after the rope drop, just so I can get on and start the day off right.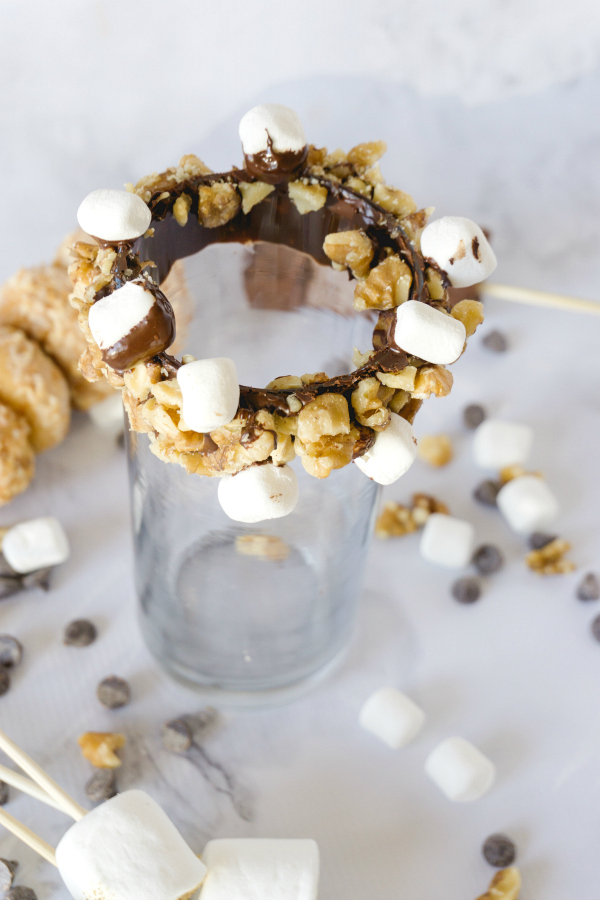 The rich chocolate milkshake is the centerpiece of this crazy milkshake. Don't let it intimidate you though…this beauty is actually quite simple to put together. When in doubt, keep adding more stuff until the shake has been freakified. That's a word, right? If not…then let's pretend it is.
This was way too much for my two dessert-loving kids…so a little goes a long way. One is probably enough for the whole family.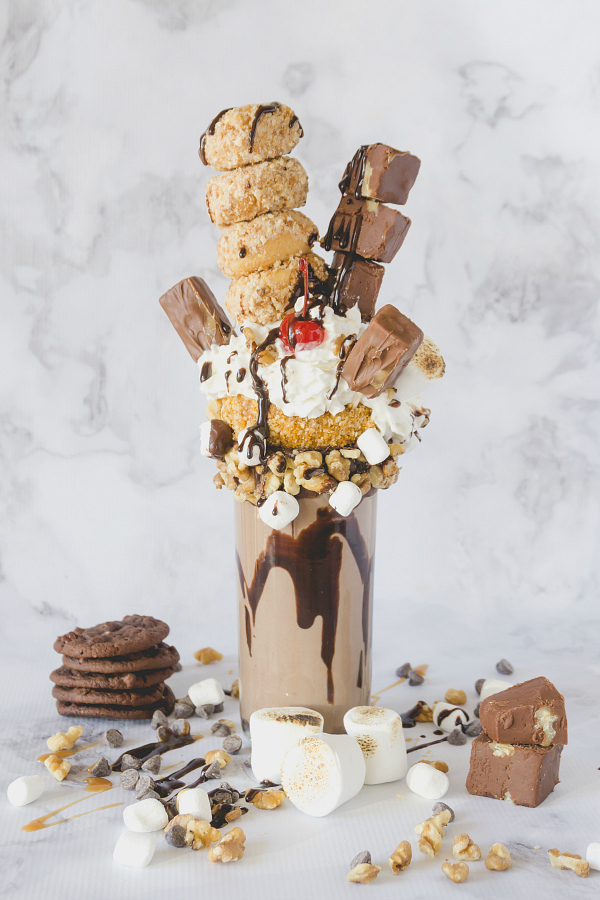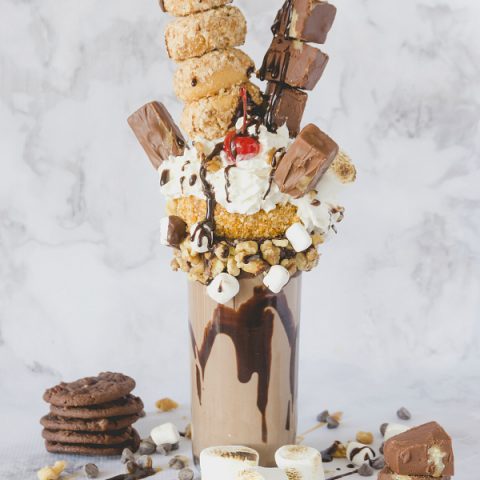 Big Thunder Mountain Freak Shake
Have you fallen in love with the FREAK SHAKE movement yet?  This one is my take on the classic Disney ride...introducing the Big Thunder Mountain Freak Shake.
Ingredients
1/4 cup chocolate chips
1 tsp shortening
6 pieces of walnut fudge (I use this [url] recipe ∞https://www.aroundmyfamilytable.com/brazil-nut-fudge-recipe/[/url], just swap the nuts)
8 mini crumb donuts
2 full size crumb donuts
8 large marshmallows
4 snack size Snickers (or [url] Rocky Road bars ∞http://amzn.to/2lePNOX[/url] if you can find them), unwrapped
12 bamboo sticks
3/4-1 cup chopped walnuts
1/2 cup mini marshmallows
4 cups vanilla ice cream
1/2-2/3 cup whole milk
1/2 cup [url] Chocolate syrup ∞https://www.aroundmyfamilytable.com/chocolate-syrup/[/url]
1/4 cup caramel sauce
whipped cream
2 cherries
2 [url] milkshake/parfait glasses ∞http://amzn.to/2l1V0yl[/url]
Instructions
Melt chocolate chips with shortening in a small glass bowl for about 1 minute. Stir until smooth. While chocolate melts, pour chopped walnuts onto plate. Dip the rim of each glass in the melted chocolate and use a spoon to spread a wide, thin layer around the top 1/4 of the glass. Roll chocolate rim of each glass in walnuts, gently pressing to make the nuts stick. Place upside down on waxed paper so the nuts and chocolate don't drip down the side of the glass. Let the chocolate cool and harden completely. Once it's set, stand upright and dip mini marshmallows in remaining melted chocolate and stick onto the rim.
Meanwhile, thread 3 pieces of walnut fudge on a bamboo skewer, repeat for a second fudge stick. Thread a large marshmallow on another bamboo skewer and then thread on 4 mini crumb donuts (the marshmallow keeps the donuts from slipping). Repeat for a second mini donut skewer. Break last two skewers in half and insert into the Snickers bars.
Place a single large marshmallow on the tip of a skewer and using a lighter, lightly toast the top and edge of each marshmallow. Let cool and remove skewers.
In a heavy duty blender, add ice cream, 1/2 cup milk, and 1/4 cup chocolate syrup then process until combined and creamy. If it's too thick add a little milk and if it's too thin add more ice cream.
In 2 parfait glasses, swirl chocolate syrup around. Gently pour milkshake into the center of the glass to keep the swirl and toppings intact. Top each glass with a large crumb donut and then add a skewer of fudge, a skewer of donuts through the center of the large donut. Add the snickers skewers and toasted marshmallows (without the skewers). Top with whipped cream, any leftover walnuts, marshmallows, and chocolate chips. Drizzle entire milkshake with chocolate and caramel syrups.
Finally top with a cherry and then dig in!
Nutrition Information:
Amount Per Serving:
Calories:

3110
Total Fat:

156g
Saturated Fat:

52g
Cholesterol:

215mg
Sodium:

1676mg
Carbohydrates:

394g
Fiber:

15g
Sugar:

202g
Protein:

45g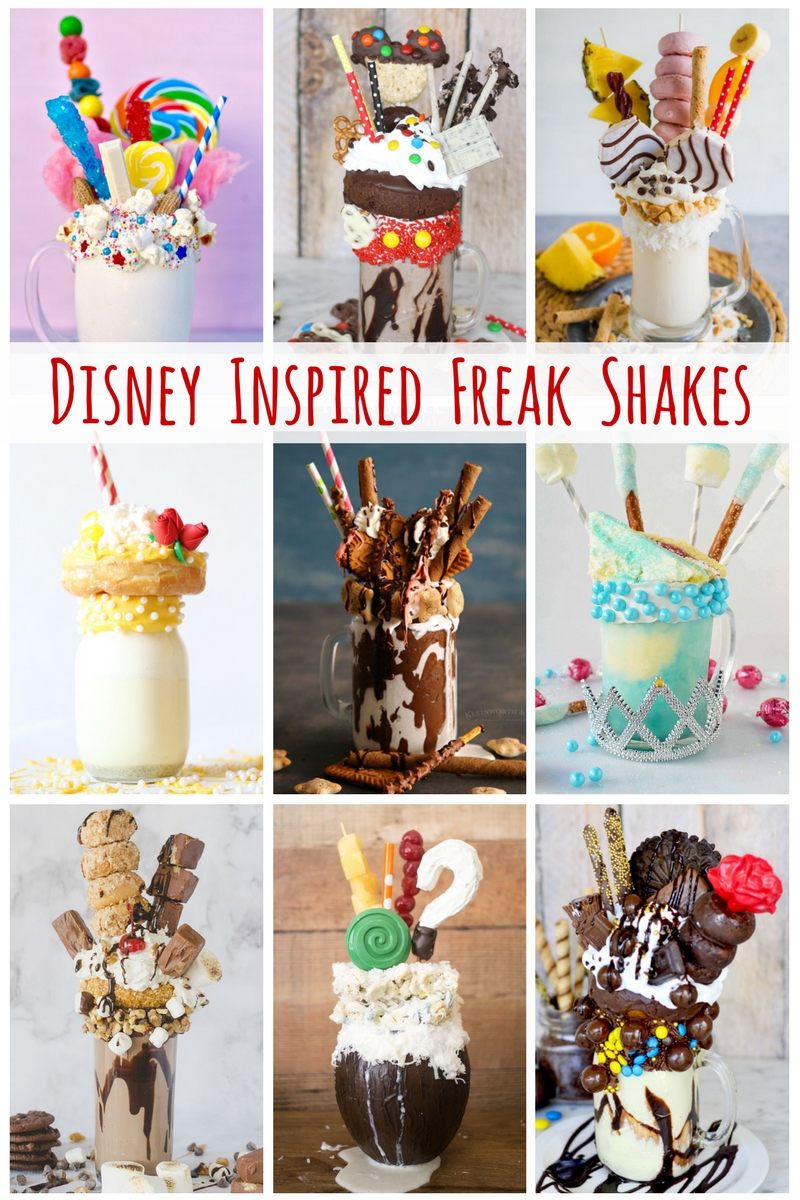 Check out these other amazing DISNEY-Inspired FREAK SHAKES
Mickey Mouse freak shake from Liz on Call
Beauty and The Beast freak shake from Pink Cake Plate
It's A Small World freak shake from Kleinworth & Co.
Jungle Cruise freak shake from My Name is Snickerdoodle
Big Thunder Mountain freak shake from Around My Family Table
Moana freak shake from A Night Owl Blog
Cinderella freak shake from Modern Honey
Dumbo Circus freak shake from Make Life Lovely
Belle freak shake from See Vanessa Craft