This post may contain affiliate links. Please read my disclosure.
Black bean soup and black bean enchiladas, both made from the same recipe. You can cook once and eat twice!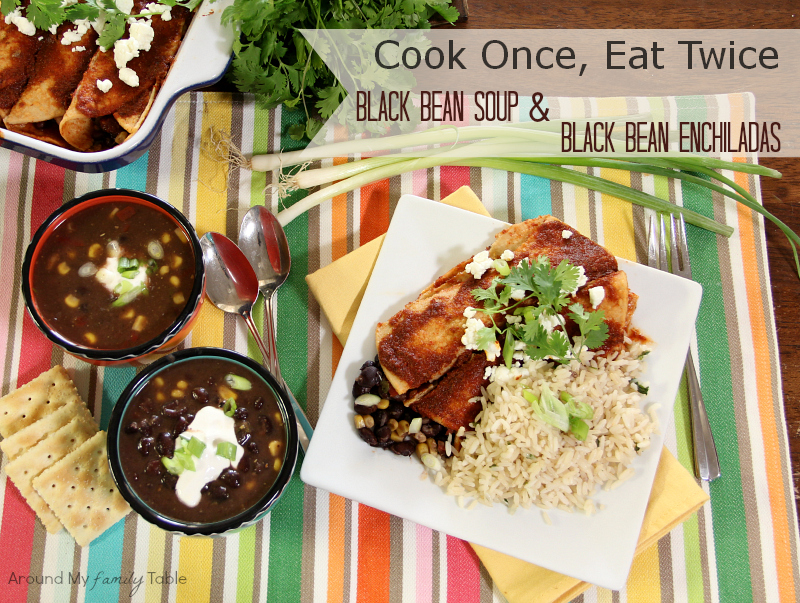 I love easy weeknight meals that can be transformed the next day into something totally different. It just doesn't feel like leftovers that way and the kids are excited even though in reality it is leftovers. So, I challenge you to cook once and eat twice with these super easy and affordable recipes using black beans. Plus, keep reading…I have a wonderful giveaway for you after the recipe!!!
I've partnered with Libby's for a couple recipes, giveaways, and a twitter party this fall. Libby's is on a mission to solve your dinner dilemmas, including your busy family's needs for a quick, nutrious supper and I'm here to help too! As one of Libby's experts, I'm really focused around how you how you can put a meal on your family's table that's both delicious and affordable.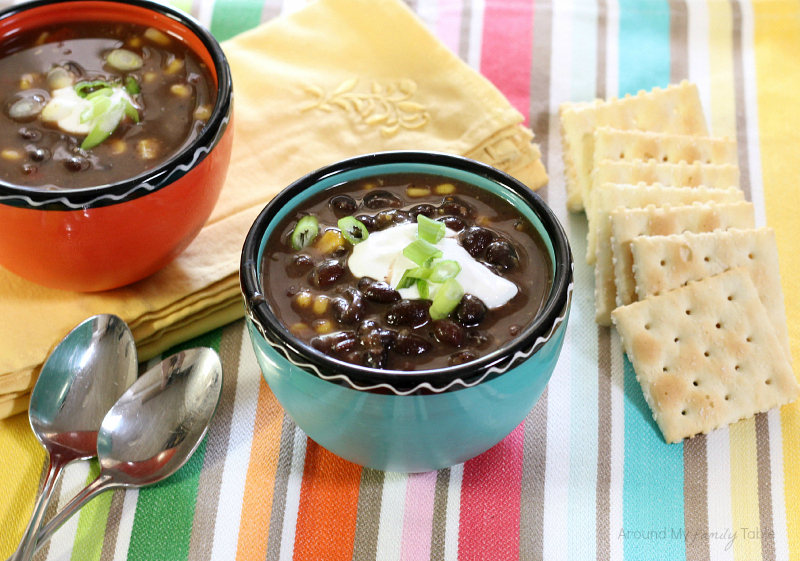 Black Bean Soup (Slow Cooker Recipe)
I love how easy my Black Bean Soup comes together in a slow cooker. It takes only 6 hours and is super affordable because it is meat free; however, the flavor of the soup is so amazing that you won't miss the meat! The next day, kick up the black bean soup by turning it into enchiladas. Less than 30 minutes to the table and it tastes amazing! The enchiladas are cheese free (except for a little goat cheese that I added to the top), but feel free to add cheese or keep it off all together. They are fabulous no matter what!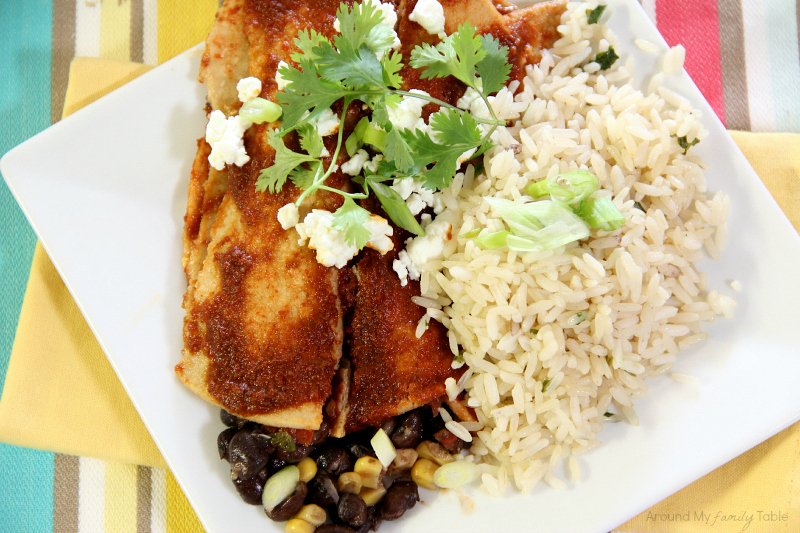 My Black Bean Soup recipe is only around $1 per serving. Now, I'd say that's a pretty affordable and easy supper to get you back into the groove of school, hectic schedules, and life!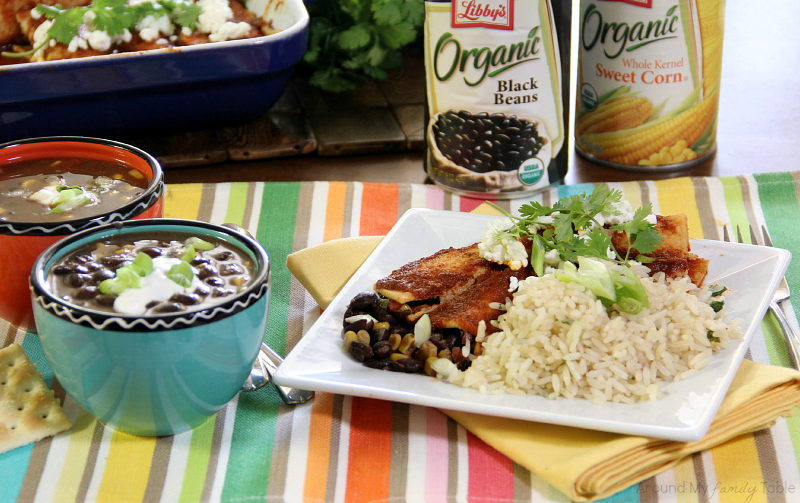 Black bean enchiladas from leftover black bean soup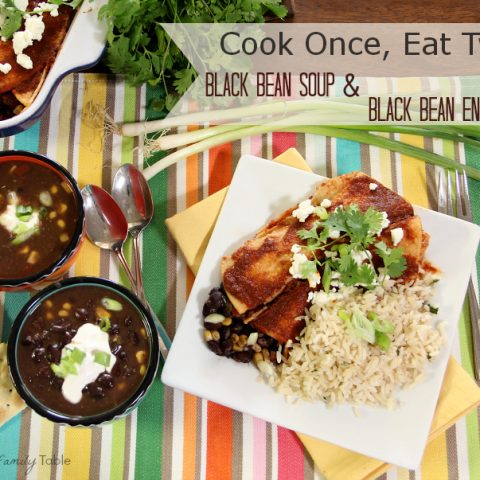 Black Bean Soup and Enchiladas
Total Time:
6 hours
10 minutes
Cook once, eat twice with these Mexican recipes! First, make a batch of slow cooker black bean soup and then use the leftover soup to make black bean enchiladas!
Ingredients
Slow Cooker Soup
4 (15 oz) cans Libby's Organic Black Beans
1 can (15 oz) can Libby's Organic Corn, drained
1 cup cup salsa
2 tsp chili powder
2 tsp cumin
5 tbls chopped green onions
4 tbls chopped cilantro
salt & pepper
optional toppings: sour cream, cheddar cheese
Enchiladas
leftover soup (at least 2 cups)
8 corn tortillas
enchilada sauce homemade or canned
2-3 green onions, chopped
optional: cheese, black olives
Instructions
Soup
In a 6 qt slow cooker combine beans, corn, salsa, chili powder, and cumin. Cook on low for 4-6 hours. 30 minutes before serving, gently mash some of the beans (or remove about 1 cup of beans and liquid and puree in a blender, then return to slow cooker). Add cilantro and green onions and continue to cook for 20-30 minutes. Season with salt and pepper to taste.
Enchiladas
Preheat oven to 350F. Spray a 9x9 baking pan with non-stick cooking spray.
Gently heat enchilada sauce in a 6 or 8 inch skillet over medium heat. Drain leftover soup in a colander.
Warm one corn tortilla in the warmed enchilada sauce for about 30 seconds, making sure to cover the whole tortilla with sauce. Remove tortilla from sauce with tongs and set on a plate, scoop out a small portion of bean mixture onto tortilla, add some green onions (and black olives if desired). Roll up enchilada and place in prepared pan. Continue until all enchiladas are rolled and in pan.
Use the remaining sauce to cover the rolled enchiladas. Top with cheese if desired. Bake at 350F for 10-15 minutes until heated through.
Nutrition Information:
Serving Size:

1
Amount Per Serving:
Calories:

680
Total Fat:

11g
Saturated Fat:

2g
Cholesterol:

285mg
Sodium:

2840mg
Carbohydrates:

39g
Sugar:

12g
Protein:

107g
Find more info about Libby's Online | Facebook | Twitter | Pinterest | GetBacktotheTable
Disclaimer: This post was made in partnership with Libby's. All opinions and thoughts are my own. Giveaway is provided by Libby's.