This post may contain affiliate links. Please read my disclosure.
This fun Halloween appetizer idea if super fun and easy. It's ready in under 30 minutes. This Bones and Blood Halloween Appetizer is fun for kids of all ages!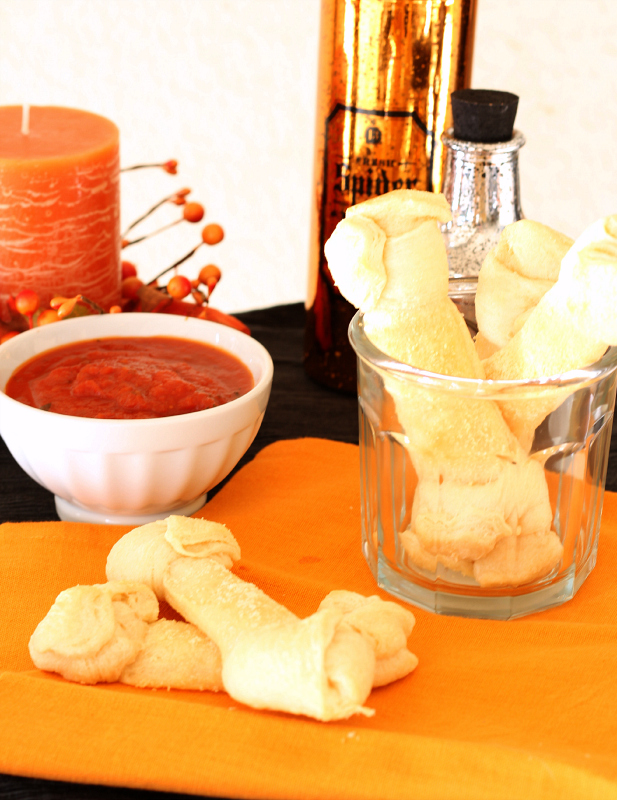 Is this not the funnest Halloween appetizer? My kids went INSANE over these fun breadsticks and gobbled up the entire platter in less than 5 minutes. I barely saved one for Hubbyman who also said they were great.
It's no secret that fall and Halloween are my favorite time of year. I love everything about it and all our fall traditions, cooler weather, my birthday, leaves changing colors, Honeycrisp apples, and Halloween parties. Who doesn't love a good Halloween party?!?!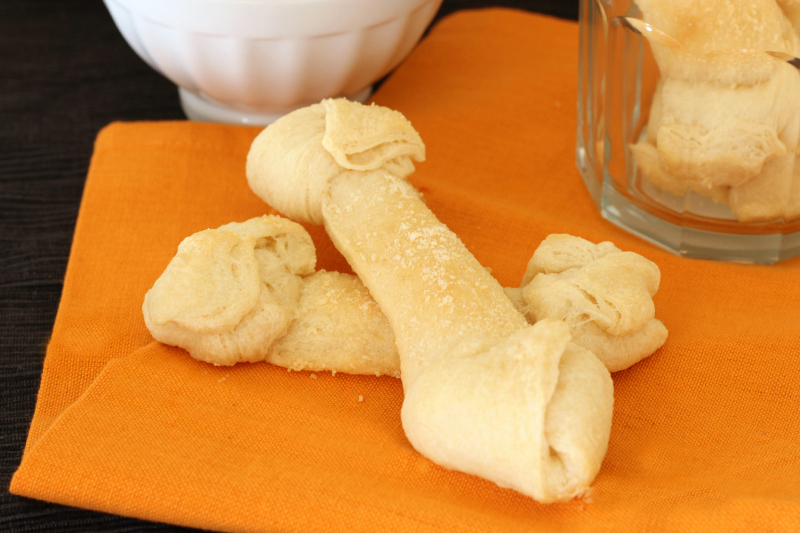 The first Halloween party I attended was in junior high at my friend's house. They had a big swimming pool that they added a ton of dry ice too and the pool bubbled and smoked all night long while we had fun food, blasted the newest George Michael and Debbie Gibson albums. Oh the good ol' days.
A couple years ago, my daughter was invited to her first birthday party/halloween party. The mom went crazy making all sorts of gross treats and she had a version of these bones and blood appetizers. We thought they were so fun that I've been making them ever since for the kids. (Make them anytime of year, but skip turning them into bones.)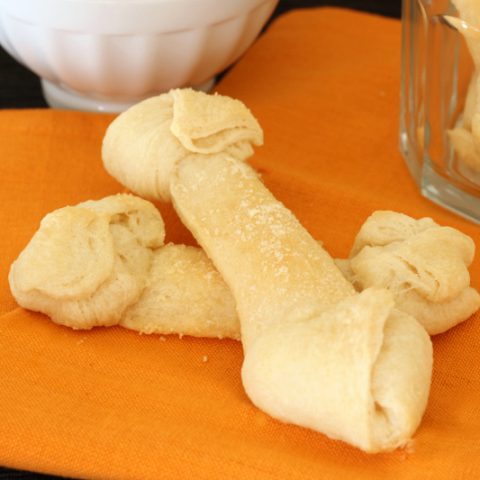 Breadstick Bones and Dip Halloween Appetizer
This Bones and Dip Halloween Appetizer is fun treat for kids of all ages! Breadstick "bones" and marinara sauce "blood" for dipping.
Ingredients
1 tube refrigerated breadstick dough
grated Parmesan cheese
marinara sauce for dipping
Instructions
Preheat oven to 350F and spary cookie sheet with nonstick cooking spray.
Open up breadstick tube and separate dough. Cut each breadstick in half. Then take half and split it in half again. Take the two smaller pieces and wrap around the end of the longer piece, making a knot shape by overlapping. Continue until all pieces are used. Sprinkle each one with Parmesan cheese.
Bake at 350F for 10 minutes or until lightly golden. Cool and dip in warmed marinara sauce.
Notes
I used Pillsbury Dinner Rolls dough and unrolled them to create the breadsticks since my store stopped carrying the breadsticks dough.