A healthier version of the Buffalo Wild Wings new sauce…these Margarita Lime Baked Chicken Wings will knock your socks off.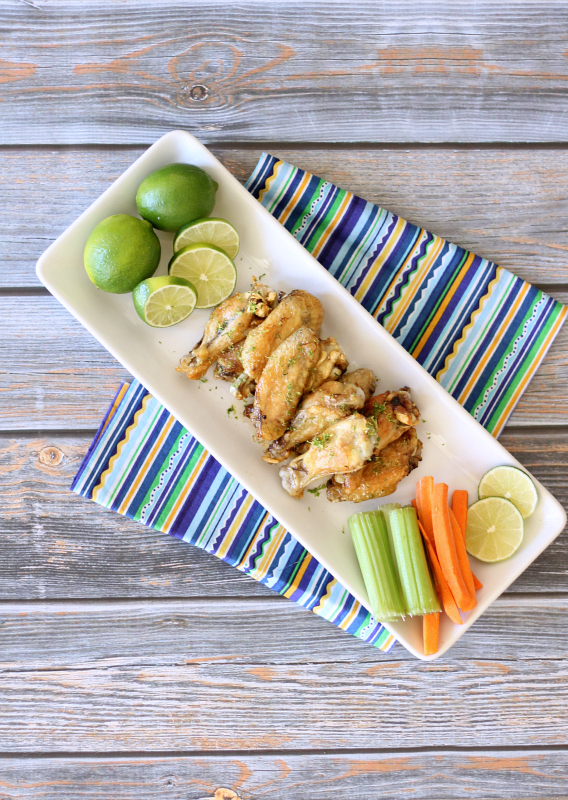 If you haven't figured it out by now, my family loves Buffalo Wild Wings and love several of their sauces.  My all-time favorite is the Spicy Garlic sauce…it is to-die-for.  It's garlicy, tangy, and a bit spicy.  I dip everything in it.  LOL!  So I was little skeptical when they starting creating new sauces that would only be around for a month.  I fell in love with the first new sauce and then it was taken away from me!  Never again would I let that happen.  Lots of new limited-time only sauces came and went…and then love struck again with their Margarita Lime Wings.  They are utterly drool worthy.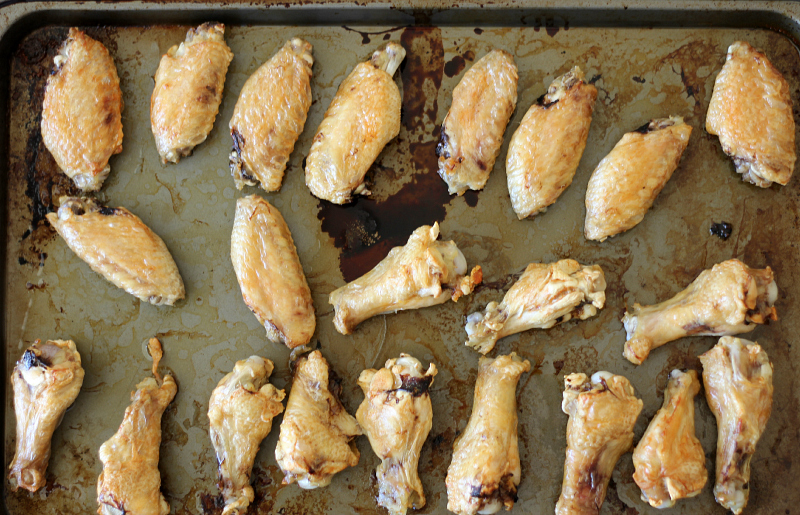 Since I vowed to never fall in love again and let the sauce be snatched away from me, I knew the only logical thing to do was to figure out how to make the sauce at home!  There might have been 3, 4….okay maybe 6 or 7 visits to taste the wings while I crafted my own version at home.  I wanted to change it just a bit and make them a little healthier….probably 'cuz I had eaten 10 dozen wings of the last 6 weeks….my tummy needed a break from all the fried wings.  You can certainly still fry these, but give this baked method a try.  I bet you will be pleasantly surprised at how much they similar to their fried friends.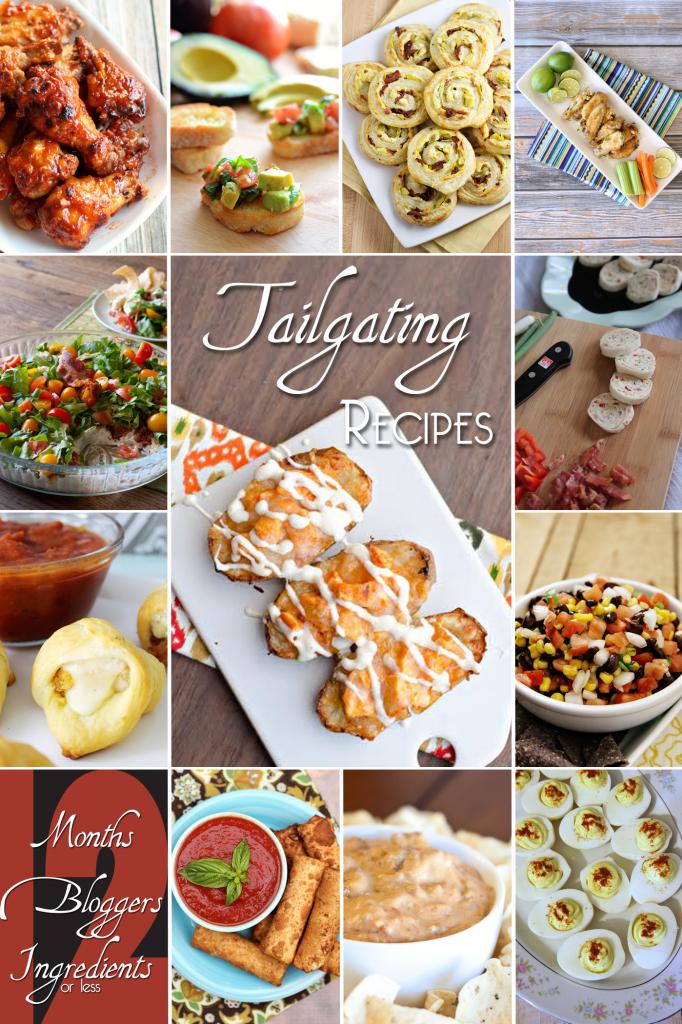 I can't wait to give all these recipes a try.  Even if you aren't a huge football fan, these would still make great appetizers for a party: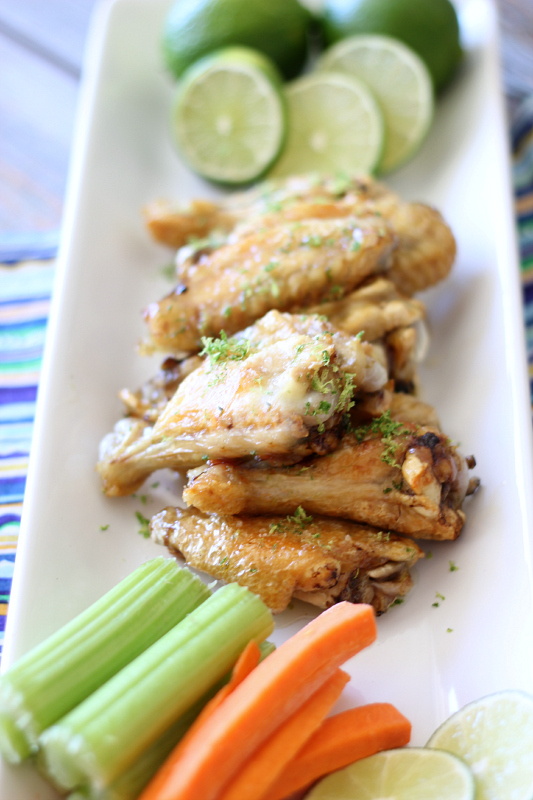 Margarita Lime Baked Chicken Wings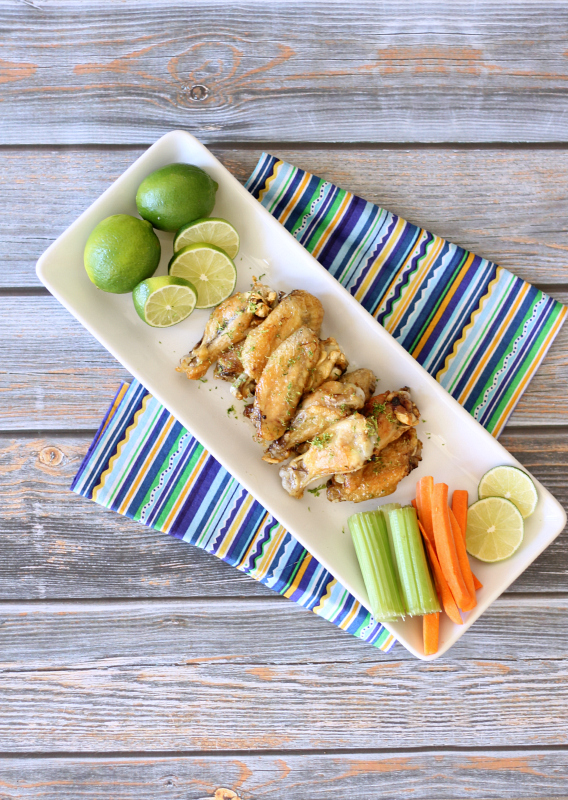 24-36 chicken wing pieces
1/4 cup tequila*
1/2 cup honey
4 limes, juiced (and zest from one lime) ~ 1/2 cup
2 tbls fresh squeezed orange juice
coarse kosher salt
Preheat oven to 400F. Spray a large cookie sheet with nonstick spray and lay out wings in a single layer. (Make sure the wings are not touching each other.)
Bake wings for 30 minutes. Remove from oven and use a suction to remove all the liquid that has formed in the pan . Flip over wings and return to over for an additional 30 minutes.
While chicken is cooking, combine remaining ingredients (except the salt) to a small sauce pan. Bring to a boil and simmer for 10-15 minutes to let the alcohol cook off. If it doesn't reduce enough for you, then combine 1/4 cup water with 1 tbls cornstarch. Mix well and slowly drizzle into pan to thicken sauce or use a couple tbls of ultragel thickener.
When chicken is thoroughly cooked, remove from oven. Using tongs, place chicken in the sauce and gently stir to coat the chicken. Transfer to a serving platter and sprinkle with coarse kosher salt.
*Don't want to use tequila...try chicken broth instead.
7.8.1.2
206
https://www.aroundmyfamilytable.com/margarita-lime-baked-chicken-wings/
Join the Club!
Get delicious recipes delivered straight to your inbox each week! Plus learn how to take back suppertime in your home.

And get started with my NEW Take Back Suppertime 5-Day Jump Start Guide.