This post may contain affiliate links. Please read my disclosure.
A little sweet & a little spicy, my Breakfast Meatloaf is sure to satisfy even the pickiest breakfast eaters.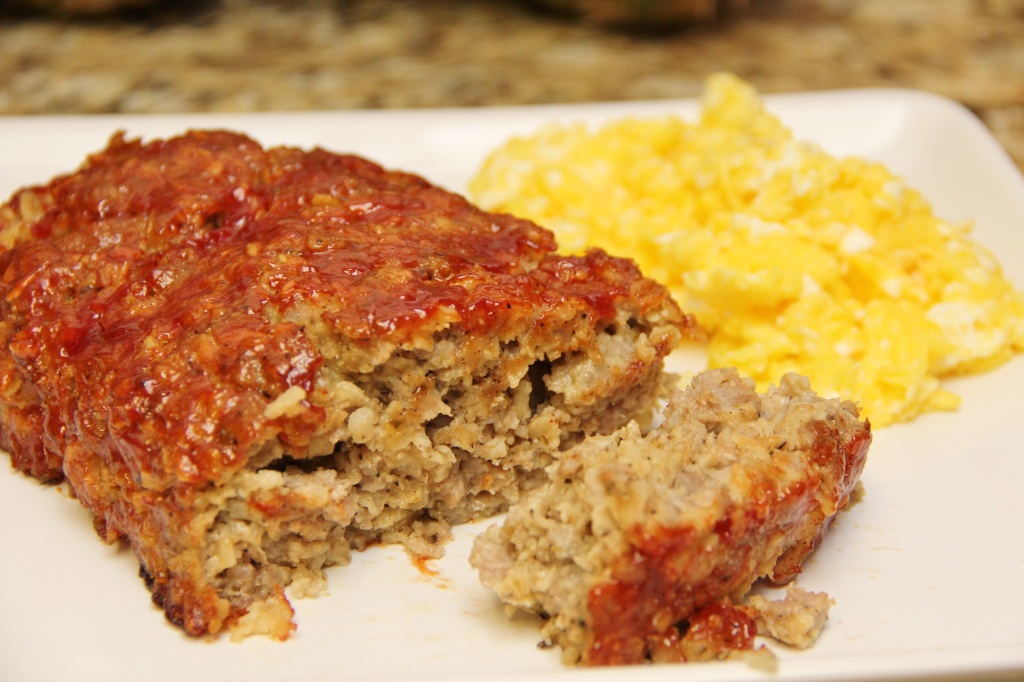 I have a ton of ground breakfast sausage in the freezer and I was tired of just having a side of sausage with breakfast…although I have to say that John sometimes grills it in little patties and it is AMAZING! Still, I wanted something different. I thought about meatloaf and how fun that could be for breakfast some eggs. So, I started searching for a recipe online and all I could find was how to use up a traditional supper meatloaf for breakfast the next. That wasn't the flavor I was going for, so I came up with this.
It's sweet and a little spicy (thank you, my cayenne pepper friend). The breakfast sausage gives it a unique flavor and the ketchup/maple syrup gives it that wonderful sweet breakfast-y flavor! I totally shocked myself with this recipe. I've never made meatloaf, but I will have to try to now….it was super easy (like 5 minutes prep time) and then in to the oven for almost an hour! Plenty of time to do other kitchen things (make the eggs, clean the kitchen, whatever).
Breakfast Meatloaf
Total Time:
1 hour
5 minutes
This breakfast meatloaf is perfect for a weekend brunch. With rolled oats and Italian breakfast sausage, it is also gluten free!
Ingredients
1/2 medium yellow onion, peeled and finely diced
1/2 tsp dry thyme
1/8-1/4 tsp cayenne pepper
pinch nutmeg
1 tsp salt
1/2 tsp pepper
3/4 cup rolled oats
1/2 cup warm water
1 pound Johnsonville ground Italian breakfast sausage
1 large egg
1/4 cup ketchup
1/4 cup pure maple syrup
Instructions
Preheat oven to 350 F. In a large bowl, add oats and warm water. Allow to soak for a few minutes. Meanwhile, prepare a large baking sheet with non-stick cooking spray. In a small bowl combine ketchup and maple syrup, save for later.
To the oatmeal mixture add onion, seasonings, sausage, and egg. Gently mix by hand just until combined. Pour out onto prepared pan and form into a loaf shape. Top with 1/2 of the ketchup mixture. Bake for 30 minutes. Brush top with remaining ketchup mixture and continue cooking for an additional 25 minutes.
Remove from oven and let cool slightly. Slice in 1/2 in slices.
Notes
SPICE LEVEL: Adjust cayenne to your taste. I liked the little kick it had with a 1/4 tsp, but if you don't like a lot of heat use only 1/8 tsp. Also, the meatloaf was very moist and crumbled a little when I served it warm. Once it was cooled to room temp, it stayed together nicely.
Nutrition Information:
Yield:

8
Serving Size:

1 slice
Amount Per Serving:
Calories:

235
Total Fat:

17g
Saturated Fat:

5g
Trans Fat:

0g
Unsaturated Fat:

10g
Cholesterol:

72mg
Sodium:

830mg
Carbohydrates:

9g
Fiber:

1g
Sugar:

3g
Protein:

12g