This post may contain affiliate links. Please read my disclosure.
This is my all-time favorite way to eat a hamburger. It is perfect in every way….of course, having hubbyman that is an awesome grill master helps!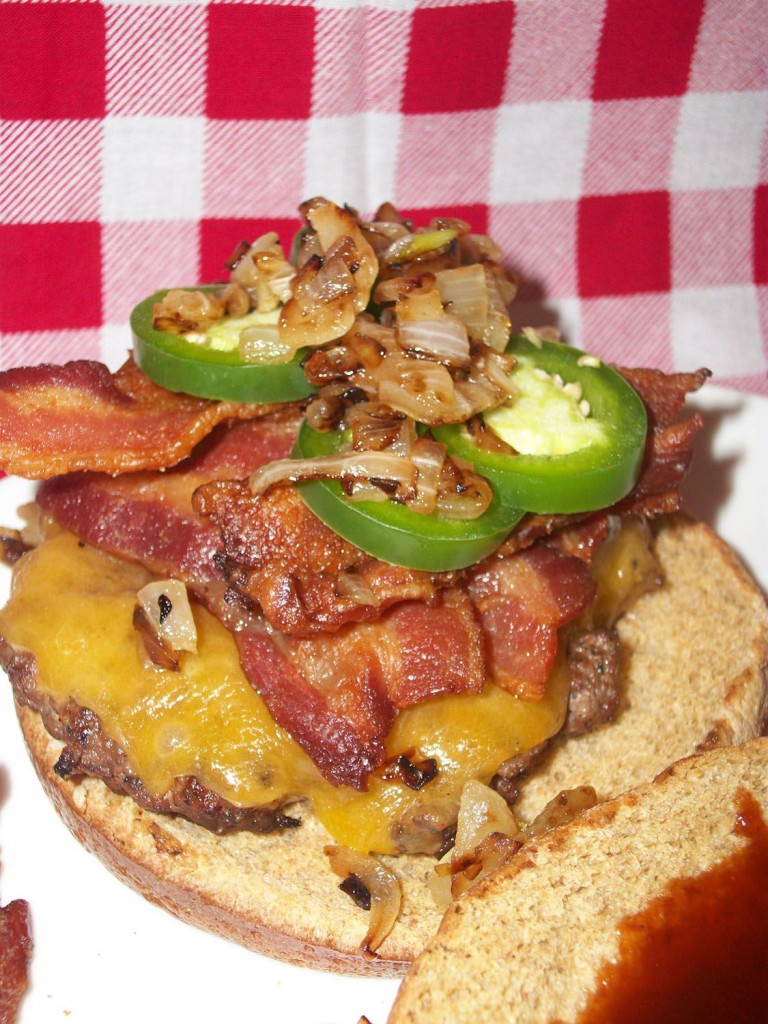 Jalapeno Bacon Cheeseburger
1 1/2 lbs ground beef
1-2 tbls grill seasoning (such as McCormick Montreal Grill Seasoning
)
1-2 tbls Worcestershire sauce
1 onion, diced
1 jalapeno, sliced into rings
8 slices of bacon, cooked (see my oven method)
2-4 tbls BBQ sauce
4 slices of cheese
4 hamburger buns
Combine ground beef, seasoning, and Worcestershire sauce. Divide into 4equal parts and form into patties. Grill over medium heat, flipping once, until they are thoroughly cooked ~10 mins. Toast buns at the same time, if desired.
Meanwhile, saute diced onions in a large skillet on high. Allow them to caramelize (letting them turn a little translucent and then brown on the edges). Do not cover or add water as that will just steam the onions. You want them to get sweet.
When the burgers and onions are done, assemble them. Bottom bun, BBQ sauce, burger, cheese, 2 slices of bacon, a couple slices of jalepeno, and a spoonful of onions, more BBQ sauce if desired, and finely top bun! Enjoy!!!
Serves 4.