This post may contain affiliate links. Please read my disclosure.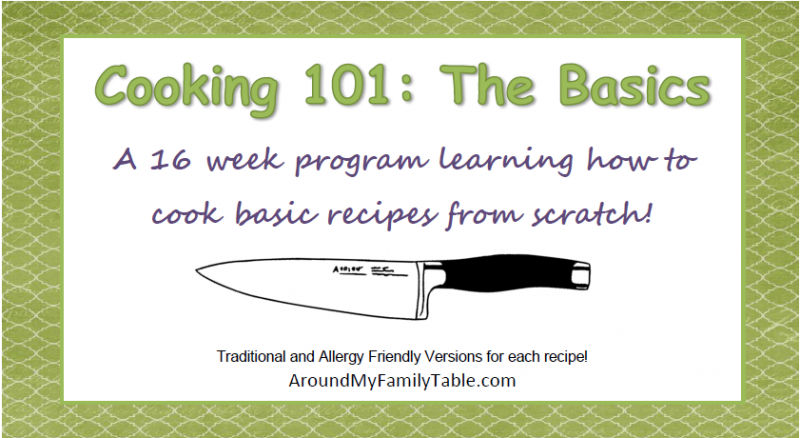 How To Sign Up:
If you'd like to join the cooking classes challenge, sign up by joining the Cooking 101: The Basics group on Facebook. Over there you can ask questions, post tips and recipe photos, and help each other along the way.
Please Grab a Button:
If you are following along, the please grab a class button. Put it on your sidebar and/or in your recipe posts you link up (just link it to my home page). I'd love for you to share the classes with your family, friends, on Facebook, and on Twitter!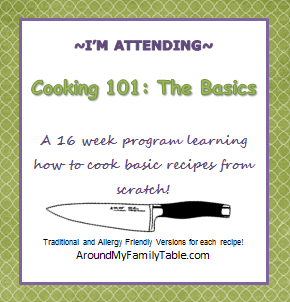 How the Classes and Challenge Work:
Cooking 101: The Basics is a 16 week class on Wednesdays. I will post a new recipe with tips on getting great results along with pictures. It's like your own personal online cooking school! Take as long as you need, but once you make the recipe (or a similar version) come back and add your link to the post to share with everyone. No blog…no worries…add your pictures to the Facebook group, we'd all love to see them!
Got questions? Email, leave a comment, but the best place will be the facebook group!
Grab your aprons and let's get cooking!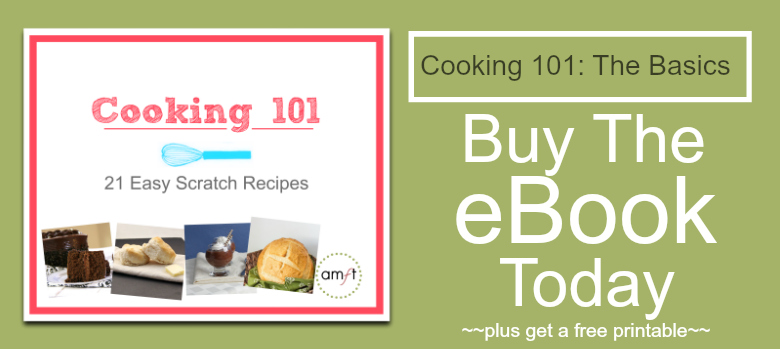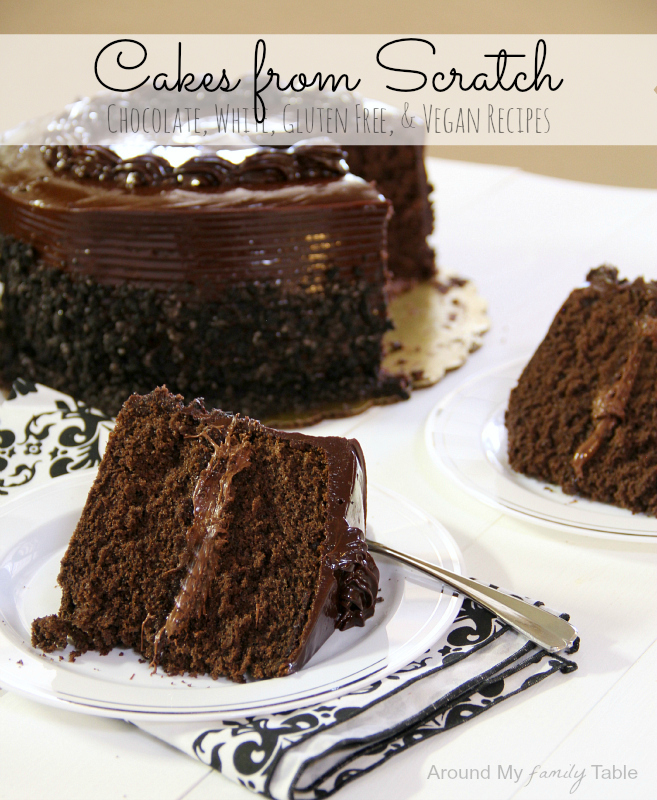 WEEK #12 – CAKE
I love cake…chocolate cake, yellow cake, white cake…any kind of cake. It is probably the one dessert I have trouble saying no too. I have to come clean though…I hate store bought cake. If you've never had a cake from scratch then you are in for a shock…it's totally different. Everything about it is different! The taste, the texture, the crumb, the moisture level….everything! However, I promise, there is nothing better than a homemade cake from scratch!
The thing about homemade cake is that it doesn't really take any more time and effort than a store bought cake mix. You still have to add the oil, eggs, water, etc so the only other part are the dry ingredients. So easy! The other cool part is that you can control the quality. Add premium cocoa powder or organic sugar. It's up to you.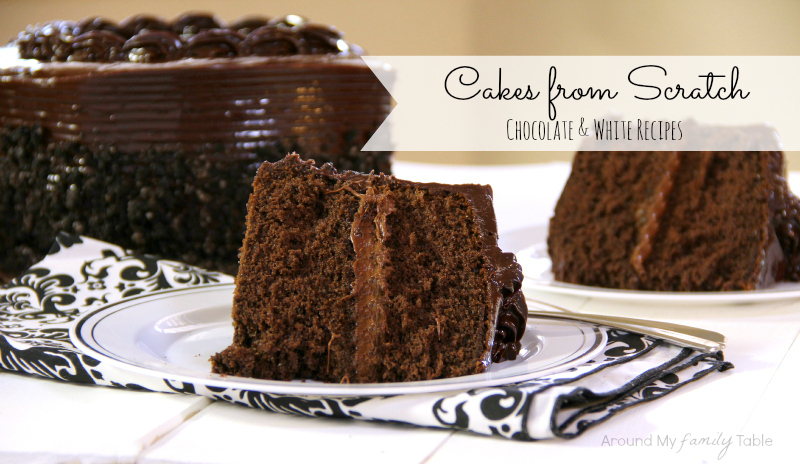 At first, it might seem that it costs more, but in reality the cost of some flour and sugar is pretty small. Oh and you aren't limited to whatever flavor box mix you have…you can do whatever you want!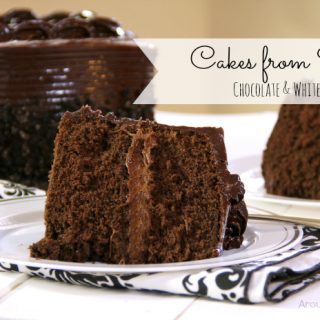 Perfect Chocolate Cake from Scratch
Everyone will rave about your perfect chocolate cake from scratch! It's moist, with deep chocolate flavor. This chocolate cake recipe makes two 8-inch round chocolate cakes, so you can create a chocolate layer cake.
Ingredients
2 cups sugar
1 3/4 cups all-purpose flour
3/4 cup cocoa powder
1 1/2 tsps baking powder
1 1/2 tsps baking soda
1 tsp salt
2 eggs
1 cup milk
1/2 cup vegetable oil
2 tsps vanilla extract
1 cup hot coffee
Instructions
Preheat oven to 350°F. Grease and flour two 8-inch round baking pans.
Combine sugar, flour, cocoa, baking powder, baking soda and salt in large bowl. Add eggs, milk, oil and vanilla. Beat on medium speed (using a stand or handheld mixer) 2 minutes. Stir in hot coffee (the batter will be thin). Pour the batter into prepared pans.
Bake 30 to 35 minutes or until toothpick inserted in center comes out clean. Cool 10 minutes; remove cake from pans onto wire racks. Cool completely. Frost with your favorite frosting.
Options: 9×13 pan and bake 35-40 minutes or 24 cupcakes (line muffin tin with paper baking cup, fill 2/3 full) and bake 22 to 25 minutes.


Nutrition Information:
Yield:

12
Serving Size:

1 slice
Amount Per Serving:
Calories:

321
Total Fat:

11g
Saturated Fat:

1g
Trans Fat:

0g
Unsaturated Fat:

9g
Cholesterol:

33mg
Sodium:

436mg
Carbohydrates:

52g
Fiber:

1g
Sugar:

33g
Protein:

5g
Amazing White Cake
2 3/4 cups AP flour
1 1/2 cups, plus 2 tbls sugar
1 tbl baking powder
12 tbl butter, softened
4 large egg whites + 1 large egg
3/4 cup sour cream
1/4 cup water
2 tsps real vanilla extract
1 tsp almond extract
Preheat oven to 350F.
Mix all the dry ingredients in a mixing bowl fitted to an electric mixer. Add softened butter and combine on low speed.
Add egg whites, one at a time, then beat mix in whole egg.
Gently stir in sour cream, water, and extracts, beating to keep the mixture fluffy.
Grease and flour pans of choice: 2-8″ or 9″ round or square cake pans, 1-9″x13″ pan, or 24 cupcake tins (using papers).
Bake at 350F. Bake for 18 minutes, then check every few minutes (5 minute intervals at the most) for cupcakes or layer cakes, 30 minutes for 9″x13″.
!Gluten Free/Vegan Option:
Use my [GF flour blend|https://www.aroundmyfamilytable.com/2013/03/the-best-gluten-free-flour-blend/] (or one that subs cup for cup) plus 1 1/4 tsp xantham gum, use dairy free/vegan options for the butter and sour cream, sub 3 servings egg replacer for the eggs.
{Last week: Hollandaise Sauce Next Week: Pancakes }