This post may contain affiliate links. Please read my disclosure.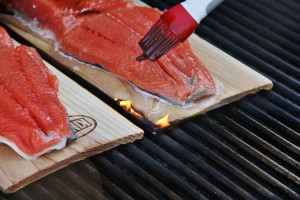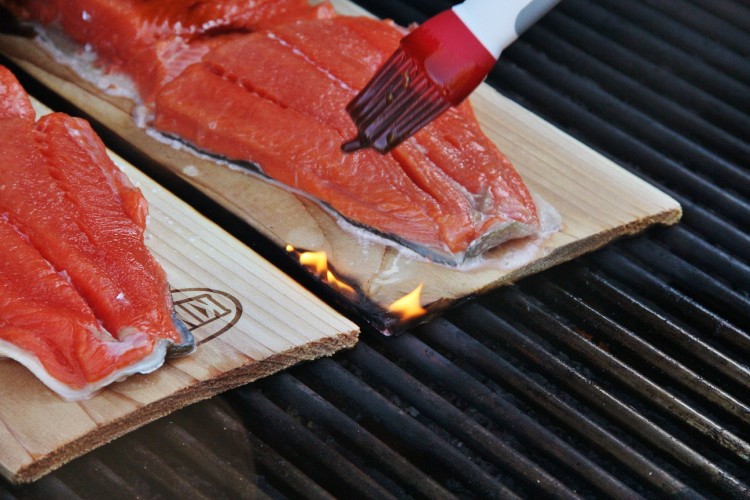 My hubbyman doesn't do a lot of cooking in the kitchen, but give him a grill or smoker and he is a king! I love that he is such a great outdoor cook. It gives me some days off and keeps the house cool in the summer. Luckily, we live in AZ so it is grilling season 365 days a year.
A month or so ago, we were given the opportunity to buy some really fresh salmon (a co-workers brother went salmon fishing in Alaska and then sent it to us). I'm not a huge seafood fan, I really only eat shrimp and shark, but this salmon was unbelievable. Hubbyman wanted to use the cedar plank and then glaze the salmon with my homemade Teriyaki sauce. Brilliant!
The cedar planks give the fish (or anything else you want to cook) and subtle smoke flavor without using a smoker.
Note: Please use caution when buying the wood. Buy food grade wood
and not treated wood from the hardware store.
Cedar Planked Teriyaki Salmon
2 cedar planks (or alder planks)
4 salmon filets (about 2lbs total)
Teriyaki Sauce (recipe follows)
Soak wood planks for 1 hour in water (wine or beer would be tasty too). Preheat grill to medium high. Place wood and then salmon on the grill and cook over direct heat. Cook for about 10 minutes (depends on the the thickness, ours took about 20 minutes), over medium high heat. Put out flare ups with a spray bottle filled with water. Start basting salmon with Teriyaki sauce about halfway through the cooking time. Baste every couple of minutes. Salmon is done when it flakes apart with a fork.
Teriyaki Sauce
1/2 cup soy sauce
1/2 cup sugar
1/2 tsp ginger, freshly grated
1 clove garlic, minced
2 tbls mirin

1/2 tsp cornstarch*
Combine soy sauce, sugar, ginger, and garlic in a sauce pot. Bring it to boil over medium-high heat, stirring occasionally. Combine mirin and cornstarch in a small bowl and add to the sauce; stir well to combine. Reduce heat to medium-low and simmer until it is reduced to about 3/4 cups and forms a syrup-like consistency.
*I use Ultra Gel instead of cornstarch, so I add the mirin in at the beginning and then thicken with the Ultra Gel. I figured most don't have Ultra Gel, so I gave the cornstarch method. Also, powdered ginger will work if you can't get your hands on the real stuff. I buy a large root and then store it in the freezer. It lasts for about 6 months or so this way.
Make a double or triple batch and keep it for up to a week in the fridge or store it in the freezer in sizes that you will use at one recipe. Also, I linked to a couple things today, since some ingredients might be new to you. On Monday, I will share one other recipe to use up your Teriyaki Sauce.