This post may contain affiliate links. Please read my disclosure.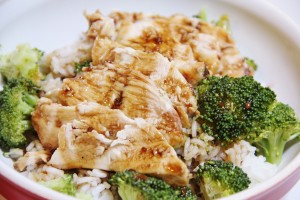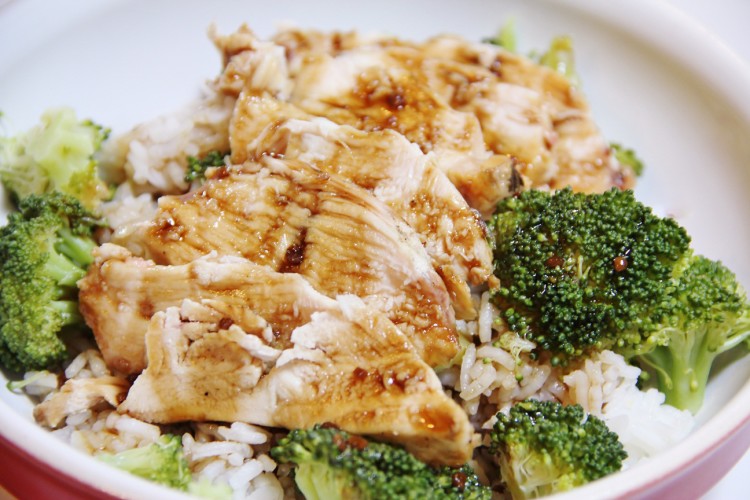 This is one of my family's favorite suppers. I make the sauce in a large batch. I make up freezer packets for this meal, so that I know we have what we need when we want it. This is the only meal that my kids will willingly eat broccoli.
In a large freezer bag I put two large chicken breasts (soon to move up to 3…that's how much we eat for one meal). In a small freezer bag, place about 3/4 cup of the sauce. Put the sealed sauce baggie into the larger bag. In a third freezer baggie add your washed and cut broccoli. Seal and add it to the large bag. Seal and freeze it all together. This way it's all ready when you are!
Of course, don't forget to make a little extra sauce for my Teriyaki Salmon too!
Chicken Teriyaki
2-4 large chicken breasts (boneless, skinless)
1 head of broccoli
3/4 cup of Teriyaki Sauce (recipe follows)
Season chicken with salt and pepper. Preheat grill to a medium-high heat. Cook chicken over direct heat, flipping once. Chicken is done when juices run clear. (Chicken times vary due to heat of grill and thickness of the chicken…usually around 10 minutes total). Let chicken rest for 2-4 minutes before slicing to all the juices to redistribute.
Meanwhile wash and cut broccoli. Place in a steamer or in a steamer basket on the stove and steam for about 5 minutes. The broccoli should stay bright green and should not be limp at all.
Slice chicken thinly and place over rice with broccoli. Top with teriyaki sauce.
Teriyaki Sauce
1/2 cup soy sauce
1/2 cup sugar
1/2 tsp ginger, freshly grated
1 clove garlic, minced
2 tbls mirin

1/2 tsp cornstarch*
Combine soy sauce, sugar, ginger, and garlic in a sauce pot. Bring it to boil over medium-high heat, stirring occasionally. Combine mirin and cornstarch in a small bowl and add to the sauce; stir well to combine. Reduce heat to medium-low and simmer until it is reduced to about 3/4 cups and forms a syrup-like consistency.
*I use Ultra Gel instead of cornstarch, so I add the mirin in at the beginning and then thicken with the Ultra Gel. I figured most don't have Ultra Gel, so I gave the cornstarch method. Also, powdered ginger will work if you can't get your hands on the real stuff. I buy a large root and then store it in the freezer. It lasts for about 6 months or so this way.