I know…more sweet potatoes!  But I love them and I almost always have extras.  Right after Thanksgiving, our friends invited us over and while the guys went hiking in the desert and the kids played outside;  my friend and I ate and played around with some recipes.  Lucky for me, she saved me a piece of her Easy Sweet Potato Pie.
It was wonderful!  I begged her for the recipe (and I lucked out that she had taken a picture too).  The pie has the same consistency as pumpkin pie, but the taste is so much better (yes, I am one of the few who don't like pumpkin pie).
That's it!  This is the last Christmas week recipe.  I hope you've found a new recipe or two to try.  I've got a bunch of my family's favorite holiday leftover dishes coming soon, so stay tuned!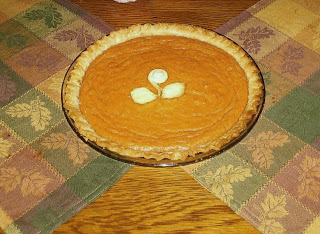 Easy Sweet Potato Pie
~my friend, Janice
1/3 cup butter, softened
1/2 cup sugar
2 eggs, slightly beaten
3/4 cup evaporated milk
2 cups sweet potatoes, cooked and mashed (tip: Baked Sweet Potato Tips)
1 tsp vanilla extract
3/4 tsp ground cinnamon
3/4 tsp ground nutmeg
1/4 tsp salt
1 9″ unbaked pie shell (homemade or store bought)
In a mixing bowl, cream butter and sugar. Add eggs and mix well. Add evaporated milk, sweet potatoes, vanilla, cinnamon, nutmeg, and salt; mix well. Pour into pie shell.
Bake at 425 degrees for 15 minutes. Reduce heat to 350 degrees and bake 35-40 minutes longer or until pie tests done. Cool on a cooling rack and then store in refrigerator.
Make embellishments from leftover pie dough by cutting out and cooking on a small baking sheet while the pie is cooking (for about 10 minutes).
Join the Club!
Get delicious recipes delivered straight to your inbox each week! Plus learn how to take back suppertime in your home.

And get started with my NEW Take Back Suppertime 5-Day Jump Start Guide.