This post may contain affiliate links. Please read my disclosure.
Please welcome Kim, from Cravings of a Lunatic, and her scrumptious vegan coconut ice cream to the table today! She has been an amazing resource for me and I hope to meet her some day in person. Y'all are gonna love her photography and her recipes are amazing! For now…I will continue to stalk her online.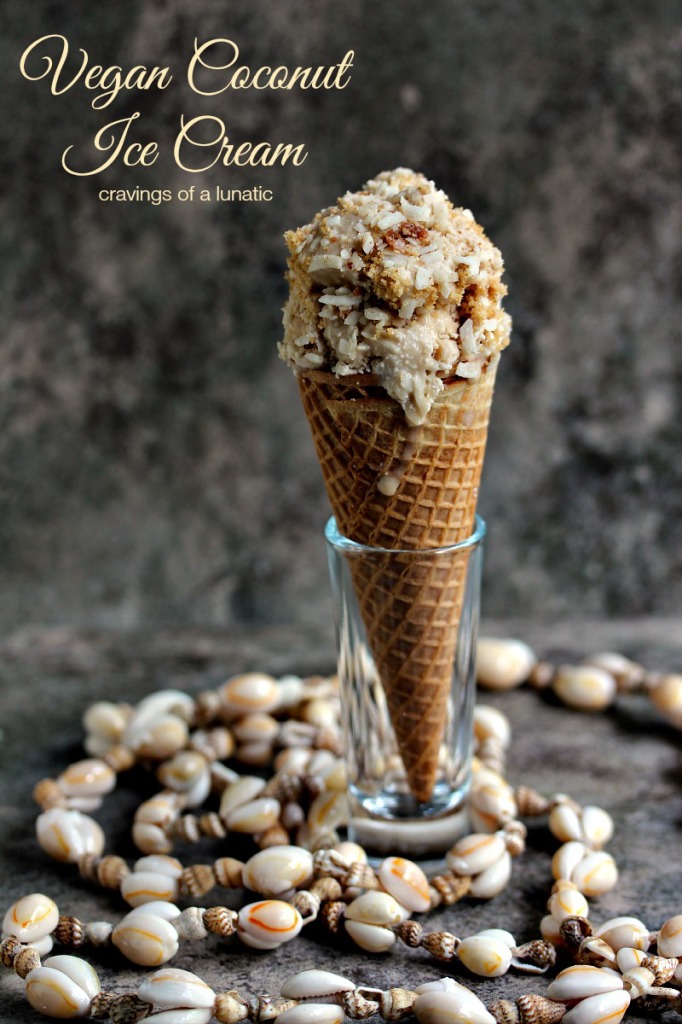 I have to tell you I am such a sucker for ice cream. Coconut ice cream is a serious weakness of mine. Any chance I get to make a recipe that uses coconut is good day in my book.
When Wendy asked me to guest post for her I was thrilled. That feeling was quickly followed by a moment of panic. I'm not vegan, so I started to wonder if I could pull off a vegan ice cream recipe.
The question was quickly answered with a resounding yes when I realized I could use coconut milk for the recipe. I adore coconut milk. I could swim in coconut milk. If it was socially acceptable (and I'm hoping one day it will be) I would bathe in coconut milk.
Okay that last part is a stretch, but only because I'm more of a shower kind of girl.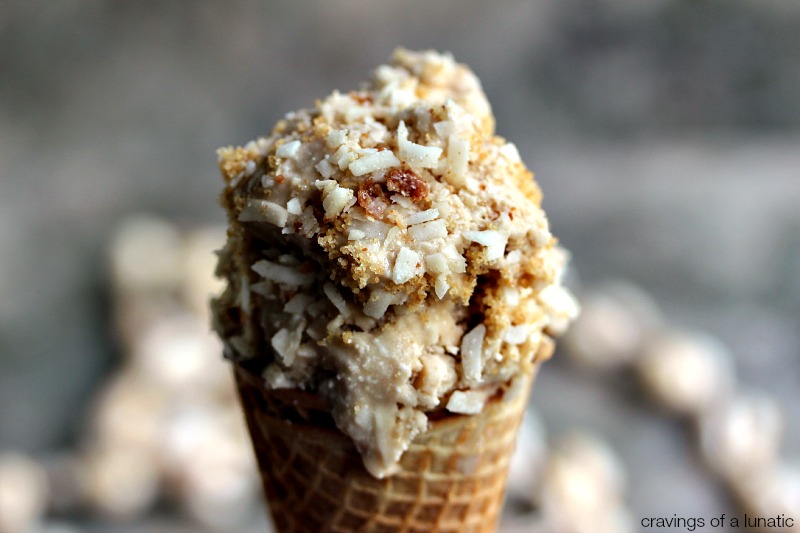 I make whipped cream with coconut milk all the time. I knew it would give a great flavour and texture to the ice cream. I considered using coconut cream but it's incredibly difficult to obtain where I live. Coconut cream will give a creamier texture to ice cream, so if it's available to you it's great to use.
When I started to develop this recipe I had a bit of a happy accident. I knew I wanted to add toasted coconut to the ice cream. So as I was toasting the coconut in the pan I added some coconut sugar. I do this often with regular sugar as it helps speed up the process a bit. Coconut sugar does not melt like regular sugar does. I discovered that cooking it in a pan with the coconut changed the texture of the sugar. It was forming amazing candy like coconut sugar crumbles as it cooked. I have to admit I was thrilled. Those crumbles taste like coconut candy, and I could not stop popping them in my mouth as I worked on this ice cream.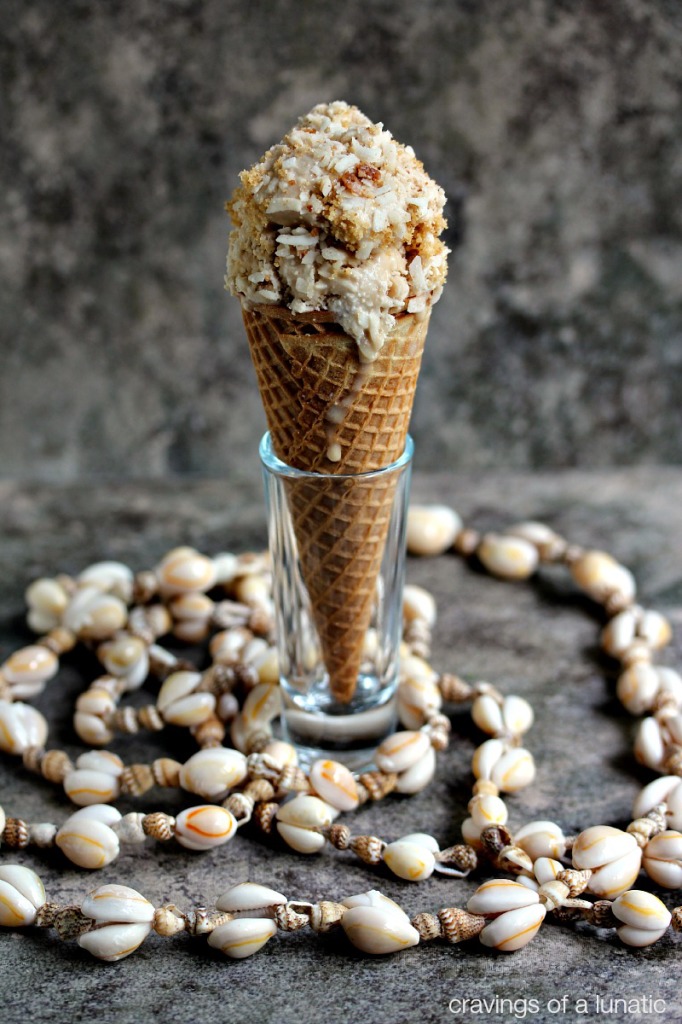 Make sure you try this out for yourself. It's such a great recipe and you could adapt to your own dietary needs. I hope you love it as much as we did.
Thanks so much to Wendy for allowing me to sit at her family table for the day. It was a pleasure, and honour to visit.
Connect with Kim on Cravings of a Lunatic | Facebook | Twitter | Pinterest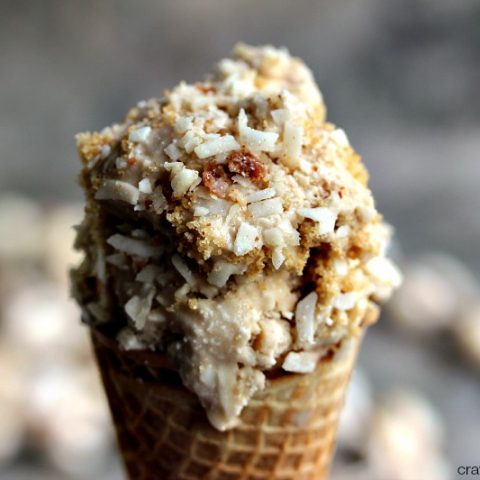 Vegan Coconut Ice Cream
This coconut ice cream is so rich and creamy, nobody will believe it's dairy-free and vegan!
Ingredients
1 cup almond milk (use coconut flavored if you can find it)
1/2 cup coconut sugar, divided
13.5 oz canned coconut milk, chilled overnight before using
1 teaspoon coconut extract (or vanilla extract)
1/2 cup coconut flakes, toasted
Instructions
In a non-stick pan toast the coconut flakes and half of the coconut sugar over medium heat. Adjust the heat down if it cooks too quickly. Stir around every few minutes and continue to cook until the coconut starts to turn a light brown colour. At the same time the coconut sugar will start to form crumbles. Turn off heat once finished toasting the coconut, transfer to a bowl and set aside until needed.
In a stand mixer, using the whisk attachment, combine the almond milk and the other half of the coconut sugar. Mix on low speed, and gradually increase to medium speed. Continue mixing for about 3 to 4 minutes, allowing the coconut sugar enough time to mix thoroughly with the almond milk.
Add the coconut milk and coconut extract to the stand mixer. Start mixing on low speed for a few minutes until the mixture thickens slightly, then gradually increase to high. Allow to mix for a good 3 to 5 minutes. The mixture will start to thicken, when that happens turn mixer off, cover the bowl and place in the fridge for at least one hour, preferably overnight.
Remove the bowl from the fridge, uncover and transfer the mixture to a frozen ice cream bowl. Place the ice cream bowl on the machine and allow to churn for about 10 to 15 minutes, add the toasted coconut and coconut sugar crumbles during the very last minute. Let it churn briefly until they mix in, then turn the machine off, remove the bowl from the machine, and cover it. Place in the freezer for about 4 hours, preferably overnight.
Remove from freezer about 10 minutes before serving.
Notes
You can also use coconut cream in this recipe if you want a more creamy texture to your ice cream. Coconut cream is incredibly difficult to find where I live so I rarely have it on hand. I do think using it would give this recipe a great texture, and it would hold up better in the freezer for a longer time.
You can sweeten this with other things, use your judgement based on your diet.
Nutrition Information:
Yield:

6
Serving Size:

1/2 cup
Amount Per Serving:
Calories:

297
Total Fat:

20g
Saturated Fat:

18g
Trans Fat:

0g
Unsaturated Fat:

1g
Cholesterol:

0mg
Sodium:

71mg
Carbohydrates:

30g
Fiber:

2g
Sugar:

25g
Protein:

2g