This post may contain affiliate links. Please read my disclosure.
A simple, easy to follow recipe teaching you How to Cure Your Own Bacon. Once you have homemade bacon, you may never buy store bought bacon again!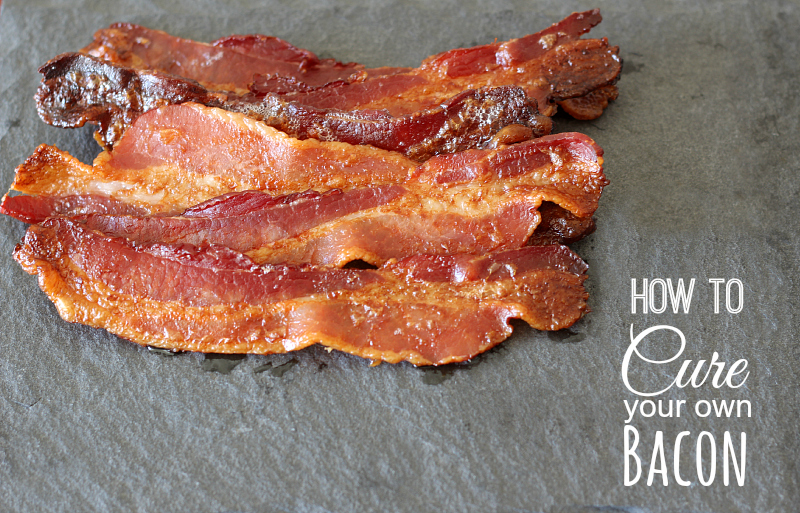 I am so excited! The next two weeks are going to be full of amazing bacon recipes. They aren't going to be just plain on bacon recipes…but really pushing the limits of what bacon can do. Well, at least in my mind. (Keep Reading for a giveaway)
What comedian Jim Gaffigan says about bacon makes me giggle. He says bacon is the fairy dust of the food world…it makes everything better! Um, yeah it does!
Bacon prices are at an all time high these days, but did you know you can make your own bacon at home for a fraction of the cost…even with the special ingredients and tools. To make your own bacon there are a couple necessary ingredients and tools that you might not already have on hand:
pork belly(ask your butcher & buy several pounds or find an Asian market)
pink curing salt (this is not the same a pink Himalayan salt, this salt is what gives bacon the "bacon" flavor)
smoker (check out my whole post on how to use a smoker)
electric knife or meat slicer (optional, but totally worth it…at least have an electric knife)
And here it is in all it's glory after it's been cured, smoked, cut, and baked in an oven. Can't you just smell it? It is so full of flavor and absolutely the best bacon I've ever had.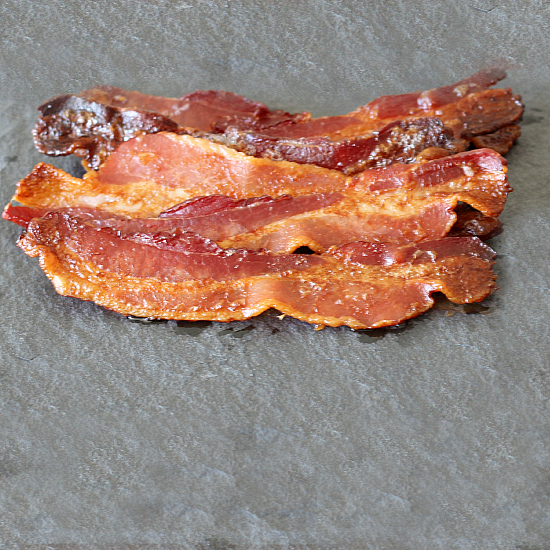 So, tell me….will you consider making your own bacon? You really should give it a try because it's easy, cheaper than store bought, and the taste is unbelievable!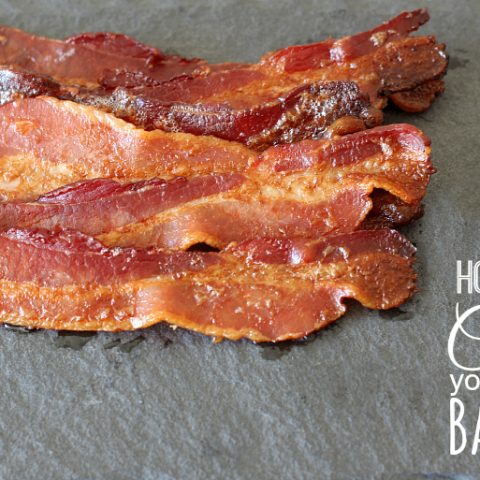 How to Cure Bacon at Home
Once you learn how to cure bacon at home, you'll never want to buy it from the store again!
Ingredients
4 lbs pork belly
1/4 cup kosher salt
1/4 cup brown sugar
5 cloves garlic, smashed
4 whole bay leaves
1 tbls coarse black pepper
2 tsps pink curing salt
4 gallon sized ziptop baggies
Instructions
Cut pork belly into one pound sections. Combine remaining ingredients in a large bowl and mix well. Divide the seasoning blend into fourths and rub all over each pork belly, covering all areas well. Place each pork belly in their own ziptop baggie (only one belly per bag, otherwise it won't get enough curing seasoning on it and you will end up with something more like Canadian bacon).
Place ziptop baggies in the fridge for about 7 days. Every day, rotate bags and rub meat through the bag to make sure the spices are evenly covering the pork.
After seven days, prepare and preheat smoker (according to directions) with mesquite or hickory wood chips.
Remove pork from baggies. Rinse under cold water and pat dry. Place in the smoker with plenty of space around each piece of meat.
Smoke at 200F for about 2 hours or until it reaches 150F (use a thermometer to check the temperature).
Let cool, slice off the top layer of fat that remains and then slice as thick or thin as you like. Freeze in a single layer (and then store in a freezer bag) any that you aren't going to use up in a week.
The goal is to not cook the bacon, but to impart a strong smoke flavor. So keep the temp low and the smoke level high.
Notes
Alternate Method
You can also try roasting it in your oven at 200F for 2-2 1/2 hours. I have not tried this method, but have heard others have done it successfully. Before cooking, brush with liquid smoke and roast fat side up. Roast until 150F (use a thermometer to check).
a Rafflecopter giveaway
Check out all the other amazing bacon recipes this week: '); // ]]>