This post may contain affiliate links. Please read my disclosure.
Grab two handfuls of this CRUNCHY TACO MIX because it won't last long!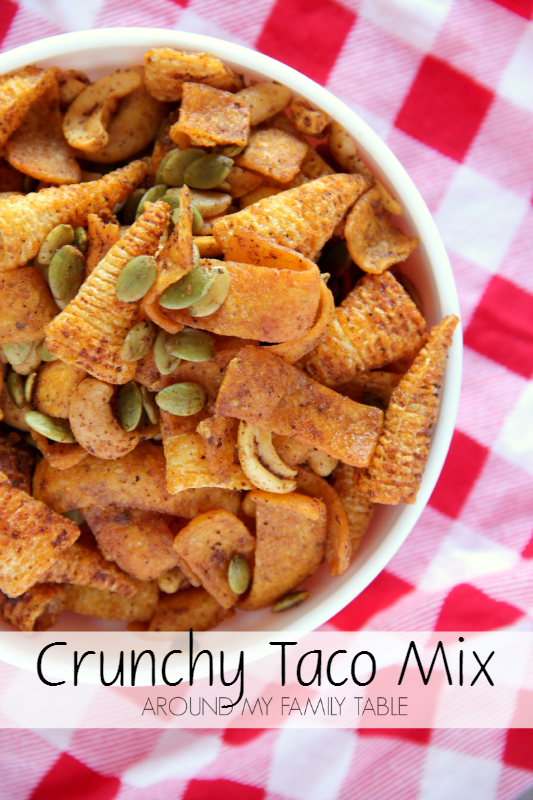 When my sister and I were little, we came from school and were greeted by some sort of homemade after school snack. It was always a highlight of my day and something I remember fondly from my childhood. I told myself that I would always do this for my kids too, but sadly life gets in the way and I forget a lot of the time.
I feel bad that I can't make something amazing for the kids every day after school, but I do try to have something special for them once a week. Having something a little special reminds them that I think about them during the day and it brings us together at the table after school to discuss the day.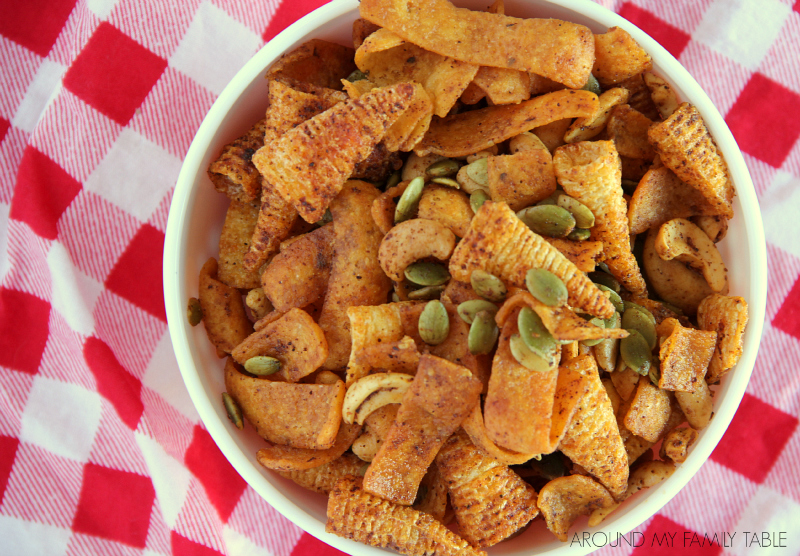 I love that this mix is gluten free (and dairy free) so I can enjoy it, but feel free to use regular butter or other crunchy chips. The kids thought the addition of cheese fish or cheetos would be good. This would be so yummy made with my homemade taco seasoning mix in place of the other seasonings. Delish!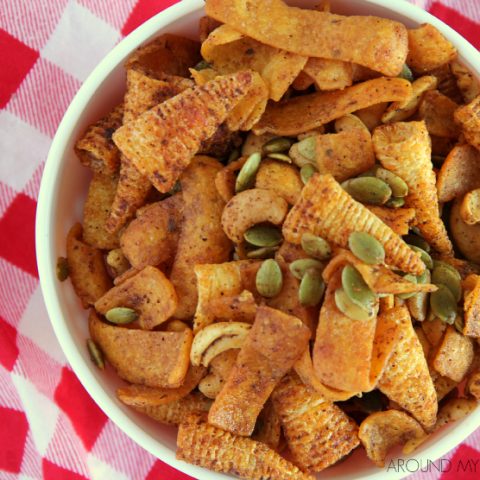 Crunchy Taco Mix
Grab two handfuls of this CRUNCHY TACO MIX because this salty spicy snack mix won't last long!
Ingredients
1/2 cup butter (regular or dairy free)
3 tsps chili powder
1 1/2 tsps ground cumin
3 cups Fritos
2 cups Bugles
1 cup cashews
1 cup pepitas
Instructions
Preheat oven to 300F.
In a large bowl melt butter in microwave. Add in chili powder and cumin and stir will to combine.
Add Fritos, Bugles, cashews, and pepitas to the butter mixture and stir gently to coat completely. Pour out onto a rimmed, non-stick baking sheet (that's been sprayed with non-stick cooking spray).
Bake for 15-20 minutes, stirring every 5 minutes. Remove from oven and gently dump onto paper towels to cool. Store in a zip-top baggie for up to two weeks.
Nutrition Information:
Yield:

14
Serving Size:

1/2 cup
Amount Per Serving:
Calories:

449
Total Fat:

33g
Saturated Fat:

9g
Trans Fat:

0g
Unsaturated Fat:

21g
Cholesterol:

17mg
Sodium:

431mg
Carbohydrates:

35g
Fiber:

3g
Sugar:

1g
Protein:

7g