This post may contain affiliate links. Please read my disclosure.
Fall has never tasted so good! Once you try one of these dreamy Chocolate Cupcakes with Pumpkin Buttercream Frosting you'll be reachin' for a second one.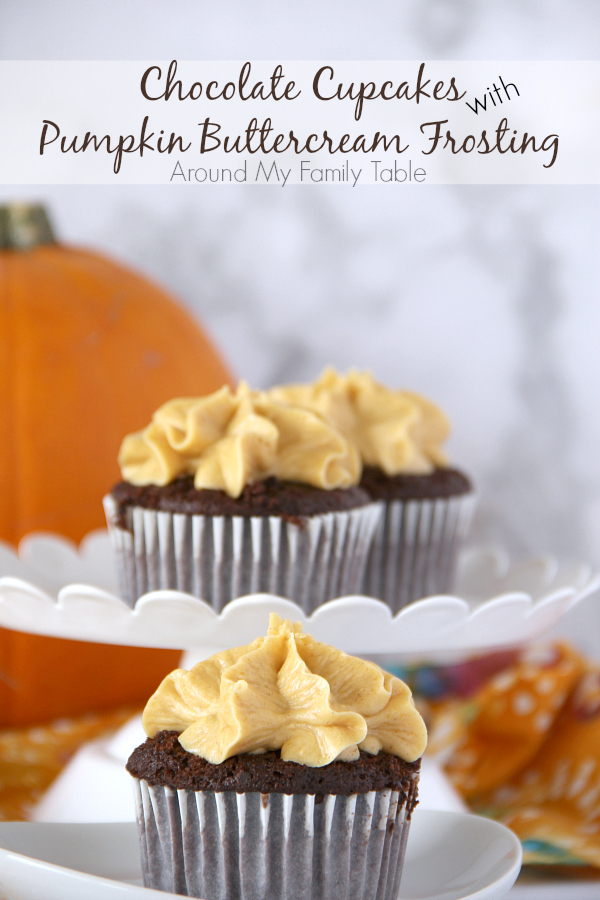 First things first, let's talk about this Pumpkin Buttercream Frosting. It's probably the best flavored buttercream I've had in a long time. It doesn't just have pumpkin pie spice, it actually has pureed pumpkin in the frosting. I'm so excited to add this buttercream to my list of Easy Pumpkin Recipes.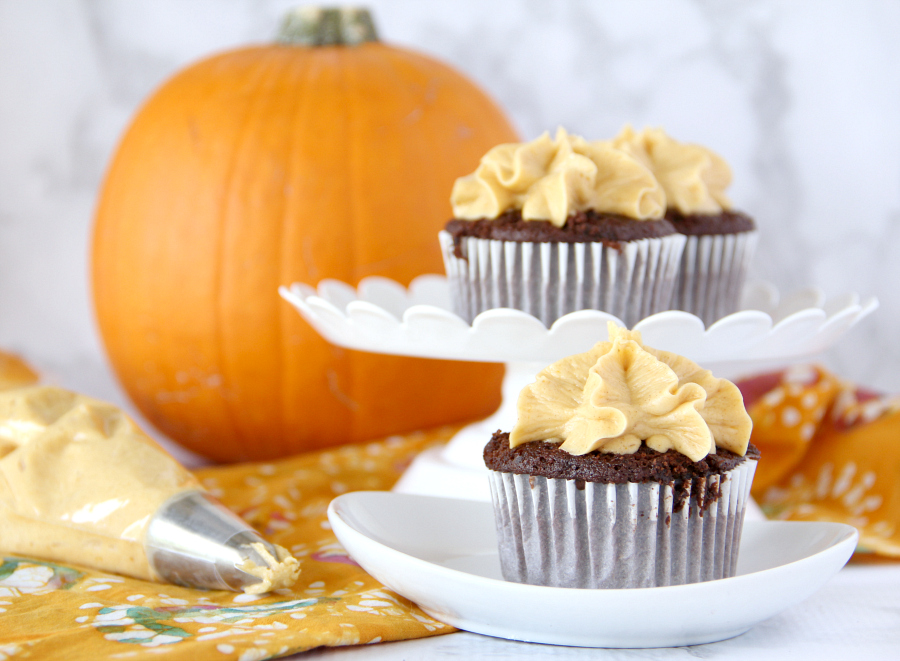 Next up is this dark, decadent chocolate cake. It's the only recipe I've made for years when people ask me to make them a cake. My secret weapon is the strong hot black coffee. Don't freak on me here….you can't taste it and coffee brings out the natural flavors in the coffee. It's just not the same without it.
Trust me. You'll love it and know one will know it's there.
When you put the chocolate cupcake together with the creamy, rich pumpkin buttercream frosting something magical happens. Besides making your tastebuds jump for joy you can't help by smile. It' the perfect fall cupcake.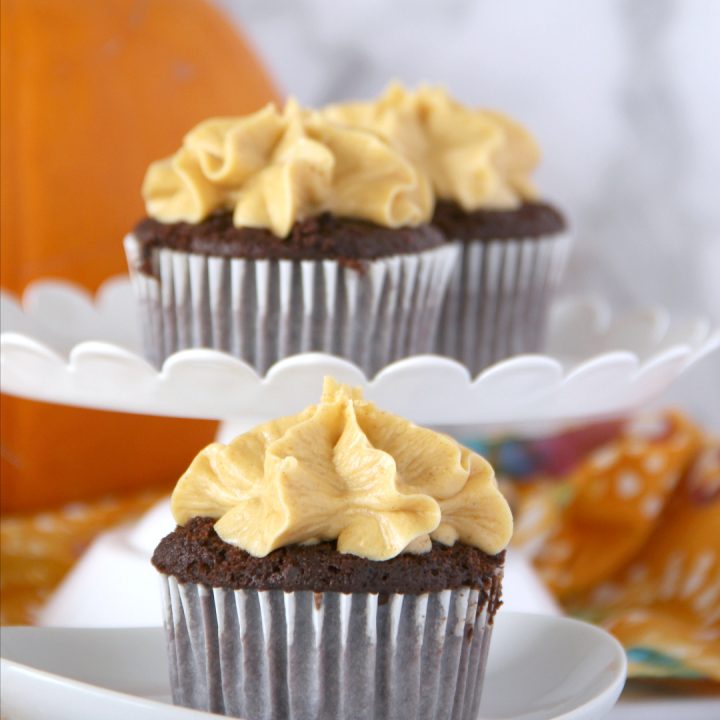 Chocolate Cupcakes with Pumpkin Buttercream Frosting
Fall has never tasted so good! Once you try one of these dreamy Chocolate Cupcakes with Pumpkin Buttercream Frosting you'll be reachin' for a second one.
Ingredients
Cupcakes
2 cups sugar
1 3/4 cups all-purpose flour
3/4 cup cocoa powder
1 1/2 tsps baking powder
1 1/2 tsps baking soda
1 tsp salt
2 eggs
1 cup milk
1/2 cup vegetable oil
2 tsps vanilla extract
1 cup hot coffee
Frosting
1 cup butter-flavored shortening
1/2 cup pumpkin puree
2 tbls warm water (2-3)
1 tsp vanilla extract
2 lbs confectioners sugar
2 tsps pumpkin pie spice
Instructions
Cake
Preheat oven to 350°F. Line cupcake tins with cupcake liners and set aside.
Combine sugar, flour, cocoa, baking powder, baking soda and salt in large bowl. Add eggs, milk, oil and vanilla. Beat on medium speed (using a stand or handheld mixer) 2 minutes. Stir in hot coffee (the batter will be thin). Pour the batter into prepared cupcake tins until about 2/3 full.
Bake 22 to 25 minutes or until toothpick inserted in center comes out clean. Cool 10 minutes; remove cake from pans onto wire racks. Cool completely.
Frosting
Beat together shortening, pumpkin, 1 tbsp of warm water, vanilla, and pumpkin pie spice until smooth and creamy. Beat in the sugar gradually on a low setting. Scrape sides of bowl as needed.
Mixture will be very thick. After all sugar is incorporated, add 1-2 more tbsp. of warm water and beat at medium/medium-high speed for 1-2 more minutes. Adding more warm water will continue to thin the frosting consistency and bring down the sweetness even more. Add as much as you like to get the appropriate flavor and consistency. Be careful because a little goes a long way.
The frosting can also be made several days in advance and stored in an airtight container in the refrigerator. Bring to room temperature, then mix well before using. Leftovers should be refrigerated.
Frost cooled cupcakes with pumpkin buttercream frosting.
Makes 24 cupcakes.
Nutrition Information:
Yield:

24
Serving Size:

1 cupcake
Amount Per Serving:
Calories:

277
Total Fat:

3g
Carbohydrates:

51g
Protein:

10g

Never worry about dinner again....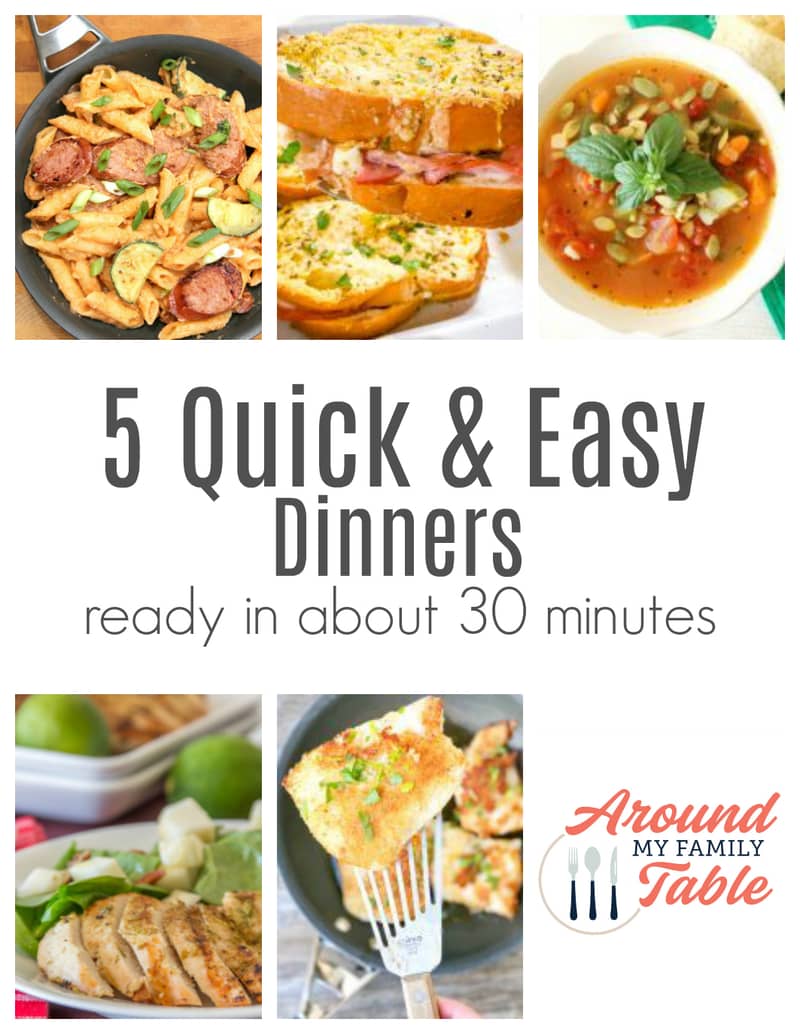 Subscribe to get my 5 favorite Quick & Easy dinner recipes and FREE weekly meal plans