This post may contain affiliate links. Please read my disclosure.
Halloween is almost here, and it's time to celebrate with over 13 Halloween Beverage Recipes that are perfect to punch up your party!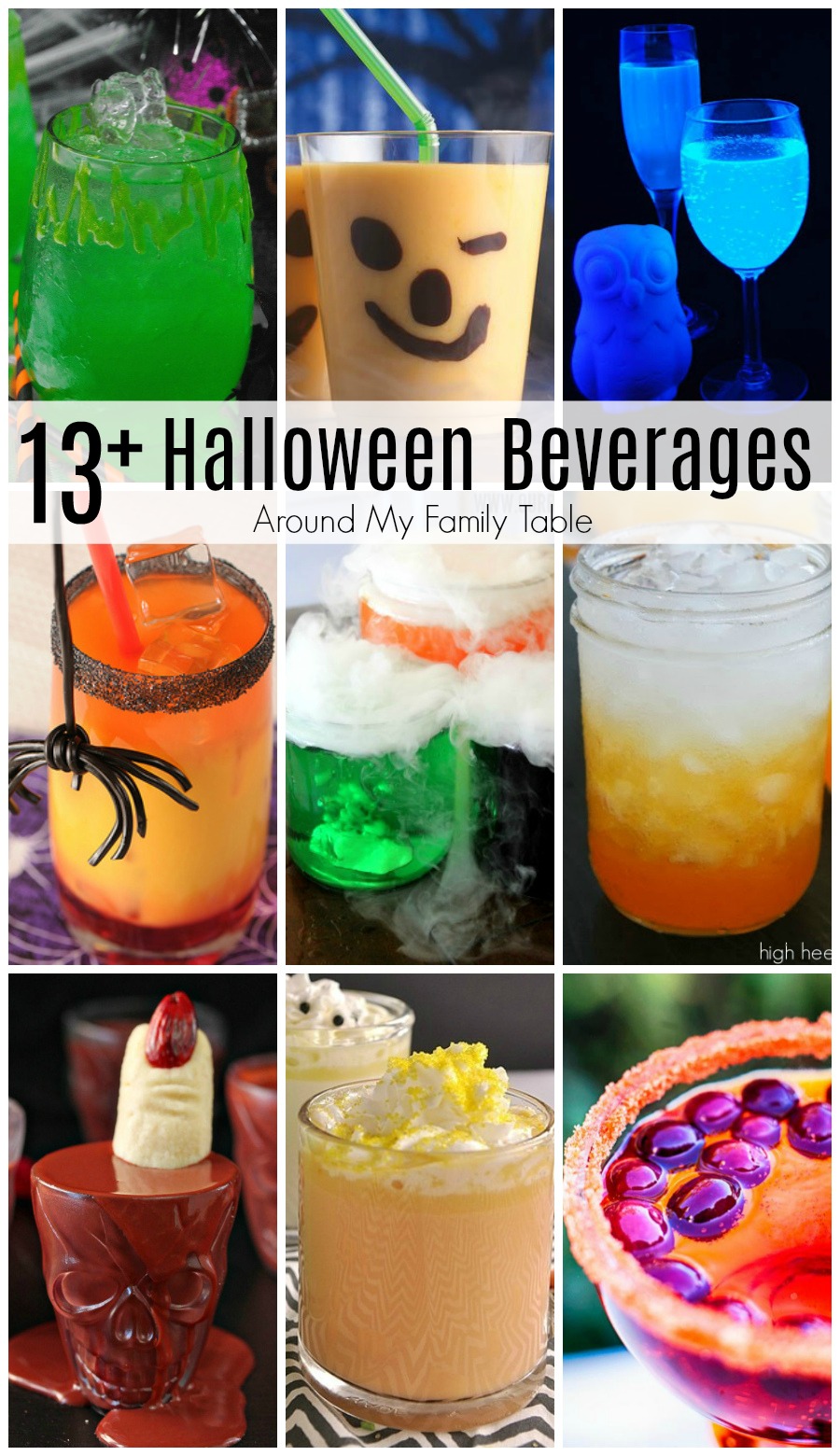 Halloween Beverage Recipes
Halloween is one of my favorite holidays. It is such a simple, stress-free time to just have tons of fun with the kids. Not only do we dress up and go trick or treating, but we've come up with some extra memory-making traditions to make fall a truly special time.
Each year, before the kids head out for the big event, we host a small-ish get together of a few close friends and neighbors. It never lasts very long as the kids are anxious to get out the door for their track around the block. They stay just long enough to fill their bellies with Halloween themed party snacks, admire each other's creative costumes, and pose for the dozens of pictures that the parents insist on taking.
One of my favorite things to make for our little get-together is the drinks. Halloween-themed drinks really take the party up a notch. I like to offer at least 2 or 3 choices along with water bottles. And each year I try to make a new and different recipe. This year, I think I'm going to serve Witch Potion, Candy Corn Punch, and Blacklight Lemonade.
I've rounded up 13+ Halloween beverage recipes you can make with your ghosts and ghouls. I love looking at all these festive creations and have a hard time deciding "witch" one I like best. These spooky punches and potions are bound to be a hit at your scary soiree. So, whether you want some halloween adult beverages or simple kid-friendly drinks these will surely hit the spot.
Hocus Pocus Fizz
Halloween Swamp Juice
Black Licorice Spider Punch
Witch Potion Cocktail
Witches' Brew
Black Light Lemonade
Ghost Punch
Mad Scientist Potion
Red Velvet Hot Chocolate
Candy Corn Punch
Homemade Sparkling Apple Juice
Oreo Hot Cocoa
Halloween Hot Chocolate
Jack-o-Lantern Smoothies
Black Magic Party Punch
Easy Halloween Recipes You Might Enjoy:
Ghost Munch
Spiderweb Cookies
Bones & Blood Appetizers
Halloween Mickey Treats
Halloween Pretzel Bark