This post may contain affiliate links. Please read my disclosure.
Summer time is finally here and the temperatures are heating up. The last thing anyone wants to do is turn on the oven. Coconut milk ice cream topped with a yummy dairy free butterscotch sauce is the perfect treat. I'm always on the lookout for ice cream sauce recipes and easy dessert recipes. There is an old saying that good things come to those who wait. In the process of creating this recipe I almost didn't wait long enough.
I'm Melissa from The Baked Equation and I'm back again with this amazing dairy free butterscotch sauce. I shared the most amazing (dairy free and gluten free) Espresso and Sea Salt Cookies a couple months ago and I can't wait to share this dairy free butterscotch sauce with you.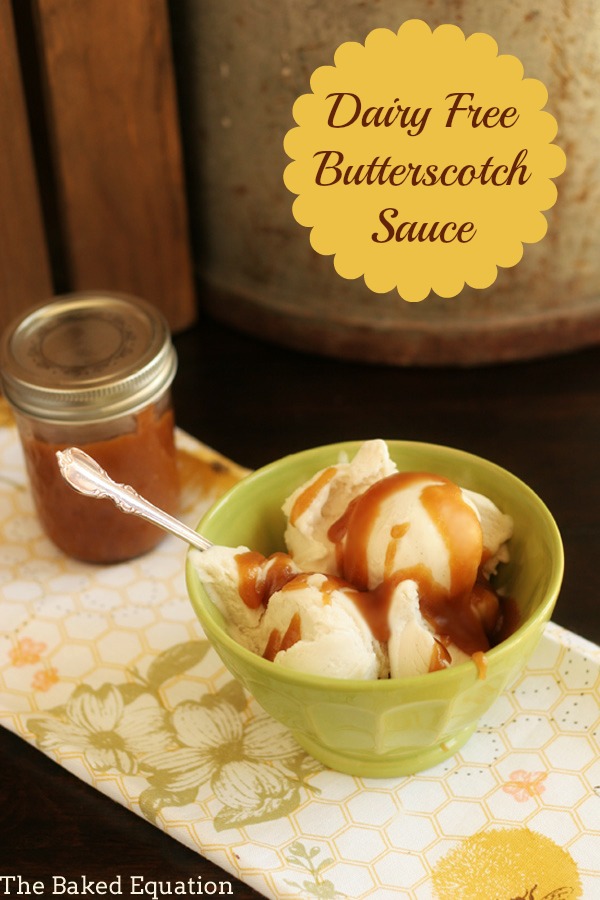 Homemade butterscotch is one of my favorite things. If you have never made it from scratch you are missing out. I thought this luscious dessert sauce would be easy to transform to dairy free. I was very wrong. After seven, yes seven, failed attempts at making the dairy free butterscotch sauce, each worse than the other, I could not decide if I was persistent or just a glutton for punishment.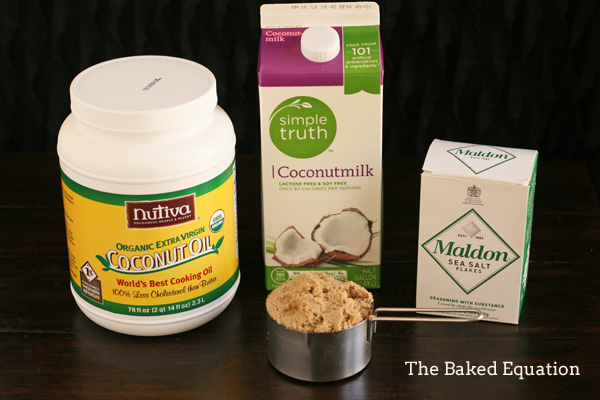 What is your favorite ice cream topping: Sprinkles, hot fudge, or crushed cookies?
You can find Melissa here as well: The Baked Equation, Pinterest, Facebook, Twitter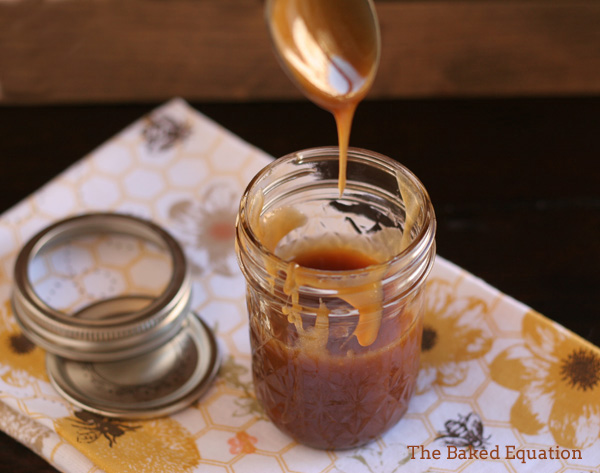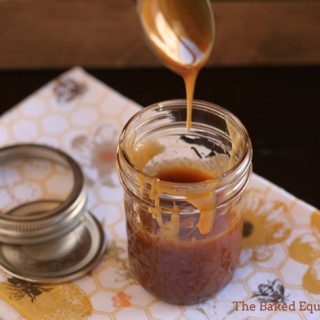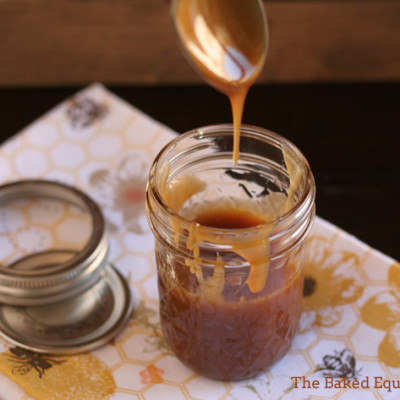 Dairy Free Butterscotch Sauce (Slow Cooker Recipe)
Everyone loves butterscotch sauce and with this dairy free version, everyone can enjoy it, too!
Ingredients
¼ cup coconut oil
½ cup firmly packed light brown sugar
¼ cup coconut milk
coarse salt (this is a taste preference)
1 tsp pure vanilla
¼ tsp cream of tartar
1 tbsp corn syrup
Instructions
Combine coconut oil, brown sugar, coconut milk and salt in a slow cooker. Cook on low for one hour.
Remove from the slow cooker and place in a small heavy bottom sauce pan. Whisk in the cream of tartar. Once it has been completely combined then add the corn syrup. Bring the mixture to a boil on low heat.
Place a candy thermometer in the mixture. Stir every few minutes.
Allow the mixture to slowly bubble for 15 minutes on low heat.
Then turn up the heat to medium and boil the mixture till it hits 230 degrees on the candy thermometer.
Remove from heat and pour into a glass container. Stir in the vanilla. Add any additional salt.
Once the dairy free butterscotch sauce has cooled a bit pour over your favorite dessert. It tastes amazing with vanilla bean coconut milk ice cream.
Nutrition Information:
Yield:

8
Serving Size:

2 tablespoons
Amount Per Serving:
Calories:

128
Total Fat:

8g
Saturated Fat:

7g
Trans Fat:

0g
Unsaturated Fat:

1g
Cholesterol:

0mg
Sodium:

79mg
Carbohydrates:

14g
Fiber:

0g
Sugar:

13g
Protein:

0g