This post may contain affiliate links. Please read my disclosure.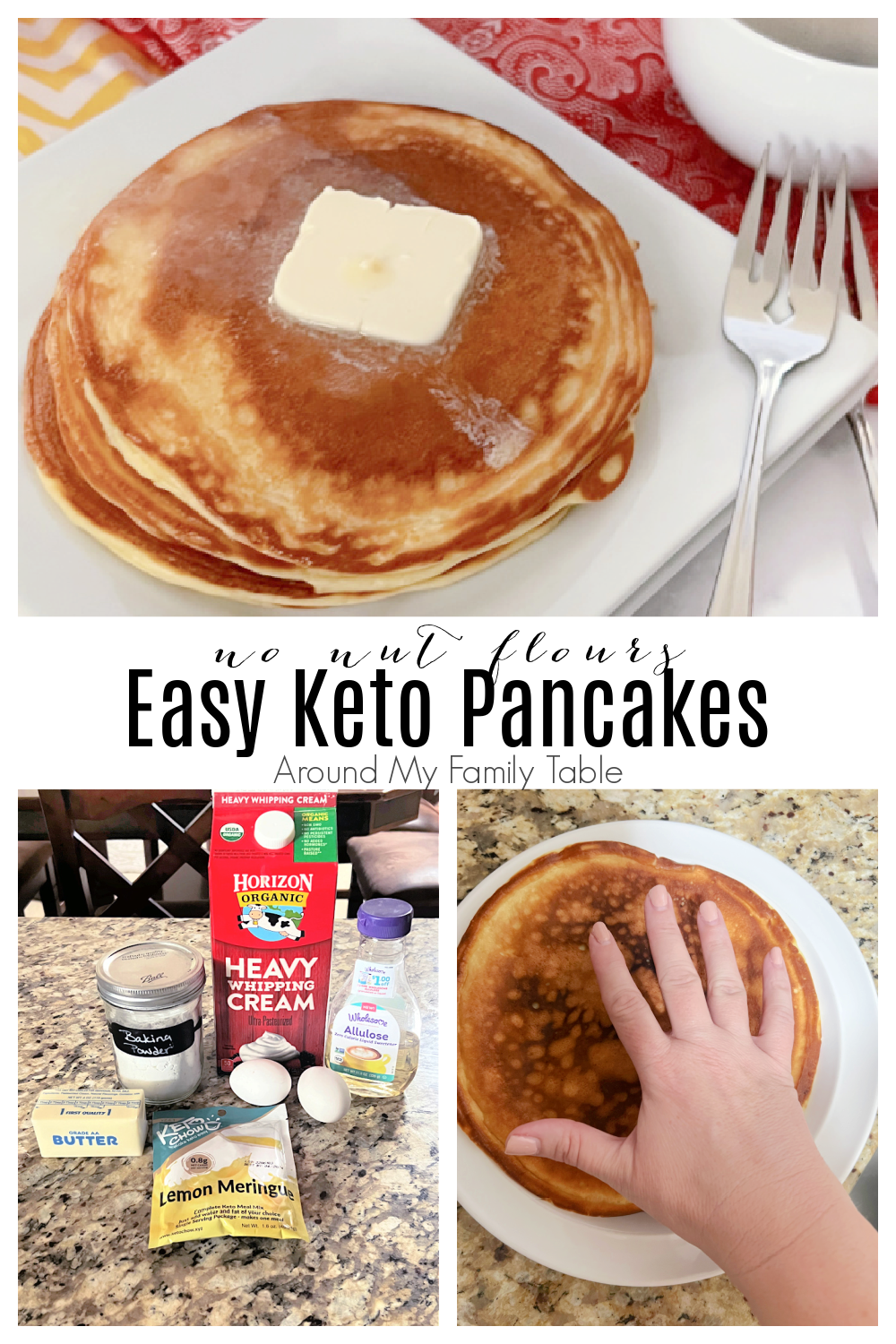 My easy keto pancakes are made with no flour and just a few simple ingredients. They are so good that you'll want to eat the whole batch and that's totally okay because this recipe makes one serving.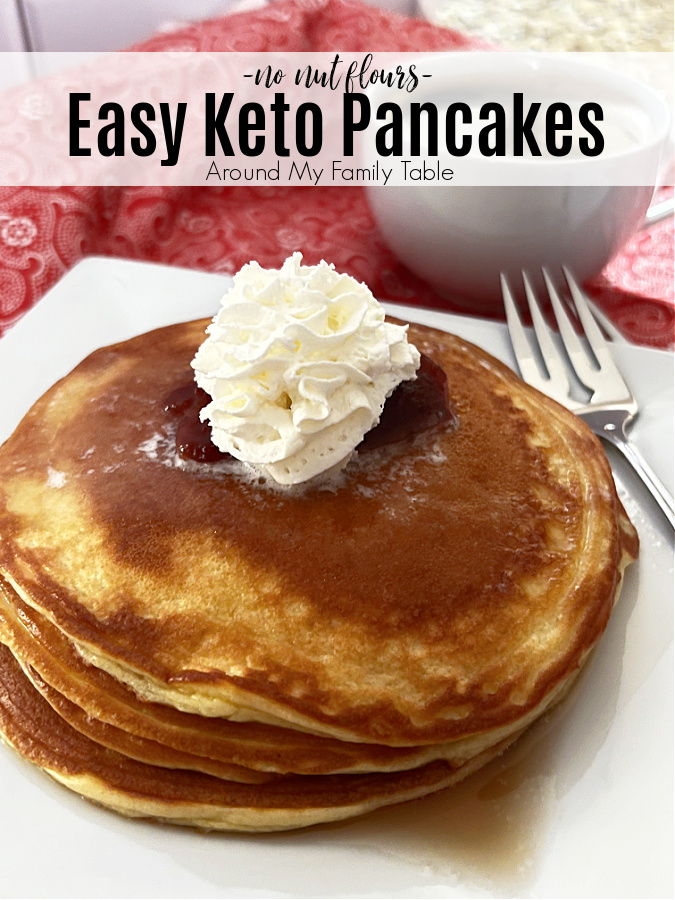 Easy Keto Pancakes (with no flour)
I'm on a quest to eliminate a lot of nut flours and flour substitutes from my diet, so finding a way to make delicious and easy keto pancakes without almond flour or other flours was my goal. These aren't going to be your light, fluffy buttermilk pancake knock-offs, but they come in close. My easy keto pancakes use protein powder to give them flavor and texture.
They are great for anyone that is keto or low carb. And also great for diabetics, gluten free eaters, and possibly anyone following a carnivore or ketovore diet (depending on how strict they are).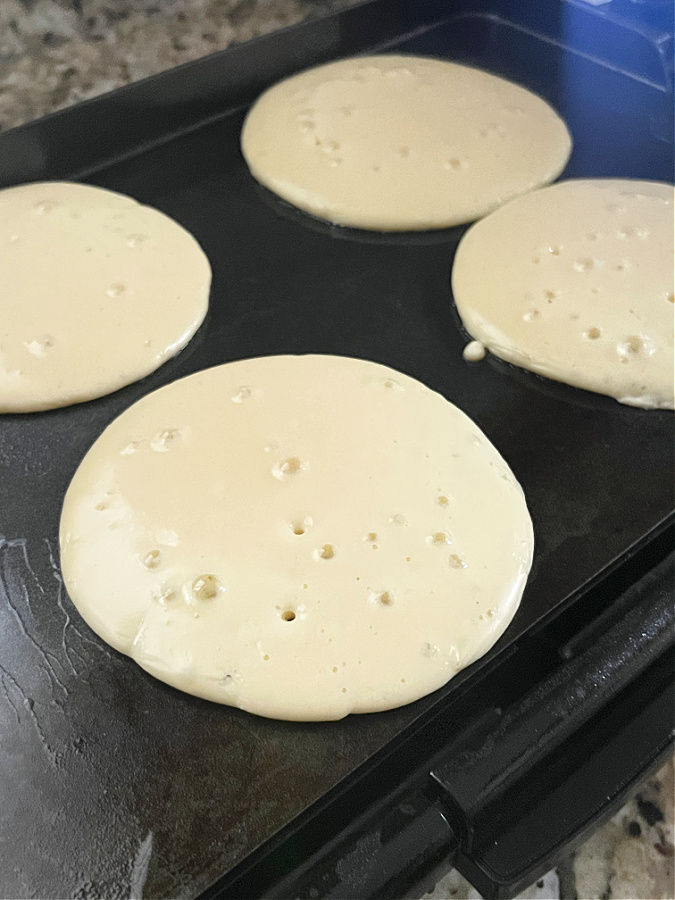 I'm sure these could even be spread thinner to make keto crepes because that's what the texture reminds me of. Or you could make one large pancake in a 10-inch skillet for a fun pancake option. The key to these pancakes is to treat them like normal pancakes. Spray or butter your skillet well. Wait until the edges are set and the bubbles just start to pop and it's time to flip.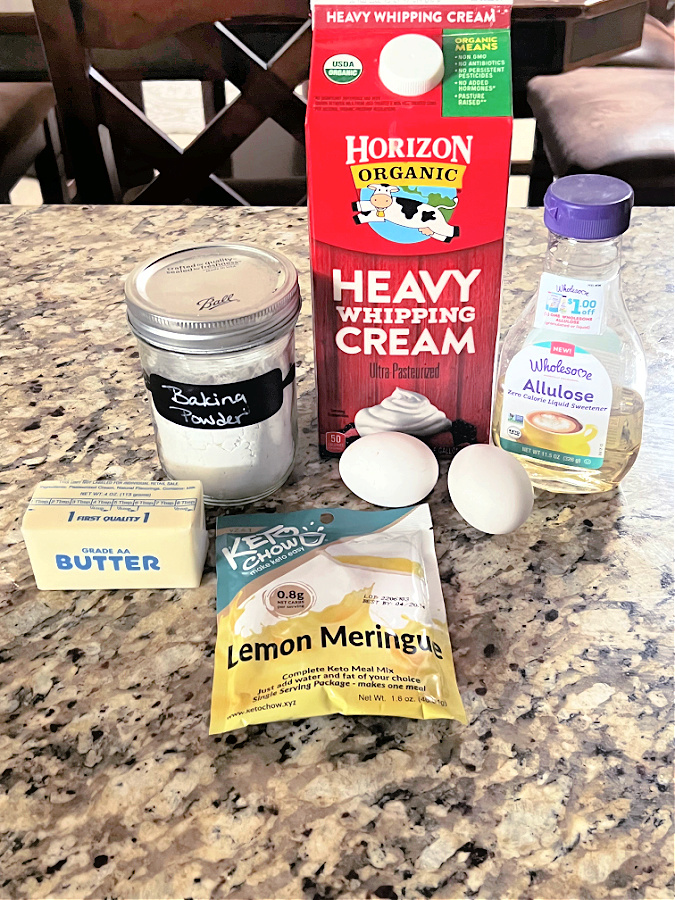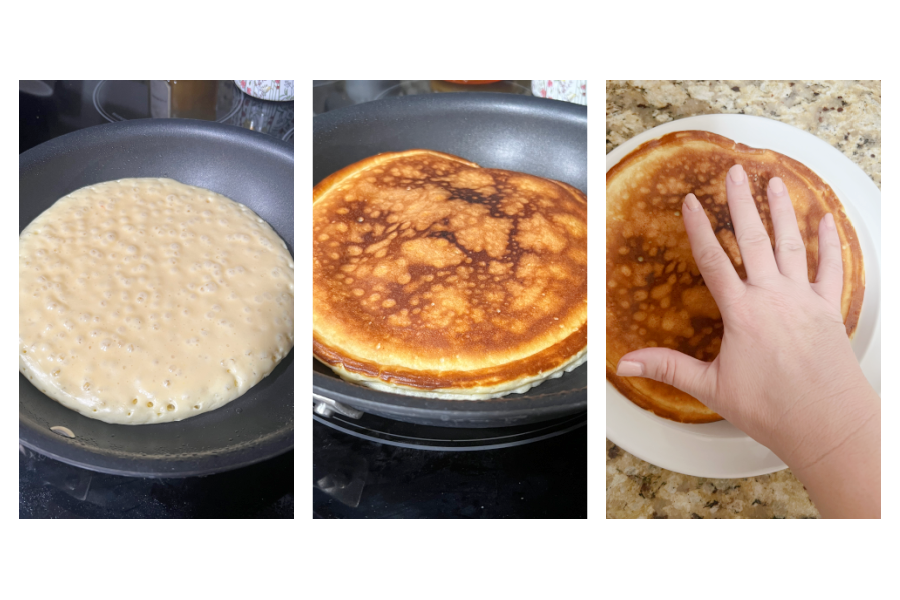 Tools needed:
You don't need anything fancy for these keto pancakes. Just your typical pancake making supplies like a griddle or 10 inch pan and a large spatula. And of course your favorite mixing bowl.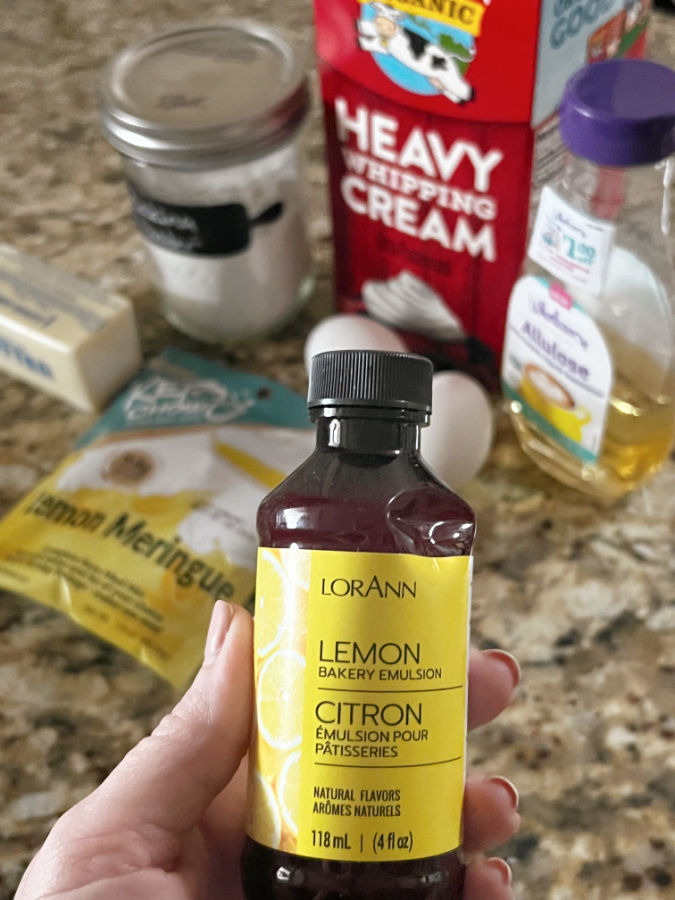 Keto Pancake Flavor Options:
I've been playing with a few Keto Chow flavors and these are some of my favorite combos:
Lemon Keto Chow with Lemon Emulsion and topped with Strawberry Jam or syrup
Snickerdoodle Keto Chow with extra cinnamon. Topped with whipped cream.
Banana Keto Chow with English Toffee Stevia and topped with Maple Walnut syrup
Chocolate Mint Keto Chow with Chocolate Chips and topped with syrup or whipped cream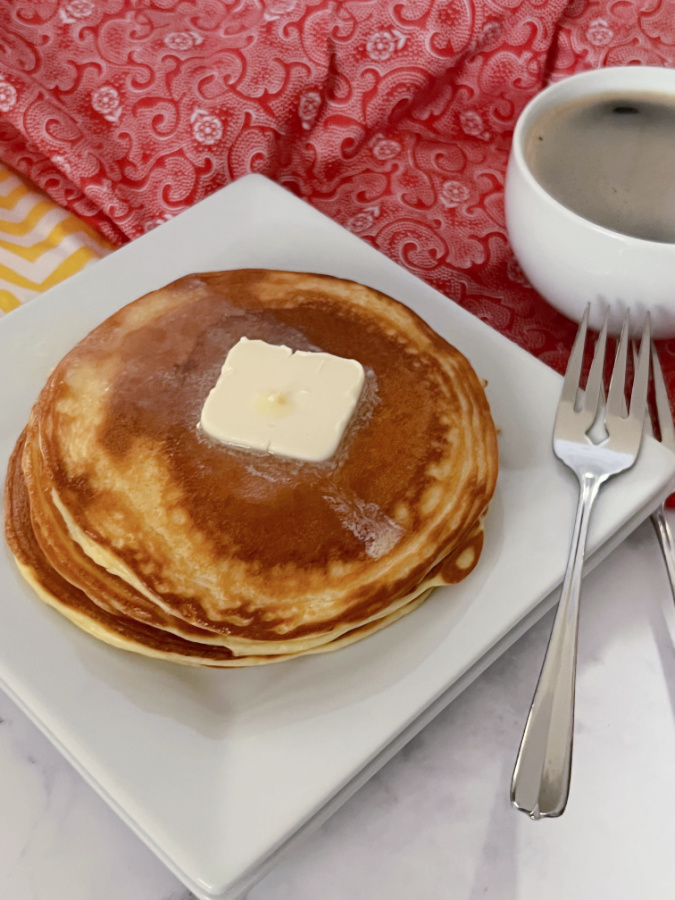 What can you use to top your Keto Pancakes:
There are so many amazing keto products on the market, here are a few staples I keep on hand for topping my pancakes:
Sugar Free Whipped Cream (Walmart makes a good option)
Butter (because there is nothing better than a hot pancake with just a smear of butter that's all melty)
Berries or nuts (if you can have these)
Can I freeze these keto friendly pancakes:
Of course you can and they would be fine. However, they won't be great. Honestly, these are so fast to throw together that I can't see ever making a huge batch and freezing. Just make single batches and enjoy immediately.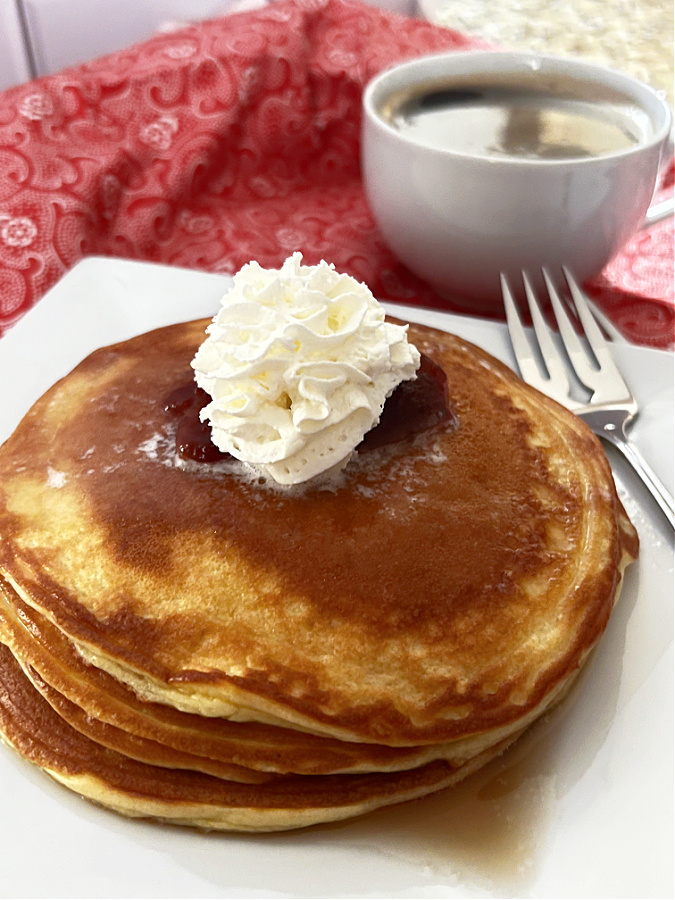 Keto Pancakes for 1:
Like I said above, this recipe is for one large serving. However, it is easily doubled to make a larger batch. Or if you plan to serve bacon or sausage along side the pancakes then this recipe could easily serve 2.
Will other protein powders work:
I haven't tried other protein powders in this recipe. I prefer the taste and nutrients in Keto Chow shakes, so that's what I use (save 10% with my link if you want to check them out). However, I'd love to hear your experience if you try a different protein powder. And if I am able to try other brands, I will update y'all here.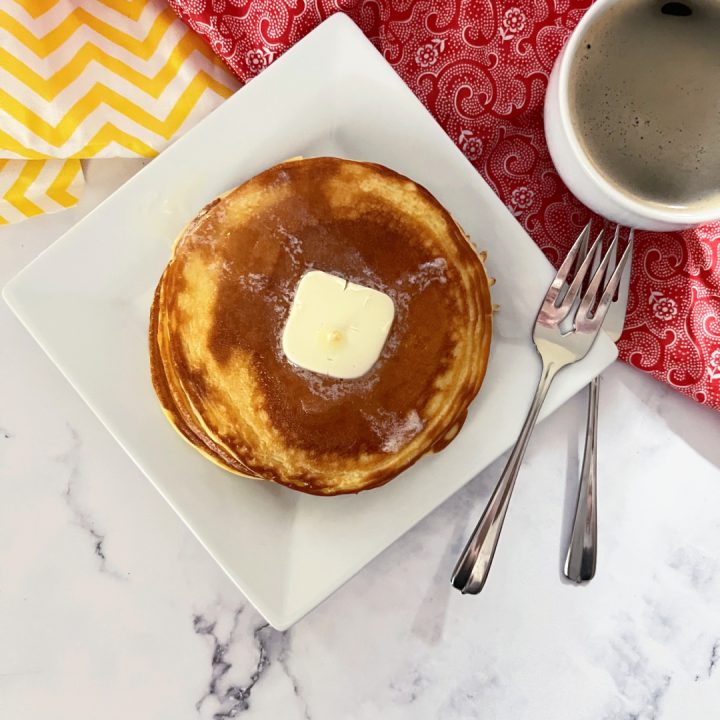 Keto Pancakes
My keto pancakes are made with no flour and just a few simple ingredients. They are so good that you'll want to eat the whole batch and that's totally okay because this recipe makes one serving.
Ingredients
2 tablespoons butter
1 packet Keto Chow (or 1 scoop)
1 teaspoon baking powder
2 eggs
2 tablespoons heavy whipping cream
1/3 - 1/2 cup water, varies
1 tsp liquid allulose or 5-10 drops liquid stevia optional
1/8 tsp flavor emulsion or extract to bump up flavor, optional
pancake toppings such as: additional butter, sugar free whipped cream, sugar free syrups, etc
Instructions
1. Preheat 10 inch skillet or griddle.
2. Melt butter in a large microwave safe bowl. Add remaining ingredients, except water (Keto Chow, baking powder, eggs, whipping cream, any additional sweeteners/flavors).
3. Mix well with a wire whisk. Slowly add in water until a batter is a thin consistency (it should be similar to a regular pancake batter)
4. Pour onto greased, hot griddle and cook on med-high heat for 3-5 minutes per side. Makes 5-6 large griddle pancakes or 1 large pancake in a 10-inch skillet.
Nutrition Information:
Yield:

1
Serving Size:

1
Amount Per Serving:
Calories:

587
Total Fat:

45g
Cholesterol:

525mg
Sodium:

1217mg
Carbohydrates:

11g
Net Carbohydrates:

4g
Fiber:

7g
Protein:

40g
This nutritional information is an estimate may vary, depending on brand and type of ingredients used. It is not intended to replace the advice of a licensed dietician or physician.
My Keto & Weight Loss Journey
I've lost over 90 pounds in one & a half years on a Keto-friendly diet. Read about my weight loss journey here. I'd love to have you join my new Facebook group, Everything Keto with Wendy (no keto police allowed). And join my Keto/Low Carb newsletter too.
Pin this recipe to your favorite Pinterest board: