This post may contain affiliate links. Please read my disclosure.
Flourless peanut butter cookies are the perfect sweet treat for anyone, including those on a keto or gluten free diet. This easy cookie recipe uses 3 ingredients and 2 net carbs per cookie!
This is seriously the easiest and best gluten free peanut butter cookie recipe I have ever made. Plus, they are incredibly quick to make, keto-friendly, and dairy free too.

I'm not joking… with 3 simple ingredients, you can bake an entire batch in less than 25 minutes.
Ingredients for this gluten free peanut butter cookie recipe:
Peanut butter – Using creamy peanut butter is my recommendation. Not only does this make mixing the cookie dough easier, but it also gives the flourless peanut butter cookies a silky smooth texture.

This being said, if you want to use chunky peanut butter, it will work just fine. Also, if you have peanut allergies, feel free to use a different type of nut butter.

NOTE: Since this recipe uses so much peanut butter, feel free to use the cheapest peanut butter you can find. However, I use peanut butter with the cleanest ingredients, no sugar, and the few carbs.

Sugar– To keep these PB Cookies keto and diabetic friendly use your favorite white sugar substitute. I prefer this one, but use your favorite. Otherwise, simple granulated white sugar is what you'll want to use.

Egg– For egg-free peanut butter cookies, feel free to use a flax egg or an egg replacer. I've had hit or miss results with egg substitutes. Try it if you need to and let me know how it works for you.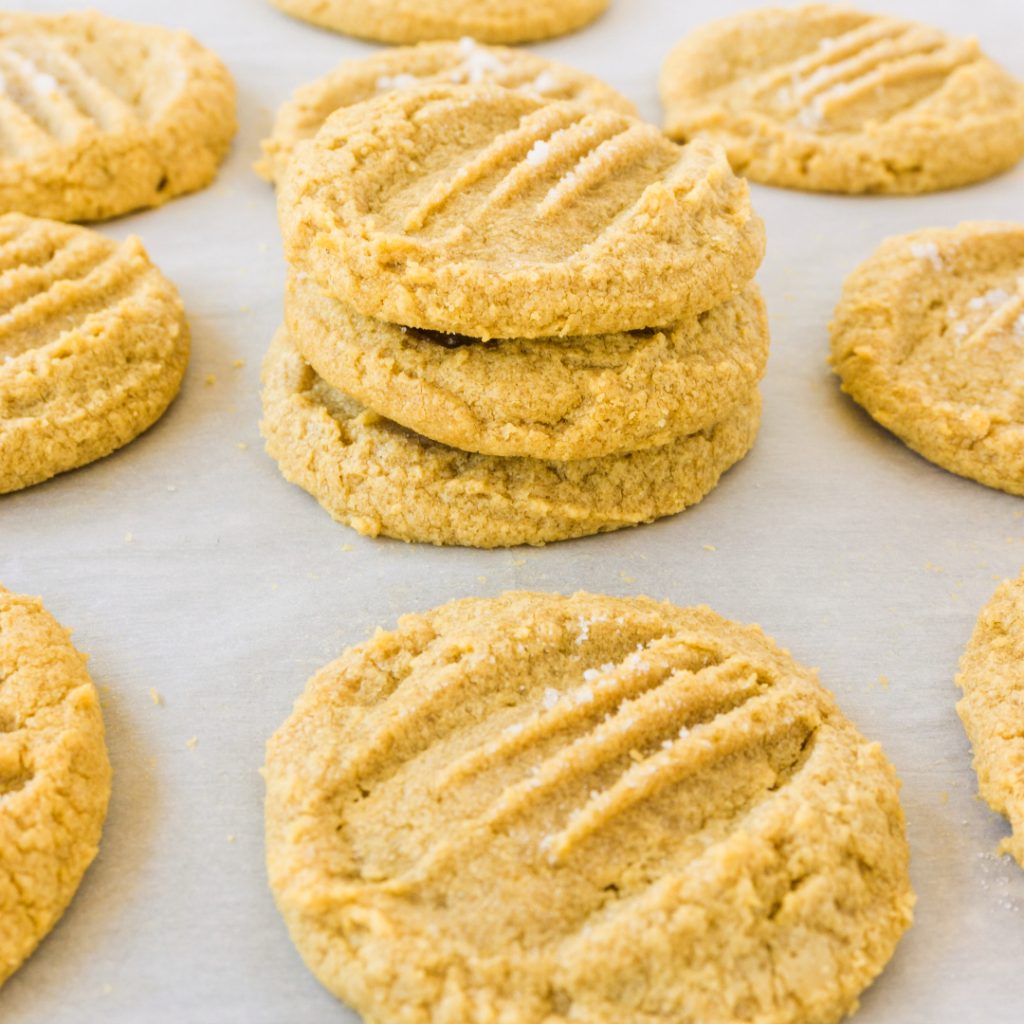 How to make flourless peanut butter cookies
Seriously, you won't believe how easy these cookies are to make. You don't even need an electric mixer!

Just toss the ingredients into a large bowl and use a mixing spatula or wooden spoon to combine them. Even young kids can make these cookies with no problem.

When the ingredients become creamy and smooth, drop the dough by teaspoonfuls onto cookie sheets.

To make the ridges on the top of peanut butter cookies:
Dip the tines of a fork into a little bit of water, then into your sugar of choice.
Gently press the fork down onto each ball of cookie dough. As a result, it flattens the cookie, too.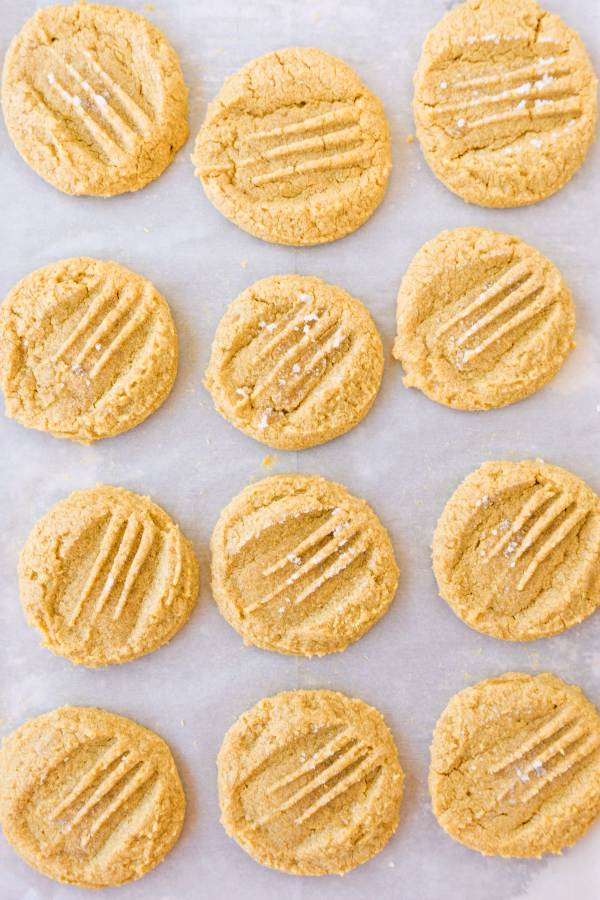 How to Store and Freeze Cookies
Store the gf peanut butter cookies in an airtight container at room temperature. They will keep well for 5 to 7 days.

The cookies freeze beautifully! Just be sure to cool them completely before transferring to freezer-safe containers or Ziploc bags. They keep well frozen for about 3 months. After that, they tend to develop freezer burn.

Oh, and to help prevent them from sticking together, I like to separate the cookies with squares of parchment or wax paper.
This cookie recipe is the inspiration for my Halloween Witches Brooms Cookies and also my Flourless Nutella Cookies! And if you love these, you're gonna love my Coconut Chocolate Chip Oatmeal Cookies.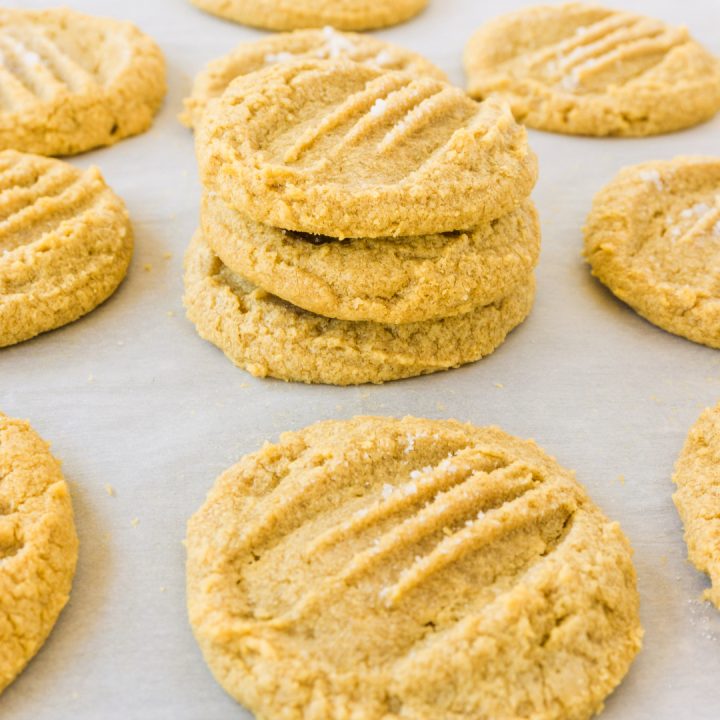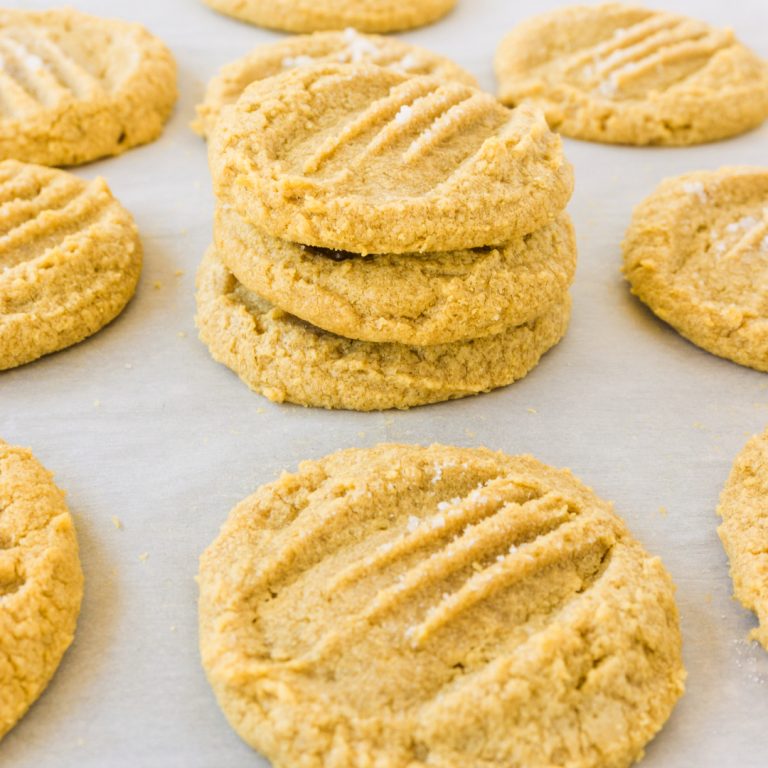 Flourless Peanut Butter Cookies
I don't think there is an easier keto friendly & gluten free cookie recipe than these 3-ingredient Flourless Peanut Butter Cookies.
Ingredients
1 cup Peanut butter (creamy or crunchy)
1 cup sugar (granulated sugar substitute or regular sugar)
1 Egg
Instructions
Preheat oven to 350 degrees F. Line 2 cookie sheets with parchment paper, or use non-stick baking mats.
Add all ingredients to a bowl and use a mixing spatula or wooden spoon to combine.
Drop by teaspoonfuls onto greased cookie sheets. Use a fork dipped into sugar to press into cookies.
Bake for 10-12 minutes, being sure not to brown them. Then remove pan from oven. Allow cookies to cool for 3 minutes on the cookie sheets, then transfer the cookies to a wire rack to cool completely.
Notes
Accommodating Allergies
To make it the lowest carb possible: check label for the lowest carb peanut butter at your store. Pick one without added sugar and oils.
This gluten free peanut butter cookie recipe calls for a lot of peanut butter. Therefore, feel free to use the cheapest peanut butter you can find if you aren't worried about carb count.
To accommodate peanut allergies, feel free to use another type of nut butter.
To keep the calories and carb count lower, use an equal amount of any cup-for-cup sugar free substitute. I like this one.
Nutrition Information:
Yield:

18
Serving Size:

1 cookie
Amount Per Serving:
Calories:

90
Total Fat:

7g
Saturated Fat:

1g
Trans Fat:

0g
Unsaturated Fat:

5g
Cholesterol:

10mg
Sodium:

72mg
Carbohydrates:

2g
Fiber:

1g
Sugar:

12g
Protein:

3g
This nutritional information is an estimate may vary, depending on brand and type of ingredients used. It is not intended to replace the advice of a licensed dietician or physician.
My Keto & Weight Loss Journey
I've lost over 90 pounds in one & a half years on a Keto-friendly diet. Read about my weight loss journey here. I'd love to have you join my new Facebook group, Everything Keto with Wendy (no keto police allowed). And join my Keto/Low Carb newsletter too.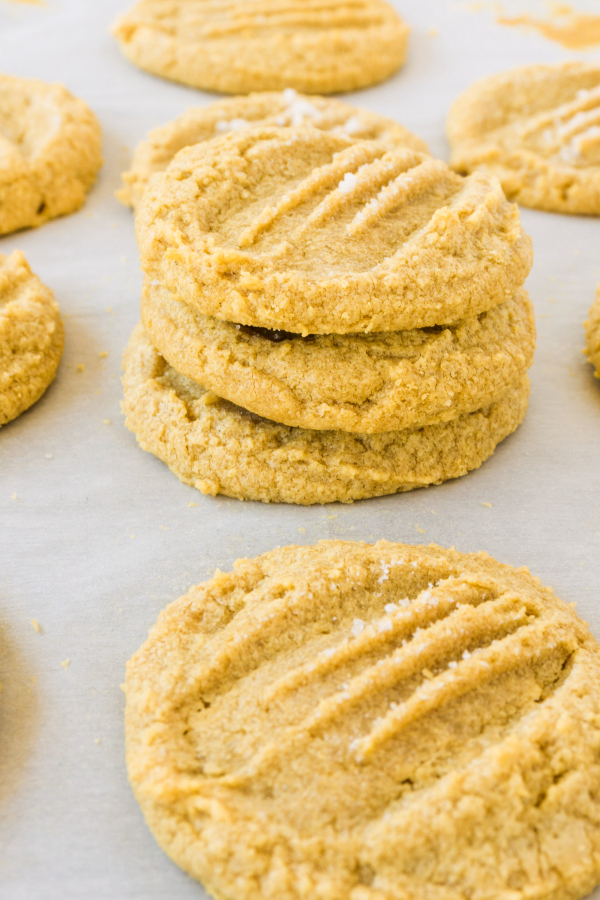 This gf peanut butter cookies post was originally published on October 26, 2010. The images and content that appear now are updates from March 3, 2020 and June 16, 2022.