This post may contain affiliate links. Please read my disclosure.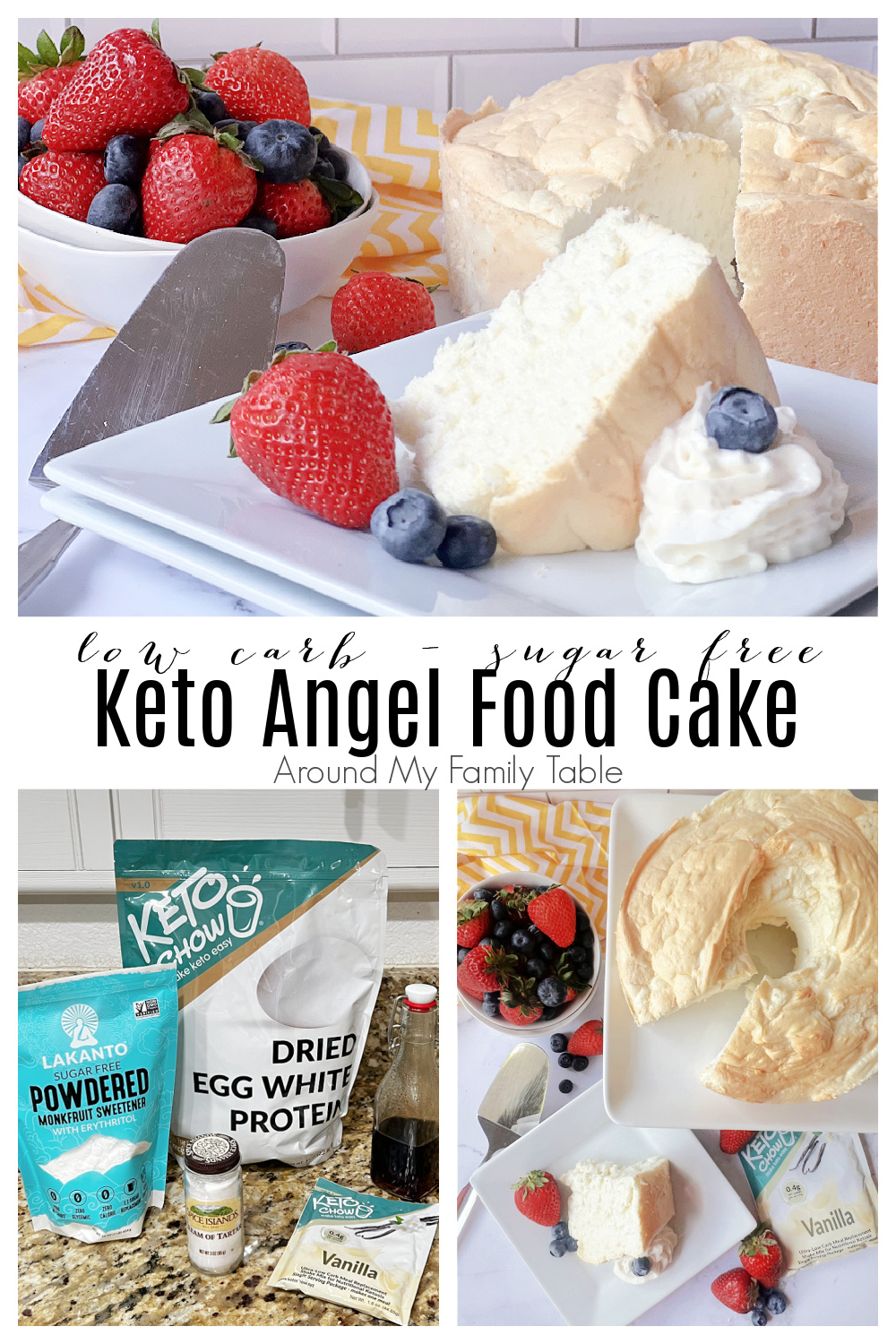 Keto Angel Food Cake that's light, fluffy, and has the same flavor as traditional angel food cake recipe, but without all the guilt and sugar.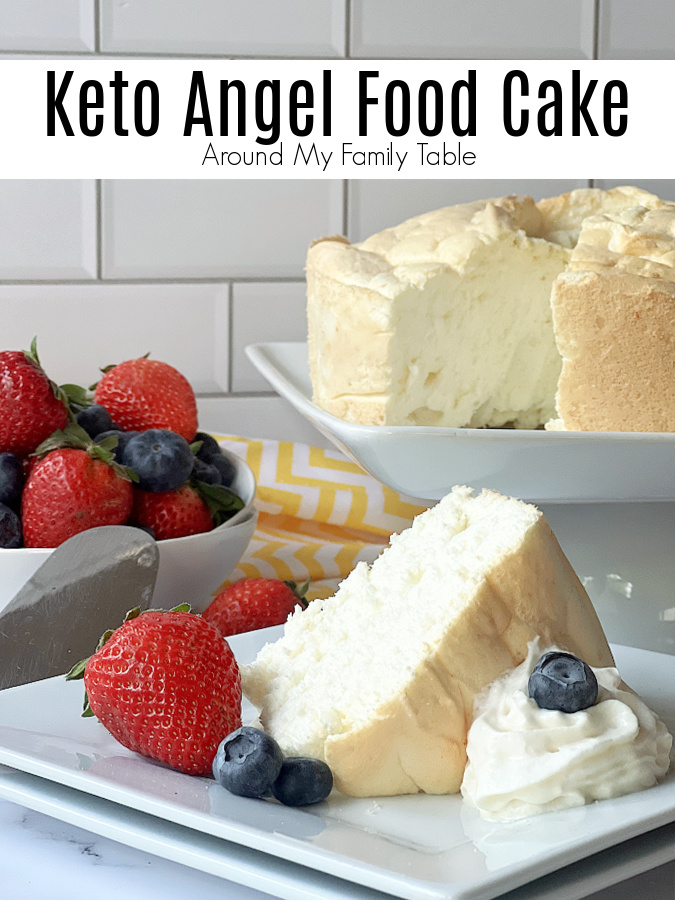 Angel food cake is my all time favorite dessert and I've finally figured out how to make it so that I can eat it without feeling guilty. It has no soy, no gluten, no refined sugar…but I promise it tastes amazing. In fact, I created this without the use of any nut flours too.
Ingredients for Keto Angel Food Cake
This recipe couldn't be easier. The hardest part is waiting for the egg powder to whip up. It takes a while, but it does eventually come to stiff peaks.
My Keto Angel Food Cake recipe is low carb and keto-friendly. It's also gluten free and diabetic friendly as well. It's light and fluffy just like traditional angel food cake is, but without all the sugar and flours.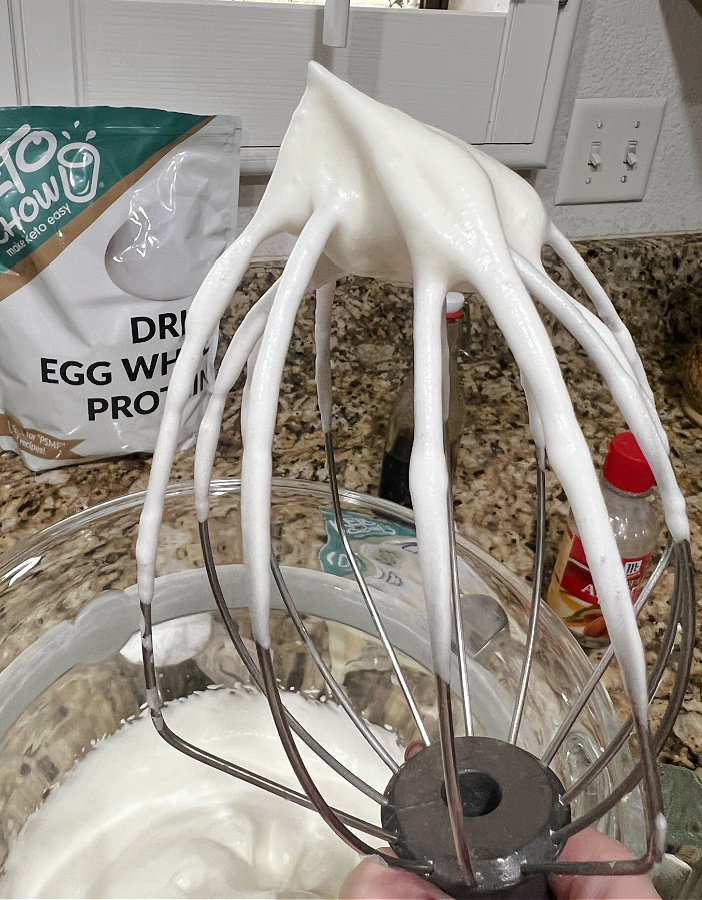 Can I use fresh egg whites?
Yes, you can use fresh egg whites in this recipe, but proceed with caution. You need about 1 1/2 cups of egg whites for this recipe, replacing both the egg white powder and water. The amount of eggs needed actually depends on the size of your eggs. It's best just to measure the egg whites. The cook time also needs to be adjusted to about 50-55 minutes.
I like using the egg white powder because I don't have to worry about the leftover egg yolks or cracking all those eggs. Please note that using fresh eggs runs the risk of the cake falling after baking and bake time needs to be increased. Recipe testers using egg whites found it to be hit or miss. And some reported the texture to be more similar to bread pudding after it fell. Still a delicious dessert, just not quite angel food cake.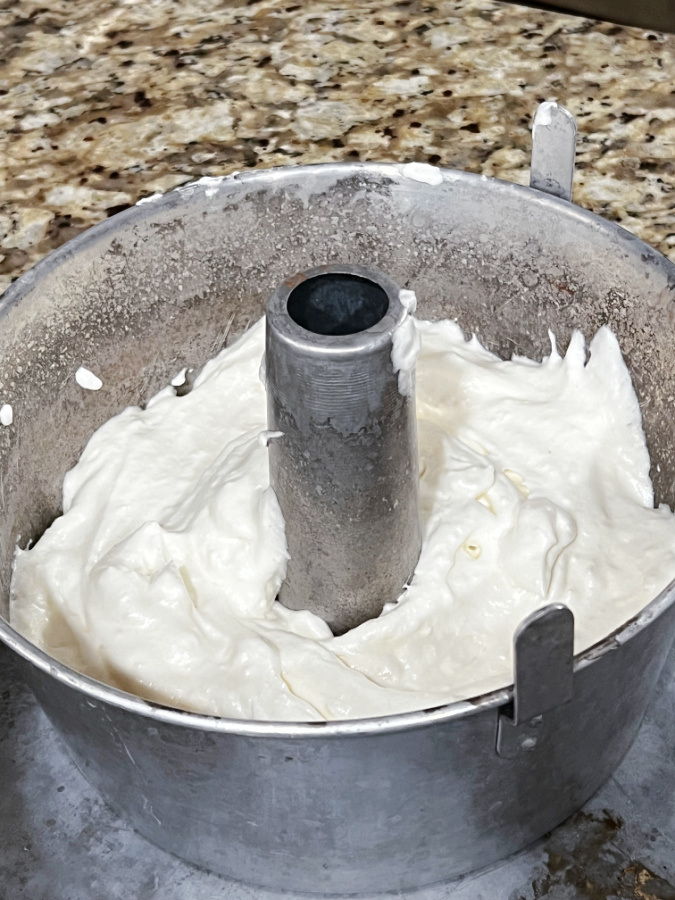 Will another brand of egg white powder work?
I love the clean ingredient list of the Keto Chow Powdered Egg White Protein, so that's my preference. However, I've tried several other brands and they work in this recipes as well. However, I've tried a couple other brands of egg white powder and had some success, but your mileage may vary as different powders have different ingredients and the amounts may need to be adjusted to work well.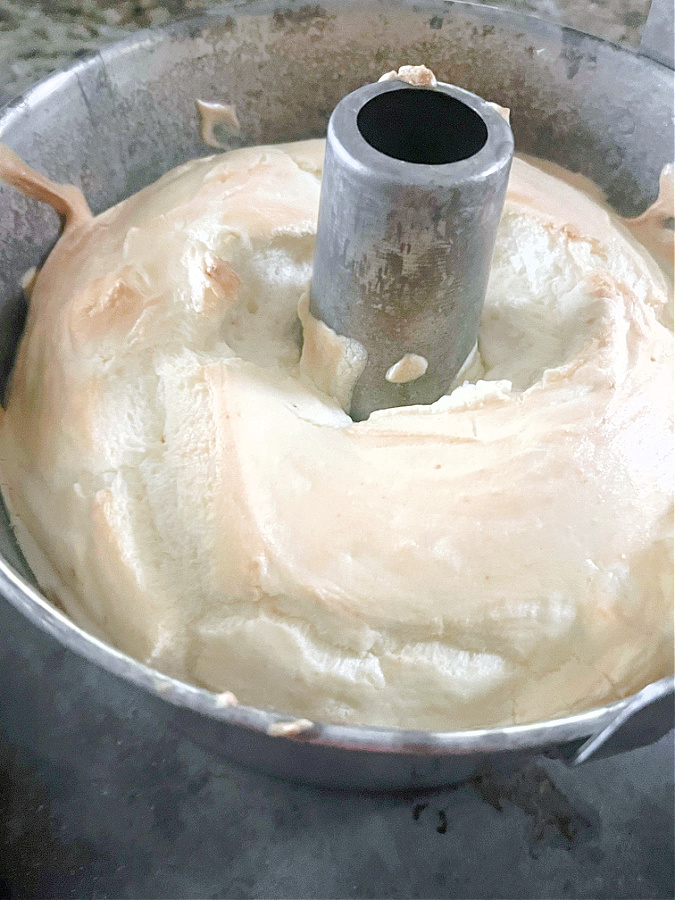 Will another keto friendly sweetener work in this recipe?
I prefer Lakanto's Powdered Monk Fruit with Erythritol in this recipe, so that's that I use. There has been some success with using a granular sweetener; however, it could cause clumping or speckles in your cake. I haven't tried making this with any other sweeteners yet.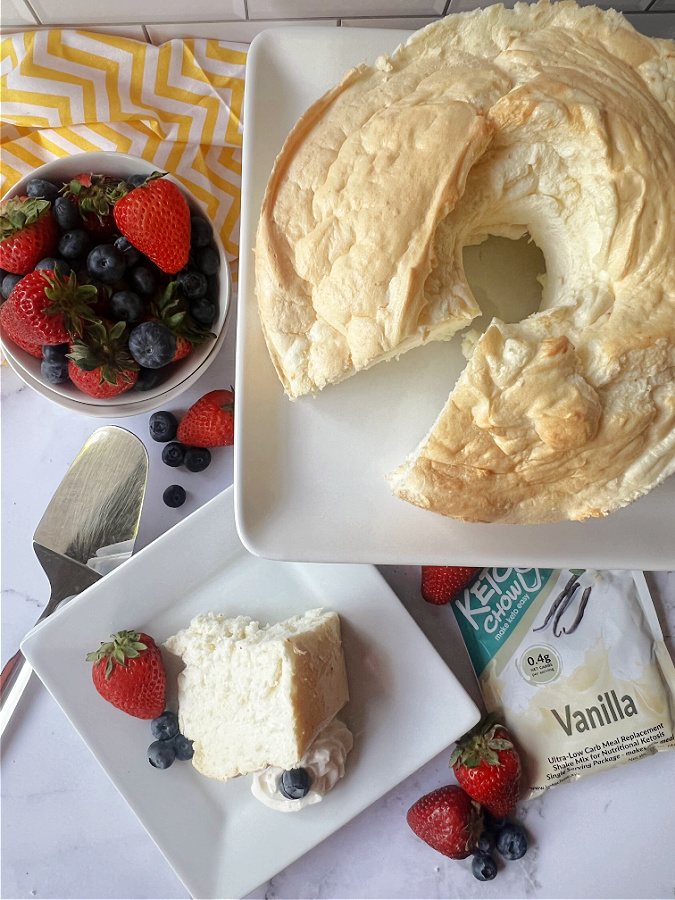 Keto Chow Giveaway
Y'all…I love Keto Chow products so much that I'm giving away a Keto Chow Summer Go Pack. The giveaway is live now on my Facebook and Instagram pages (so you have double the chances to win). The giveaway is running NOW through 5/3/22.
Keto Chow is a meal replacement shake and the main product that helped me lose over 80lbs in a year. You can buy it on Amazon or directly from their site. It's not an MLM…just a great company that I've bought since day 1 of my keto journey. I'm sipping on an Orange Cream shake as I write this post.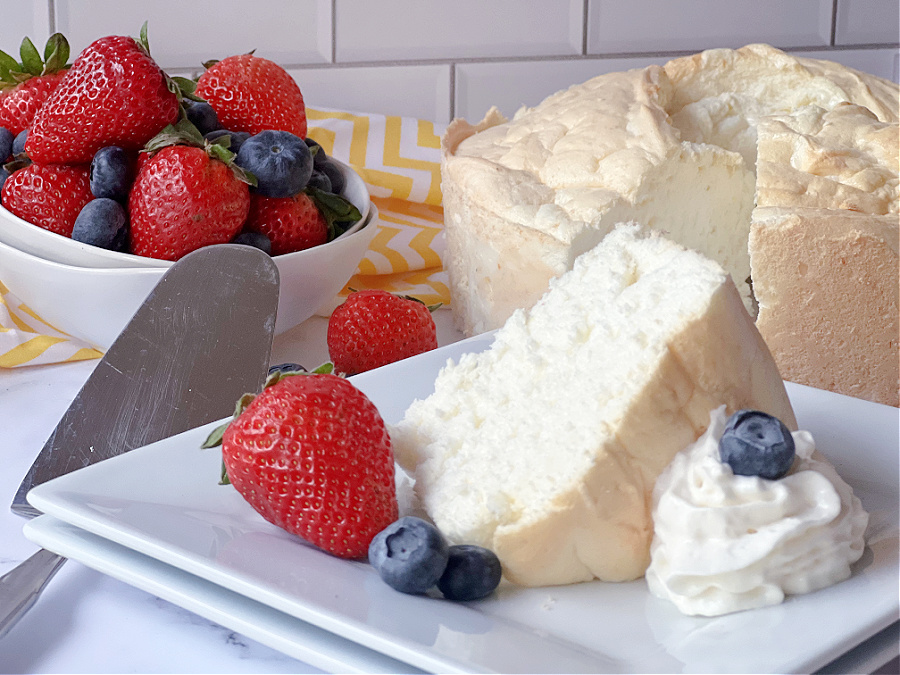 My Keto & Weight Loss Journey
I've lost over 90 pounds in one & a half years on a Keto-friendly diet. Read about my weight loss journey here. I'd love to have you join my new Facebook group, Everything Keto with Wendy (no keto police allowed). And join my Keto/Low Carb newsletter too.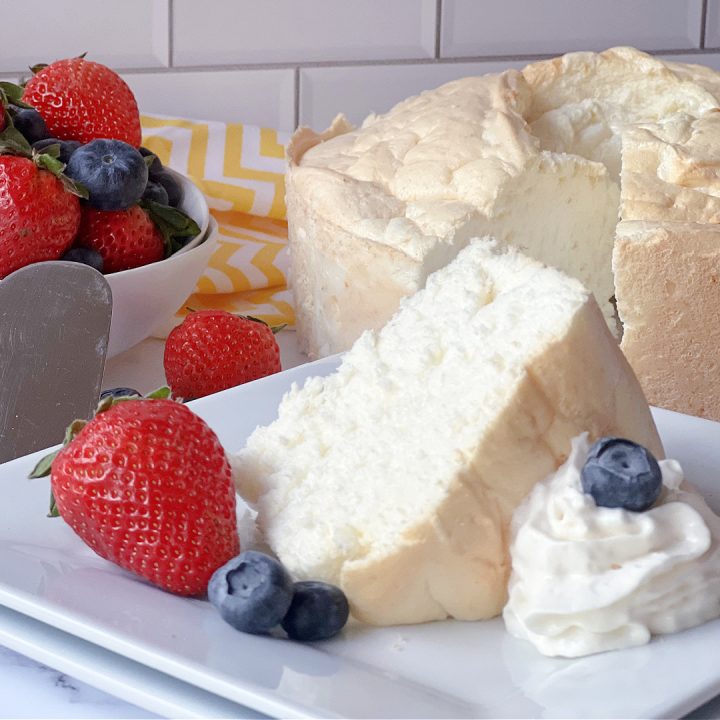 Keto Angel Food Cake
Total Time:
1 hour
45 minutes
Keto Angel Food Cake that's light, fluffy, and has the same flavor as traditional angel food cake recipe, but without all the guilt and sugar.
Ingredients
1 1/2 cups egg white powder
1 tsp cream of tartar
1 1/2 cups water
1/3 cup powdered monk fruit with erythritol
1 packet Vanilla Keto Chow
1 tablespoon vanilla extract
2 teaspoons almond extract
Instructions
Preheat oven to 375 F.

Combine egg white powder, cream of tartar, and water in a the bowl of an electric mixer. Turn mixer on high and beat until stiff peaks form. This can take 15-20 minutes (egg white powder takes a much longer time to beat to stiff peaks).

Sift together powdered sweetener and vanilla Keto Chow. Turn mixer to low dry ingredients and extracts to the whipped egg whites. Mix on lowest setting just until incorporated and no lumps remain. Put into an ungreased angel food pan.

Place pan in a 375 F preheated oven for 25 mins. Cake is done when slightly golden and toothpick inserted comes out clean. Check cake with toothpick

Turn pan upside down to cool completely. Use a sharp knife to cut the cake away from the sides of the pan. Push out the bottom and use the knife to cut off the bottom of the pan.

Serve with fresh berries and sugar free whipped cream.
Notes
Use any flavor of Keto Chow shake in this recipe to change up the flavor.
Recommended Products
As an Amazon Associate and member of other affiliate programs, I earn from qualifying purchases.
Nutrition Information:
Yield:

12
Serving Size:

1
Amount Per Serving:
Calories:

60
Total Fat:

0g
Saturated Fat:

0g
Trans Fat:

0g
Unsaturated Fat:

0g
Cholesterol:

0mg
Sodium:

167mg
Carbohydrates:

2g
Net Carbohydrates:

1g
Fiber:

0g
Sugar:

1g
Protein:

11g
This nutritional information is an estimate may vary, depending on brand and type of ingredients used. It is not intended to replace the advice of a licensed dietician or physician.
Pin this recipe to your favorite Pinterest board: