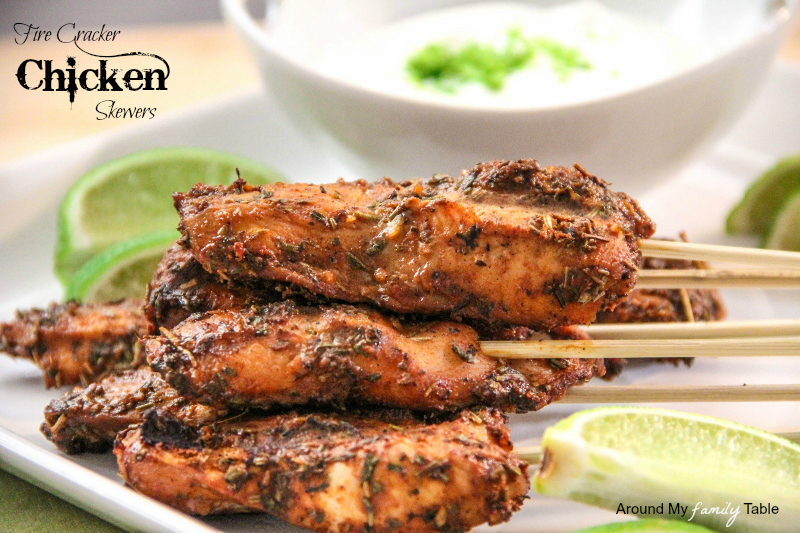 Sometimes things come together so perfectly that it's like a match made in heaven. I think my Fire Cracker Chicken Skewers with a cooling Lime Cream Sauce are so perfect together that it makes my mouth jump for joy! The last time my mouth was this happy was when I made my Samoa Cupcakes. Oh yeah baby…you have to check those out!
The chicken takes a little hot sauce bath, then massaged with a mixture of herbs and spices before being threaded onto skewers and grilled to perfection. Can't handle the heat…dip them in a cooling lime cream sauce to to cool your mouth. I promise not to judge you (at least not too your face) if you use the dip. Hubbyman loves the dip I prefer mine naked.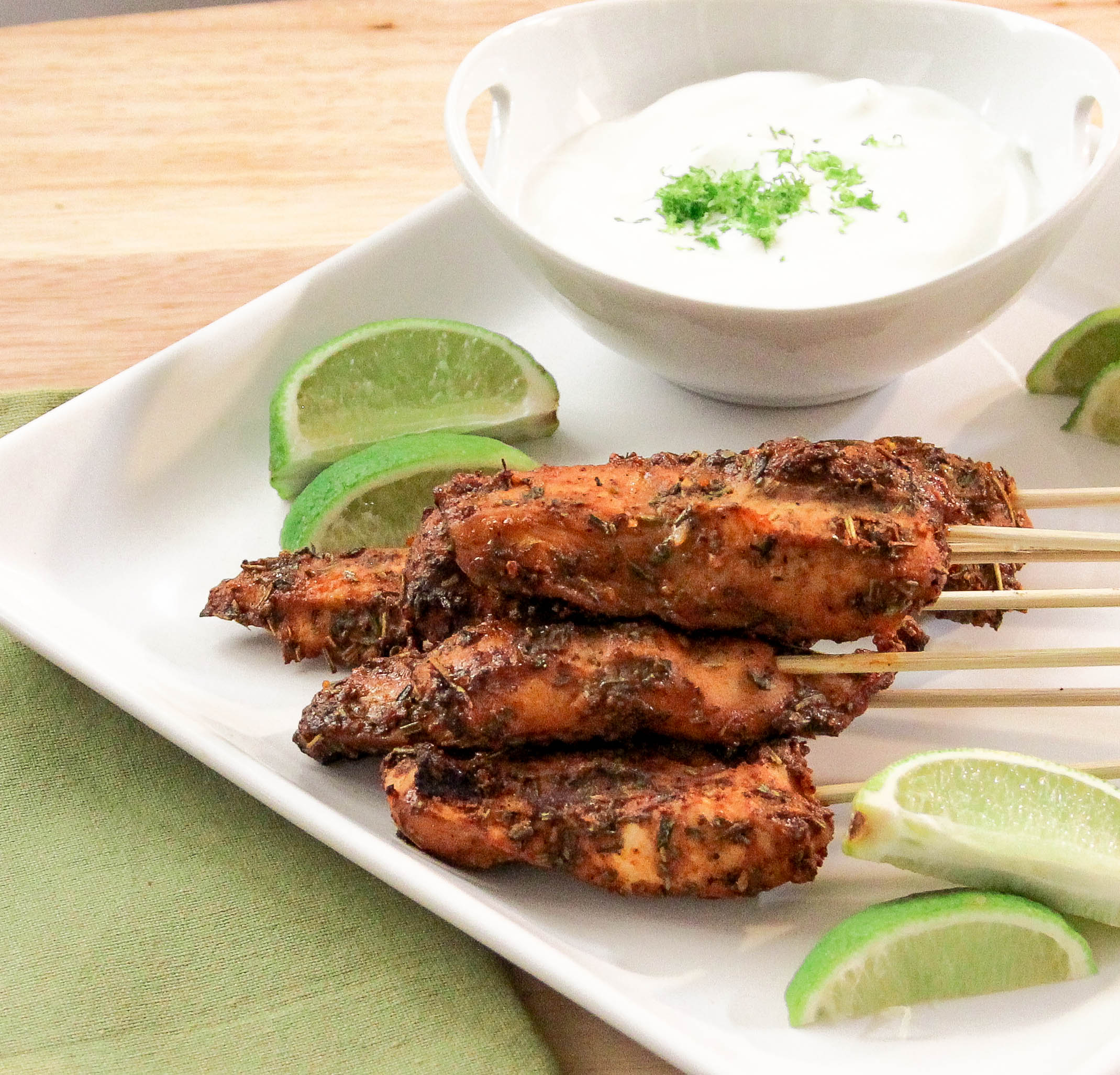 Each of these little skewers are packed with so much amazing flavor that I just can't contain myself when we make them. I think 30 seconds after I took the photos I had eaten the entire plate. I know..so much for self control, right?!?  But if you are a fan of spicy foods or chicken wings then you won't want to pass up these babies. They are like chicken wings on steroids.  It's not that they are super spicy, just full of flavor.
Fire Cracker Chicken Skewers with a Cooling Lime Cream Sauce
Hot Sauce, brown sugar, and an assortment of herbs and spices come together to create match made in heaven. These chicken skewers are a little spicy and a little sweet, but the lime cream sauce will surely cool down any overheated mouths.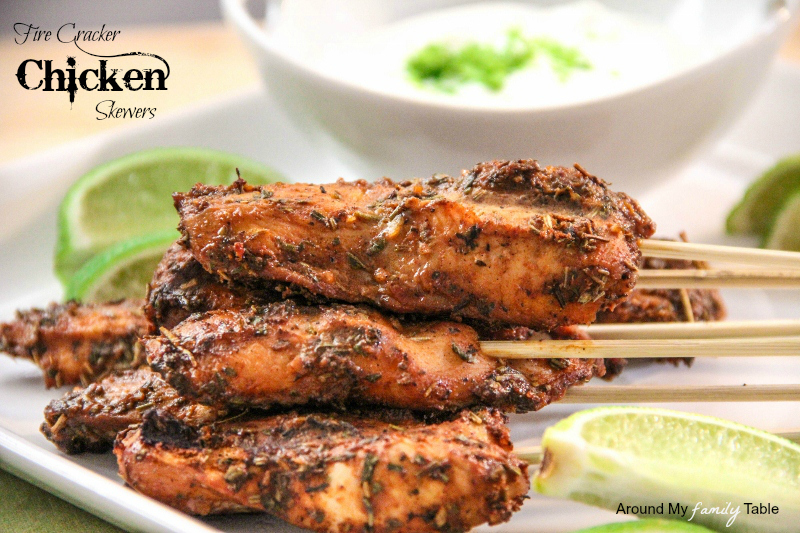 3 lbs chicken strips or boneless skiness chicken breasts cut into strips
bamboo skewers
Marinade:
2 cups Red Hot Sauce
2 cups brown sugar
2 tbls vinegar
1 stick butter (or non-dairy butter stick)
Seasoning:
1/4 cup black pepper
1/4 cup minced garlic
1/2 cup Italian seasoning
1/4 cup chili powder
1/4 cup paprika
1/4 cup dried rosemary
2 tbls red pepper flakes (or to your level of heat)
Cooling Lime Cream:
1 lime, juiced
1 cup sour cream
Combine sauce ingredients in a large mircowave safe dish and heat for one minute or until everything is melted. Stir well to combine. Pour half in a zip top bag with chicken breasts and let sit in fridge while the seasoning is prepared. Store remaining sauce in the refrigerator until ready to use.
Combine seasonings in a large bowl and stir well to combine. Add half of the seasoning mixture to chicken bag and toss to coat. Chicken should be generously coated. Add more seasoning if needed, store reminder in an airtight container for next time (we usually end up using most of ours). Some coating will fall off during cooking, so add more than you think you will need.
Let chicken marinate for at least 30 minutes or up to several hours before cooking.
Preheat grill to medium high heat and soak skewers in water. Thread one piece of chicken on each skewer and place on grill. Cook over medium high heat for about 4 minutes and then flip. Baste with remaining sauce and cook an additional 4 minutes. Flip one last time and baste. Cook for about 30 seconds just to cook the sauce on each side.
Cooling Lime Cream:
Combine lime juice and sour cream in a small dish. Refrigerate until ready to serve.
© Around My Family Table
7.8.1.2
103
https://www.aroundmyfamilytable.com/fire-cracker-chicken-skewers/
Join the Club!
Get delicious recipes delivered straight to your inbox each week! Plus learn how to take back suppertime in your home.

And get started with my NEW Take Back Suppertime 5-Day Jump Start Guide.