This post may contain affiliate links. Please read my disclosure.
Valentine's Day is quickly coming up! These decadent Allergy Friendly Valentine's Desserts are sure to satisfy your sweet tooth.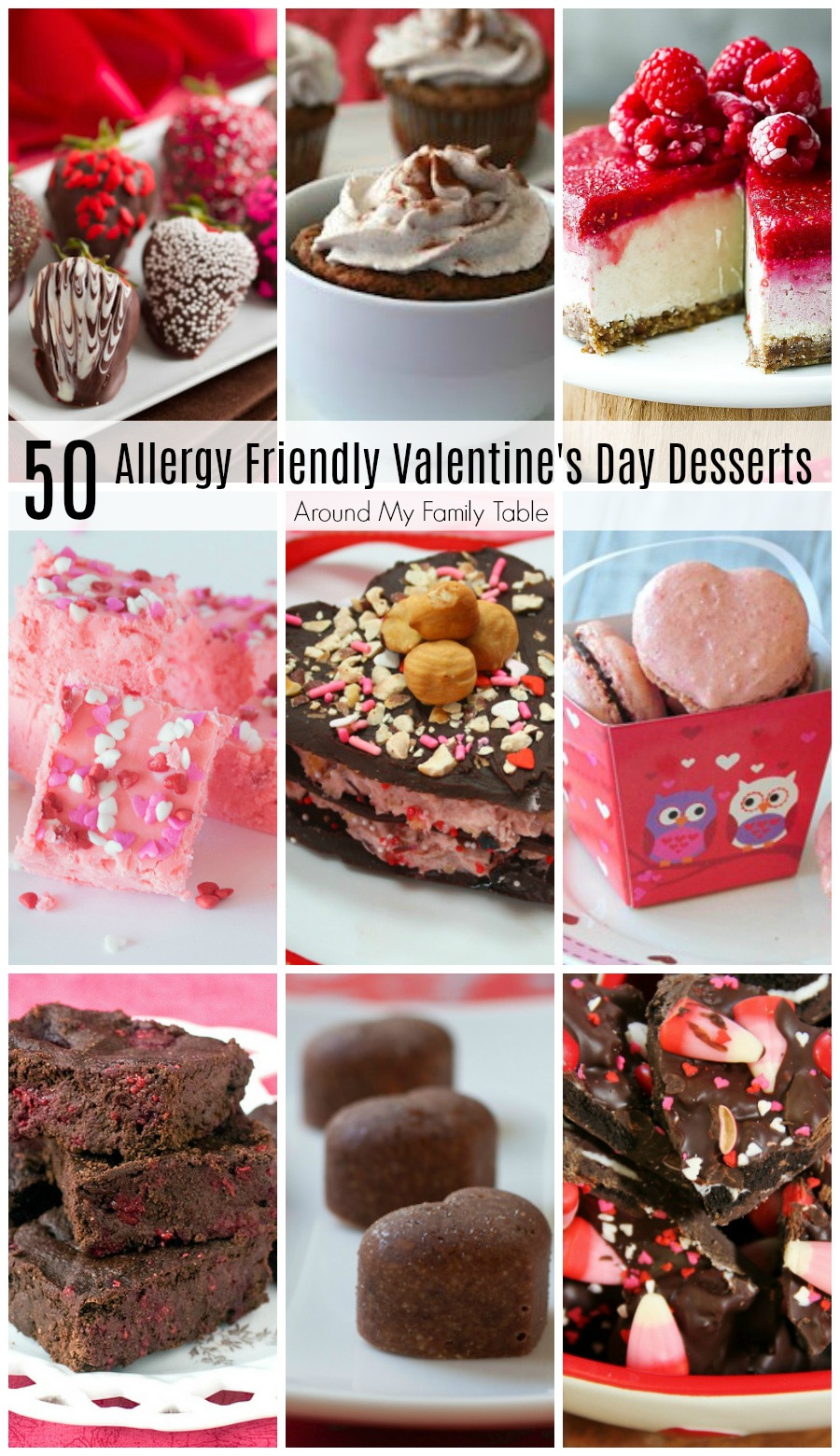 Allergy Friendly Valentine's Desserts
We all love to shower our spouses with romantic desserts or surprise our kids with special treats on Valentine's Day. But sometimes it can be difficult when faced with food allergies and special diets. When I plan a V-Day dessert for my husband, I think of rich chocolate, fresh berries, and creamy textures, but I'm limited by the dairy and the wheat that is common in so many popular recipes. Thankfully, we don't have to go without completely, because there are lots of allergy-friendly dessert recipes available. The best part is that these allergy safe desserts taste absolutely amazing. There is no sacrifice in flavor.
Since this is my first holiday with some pretty impressive food allergies, I've been scouring the web for the best ideas. I figured that if I needed some ideas and was compiling a list for my own family, I might as well share the list for 50 Allergy Friendly Valentine's Desserts with all of y'all. Of course, even if you don't need an allergy friendly recipe, I bet you have a friend or a family member that would be over-the-moon excited if you made them one of these lovely treats.
I've broken down these treats into categories for ease, but please make sure you read through all of the ingredients carefully, substitute what you need to, and have a wonderful Valentine's Day!
Gluten & Dairy Free Valentine Desserts
Valentine's Day Cinnamon Snack Mix
Vegan Dark Chocolate Orange Pudding
No Churn Coconut Chocolate Ice Cream
Dark Chocolate Walnut Pomegranate Chocolate Clusters
Maple Meringue Kisses w/ Raspberry Frosting
Gluten Free Vegan Strawberry Pop Tarts
Dark Chocolate Dipped Strawberries
Chocolate Covered Cherries for Valentine's Day
Peanut Butter Salted Nutella Cookies
Valentine's Day Meringue Heart Shaped Cookies
Easy Vegan Raspberry Cheesecake
Chocolate Chip Cookie Stuffed Brownies
Easy No Bake Paleo Strawberry Cream Pie
Gluten Free Valentine Desserts
White Chocolate Dipped Long Stem Strawberries
Chocolate Coconut Milk Pudding
Strawberry Sweetheart Macaroons
Gluten Free Mocha Hazelnut Cookies
Gluten Free Chocolate Mint Cookies
Dairy Free Valentine Treats
Dairy Free Valentine's Gift Recipes
Chocolate Cashew Vegan Truffles
originally published: 1/21/13, updated: 2/10/16 and 1/28/19