Light and crisp Flourless Chocolate Pecan Cookies are a scrumptious addition to your cookie jar!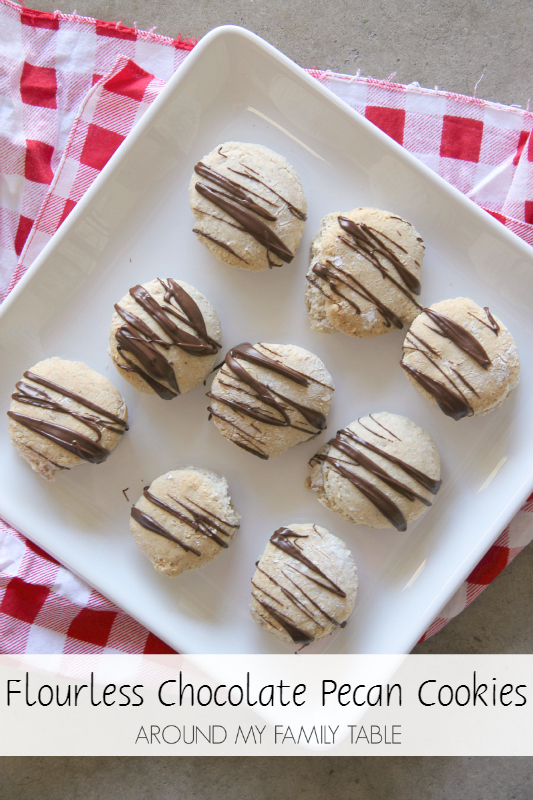 These are my new favorite cookie…they are so easy and quick that you can't mess them up. They are light, crisp, and full of pecans!  Plus there is chocolate…the perfect amount of chocolate.  Since chocolate is one of the key ingredients you have to use a good quality chocolate.
It's worth picking up and using a really good quality brand of chocolate for your baking.  Trust  me…you can taste the difference.  Just make sure there aren't any crazy ingredients so the chocolate flavor really stands out.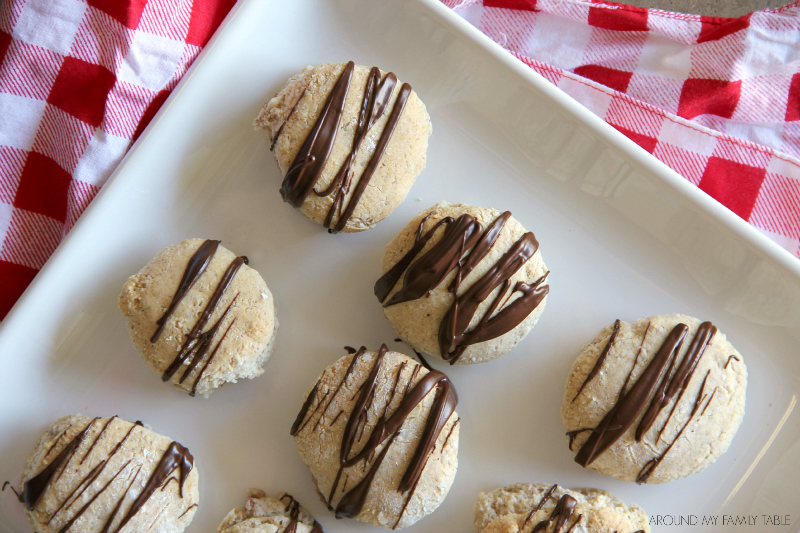 Flourless Chocolate Pecan Cookies
Ingredients
18 oz unsalted pecan pieces
4 cups powdered sugar (plus more for kneading)
2 tsps baking powder
2 tsps vanilla
1 tbls corn syrup
3 egg whites
1-2 cups chocolate chips
1 tbls shortening
Directions
Preheat oven to 350F.
Place the pecan in a food processor and process in short bursts until it's finely ground (just be careful not to turn it into pecan butter by processing too much). Add the remaining ingredients and continuing pulsing until everything comes together.
Dust counter with powdered sugar, turn out cookie dough, and knead for about 2 minutes or until smooth. Additional powdered sugar may be needed if it's too sticky and not coming together. (I almost always work in an additional 1/2 cup of powdered sugar or so.)
Pinch off small pieces (about the size of a whole pecan in the shell) and roll them into balls. Place dough balls onto lined baking pans (or pans that have been sprayed with non-stick cookie spray). Gently flatten each cookie slightly.
Bake for 10-12 minutes. Let cool on baking sheet for a few minutes before transferring to a cooling rack.
While cookies are cooling, melt chocolate in the microwave with shortening in 30 second bursts. Stir between each burst. Keep melting until chocolate is smooth and creamy. Using the back of a spoon, drizzle chocolate over cookies. Let chocolate cool and harden before serving.
Loading nutrition data...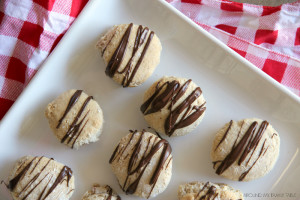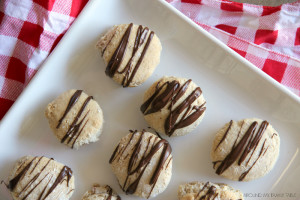 Did you make this recipe?
Leave review!
I've partnered with some of my favorite gluten free bloggers to bring you 18 amazing Gluten Free Cookies that are totally worthy of ANY holiday cookie exchange.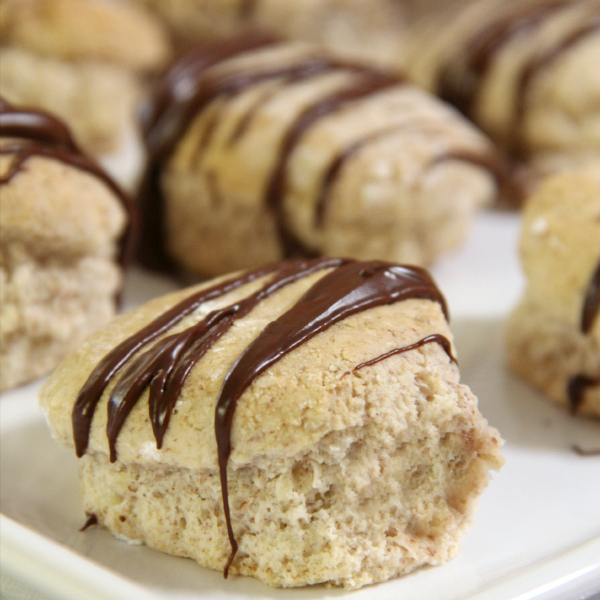 Don't Miss A Recipe!
And get my Free Slow Cooker Resource Guide! It's full of recipes with 5 or fewer ingredients plus plenty of slow cooker tips!

Plus, you'll get access to my free EXCLUSIVE downloads & printables for newsletter subscribers.