This post may contain affiliate links. Please read my disclosure.
Fried Cadbury Eggs….take a Cadbury Egg, wrap in sugar cookie dough, dip in egg batter and fry! Such a fun Easter dessert for the kids!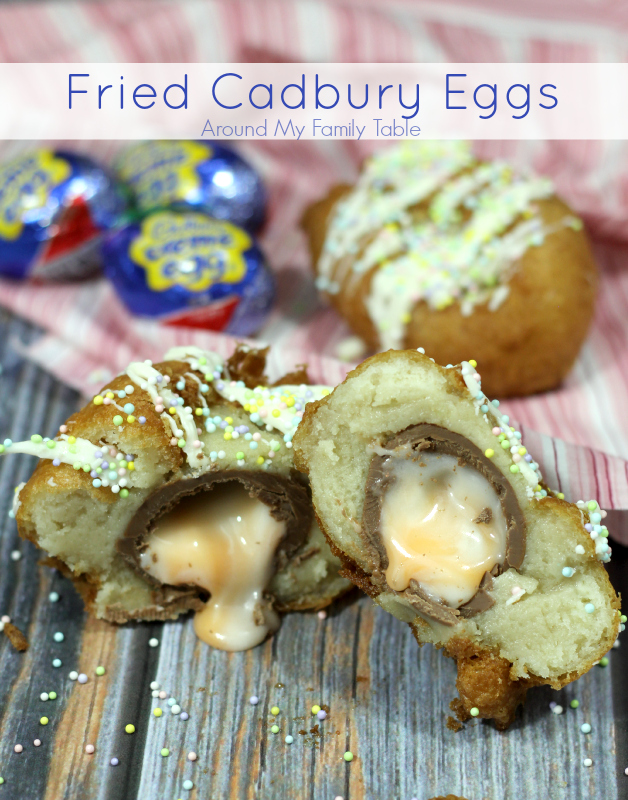 Warning: These are not healthy…nor can I eat any part of it, but I got rave reviews when I came up with it that I took a couple quick photos and decided to share with y'all! I hope you like them as much as everyone that's had one has. The recipe is written using the full size Cadbury Eggs because that's what I had when I came up with this….but honestly, I think it would be better using the mini eggs.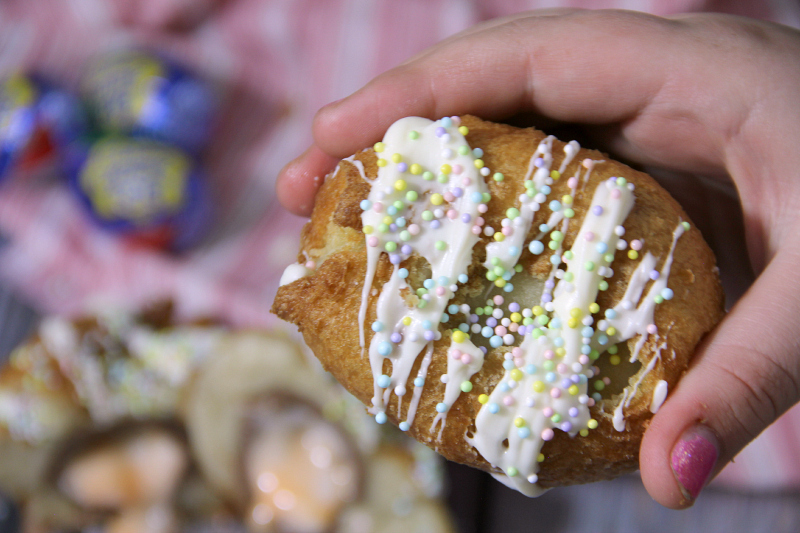 Y'all…I start thinking about Cadbury Eggs before Valentine's Day….I'm so bad. And these are delish! However, come Easter morning I always make my Empty Tomb Rolls with the kids for a special morning breakfast.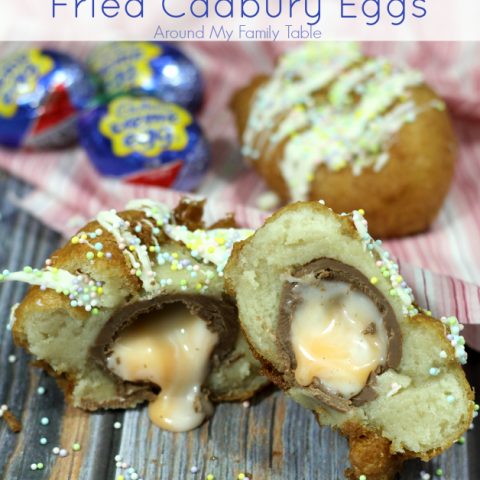 Fried Cadbury Eggs
Deep-fried Cadbury eggs are a decadent and delicious Easter treat!
Ingredients
2-4 quarts oil, for frying
6 full sized Cadbury Eggs
1 package refrigerated sugar cookie dough
1 1/2 cups all-purpose baking mix
1 tsp baking powder
1 cup milk
2 tsp vegetable oil
1/2 bag of white chocolate chips
1 tsp shortening
pastel sprinkles
Instructions
Pour oil into fryer and heat oil with the lid on to about 360° F.
Unwrap Cadbury Eggs and set aside. Remove sugar cookie dough from packaging and wrap some around each egg. Eggs should be completely covered with dough, but not too thick. Place in the fridge while preparing the batter.
Meanwhile, prepare the batter by combining baking mix, baking powder, milk, 2 tsp vegetable oil in a large mixing bowl. Mix well to combine and remove any lumps. Batter will be very thick.
When oil is hot and ready, make sure the fry basket is lowered into the oil as you will be dropping batter into the oil and won't be using the basket to lower the eggs (only to remove them).
Place covered eggs into the batter and gently cover with batter and scoop up and gently drop into the hot oil to fry. Work in small batches to keep the oil temperature high for quick frying.
Fry eggs for about 2 minutes, or until lightly golden brown. Remove from oil carefully, using the basket, and let drain on paper towel.
When cooled, melt white chocolate chips with shortening in 30 second burst, stirring in between each burst. When melted and smooth, drizzle over eggs and sprinkle with pastel sprinkles. Enjoy!