This post may contain affiliate links. Please read my disclosure.
Raise your hand if you could eat a whole pan of rice krispies treats on your own! Hmmm…just me? I can't possibly be the only one? They are so sweet and crunchy and gooey and delicious. They are perfect! Well, they were until I had this brilliant idea to add some fruity pebbles to the mix. Oh yes…I went there and so will you. There are no words to describe how wonderfully delicious these Fruity Pebble Krispies Treats are.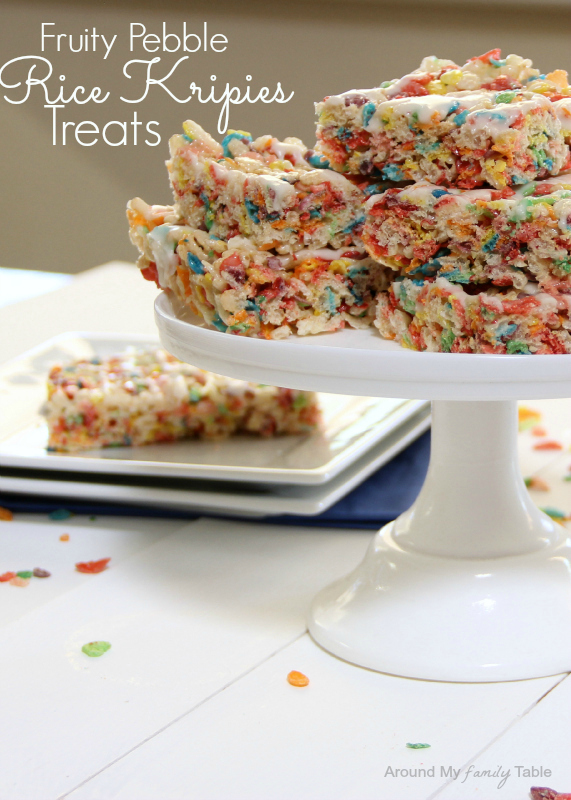 Good news, this treat is easily made gluten free just by buying the gluten free Rice Krispies. The Fruity Pebbles are already gluten free..woohoo! I make it dairy free by substituting my butter and milk (for the glaze). Make it the way you need it.
I did try making this treat with all Fruity Pebbles, but it was just way too sweet. Then I tried half and half and finally decided on this version…I think it was the perfect mix, but then I went crazy and made the tasty glaze just to change it up from a traditional Rice Krispies treat.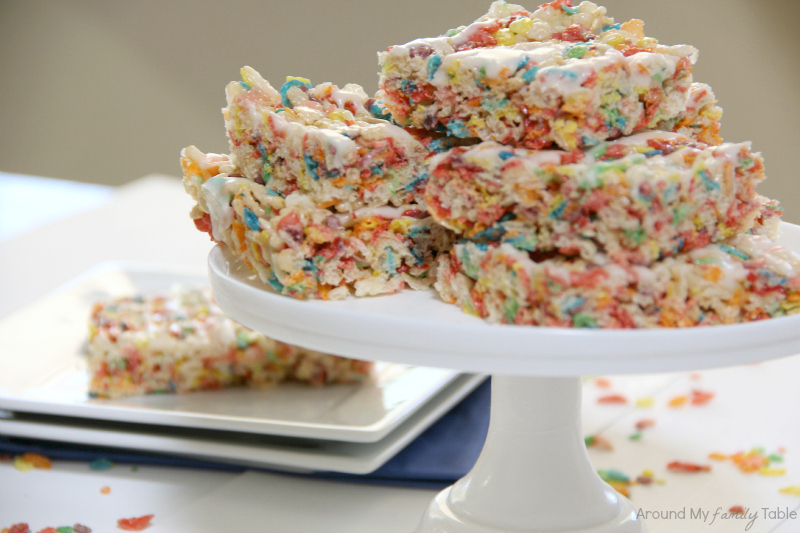 The treats did not last more than a couple hours. Once I let the kids dig in, there was no stopping them. They devoured them….I actually caught them hiding behind the kitchen counter eating them. And they are a hit at every party I take them to. They are a fun and tasty change, but totally just as easy as a regular Rice Krispies treat.
Join me on my quest as I discover the most delicious rice krispies treat recipe on the planet!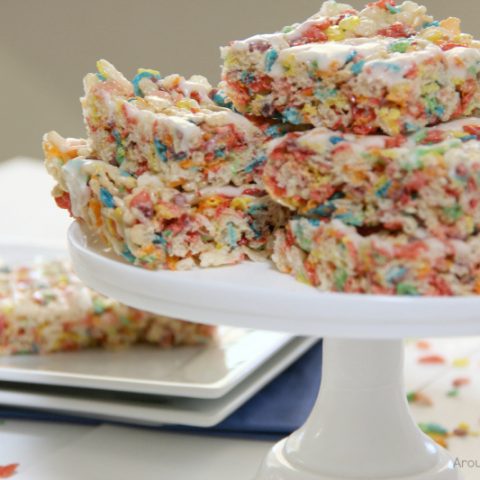 Fruity Pebbles Krispies Treats
Traditional Rice Krispies Treats are taken to the next level when you add Fruity Pebbles to them and top the whole thing with a sweet glaze! These sweet treats are gluten-free and so delicious!
Ingredients
4 tbls butter (or soy baking sticks, like Earth Balance)
10 ounces marshmallows
4 cups Rice Krispies (or GF Rice Krispies)
2 cups Fruity Pebbles
2 cups confectioner's sugar
2 tbsp vanilla extract
milk of choice (amount varies)
Instructions
Heat butter in a sauce pan over medium heat until melted. Add the marshmallows and stir until completely melted. Remove from heat and stir in Rice Krispies & Fruity Pebbles.
Make sure your hands are clean and greased well to avoid sticking. Gently press your treats into a rimmed baking sheet. Allow to cool completely before adding glaze.
Combine sugar and vanilla in a small bowl. Slowly add in milk until glaze reaches the desired consistency (probably 2-4 tbls). The glaze should be able to drizzle off a spoon onto the treats. Not too thick or it will be clumpy (add more milk)….too thin and it will run off the treats (add a little more sugar).
©Around My Family Table
Nutrition Information:
Yield:

24
Serving Size:

1
Amount Per Serving:
Calories:

246
Total Fat:

16g
Saturated Fat:

10g
Trans Fat:

1g
Unsaturated Fat:

5g
Cholesterol:

41mg
Sodium:

176mg
Carbohydrates:

26g
Fiber:

0g
Sugar:

17g
Protein:

1g
Fine, I'll admit it….it was me that couldn't keep my hands off the treats. The kids caught me hiding in the kitchen with the pan and I wasn't sharing. I'm the mom…it's my prerogative to do it. I totally ruined my supper that night and it was totally worth it! Although, I did make sure to save a couple for the rest of the family.