This post may contain affiliate links. Please read my disclosure.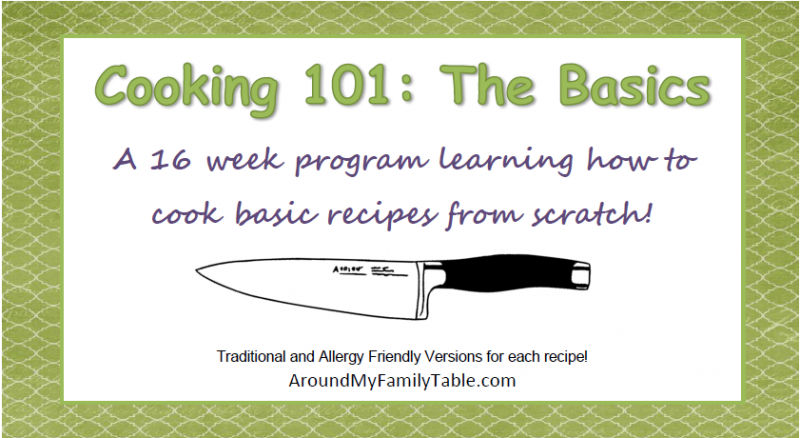 How To Sign Up:
If you'd like to join the cooking classes challenge, sign up by joining the Cooking 101: The Basics group on Facebook. Over there you can ask questions, post tips and recipe photos, and help each other along the way.
Please Grab a Button:
If you are following along, the please grab a class button. Put it on your sidebar and/or in your recipe posts you link up (just link it to my home page). I'd love for you to share the classes with your family, friends, on Facebook, and on Twitter!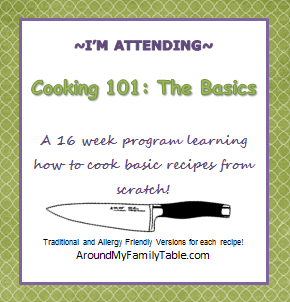 How the Classes and Challenge Work:
Cooking 101: The Basics is a 16 week class on Wednesdays. I will post a new recipe with tips on getting great results along with pictures. It's like your own personal online cooking school! Take as long as you need, but once you make the recipe (or a similar version) come back and add your link to the post to share with everyone. No blog…no worries…add your pictures to the Facebook group, we'd all love to see them!
Got questions? Email, leave a comment, but the best place will be the facebook group!
Grab your aprons and let's get cooking!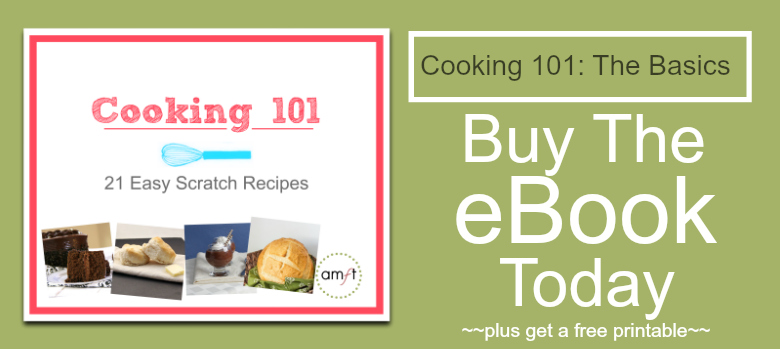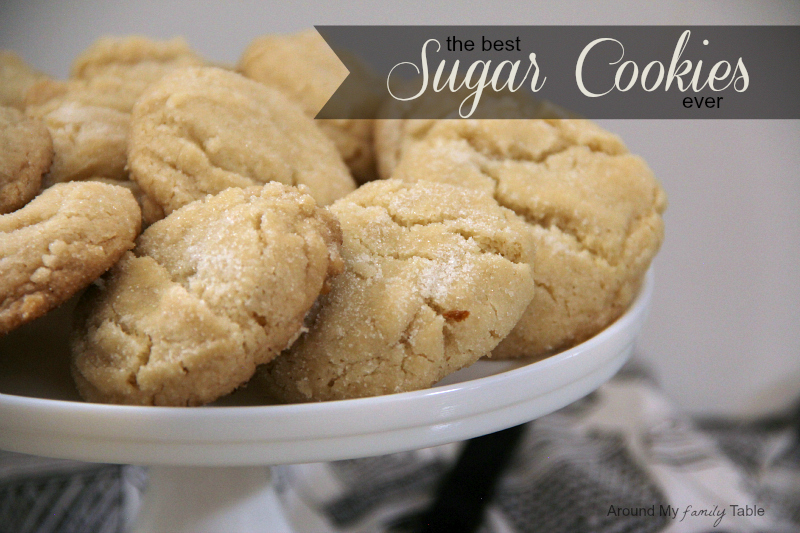 WEEK #10 – SUGAR COOKIES
Mmmmm…sugar cookies! Cookies seem super easy, but they tend to get the best of many of us. Too crunchy, too underdone, too over done, I could go on and on, but I think you get the point. After years of baking cookies, I learned several things:
1. Always spray the pan, no matter what the instructions say (or use parchment paper).
2. Take cookies out of oven just as the sides are beginning to set up for a moist,chewy cookie as they will finish setting up as they cool.
3. Use the best vanilla you can get your hands on. You will be able to taste the difference, promise.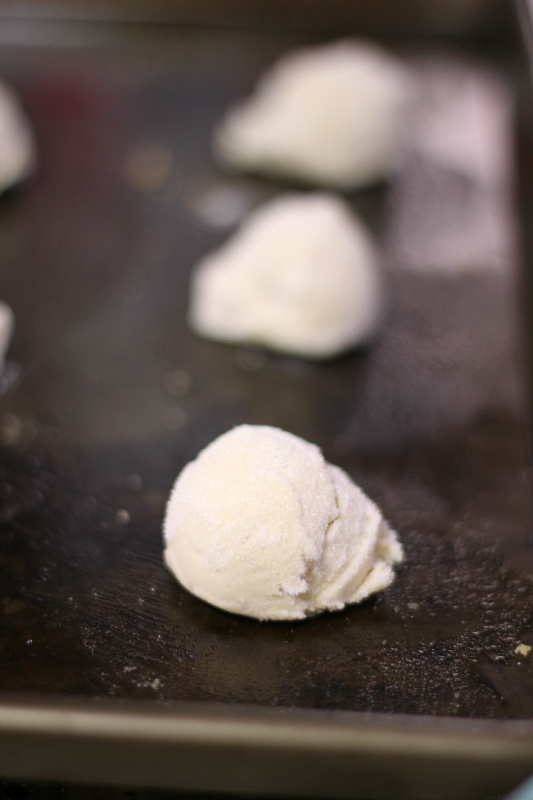 As I was attempting to change my normal recipe to fit my new dietary needs, I ate a lot of cookies…probably a few to many. What was cool though, was that my normal recipe worked…with equal substitutions of my alternate ingredients. WOOHOO! That rarely happens for me. Plus even with the changes, you won't notice the difference…no one in my family did. They assumed they were the ones that I had stored in the freezer, not a freshly made batch for me.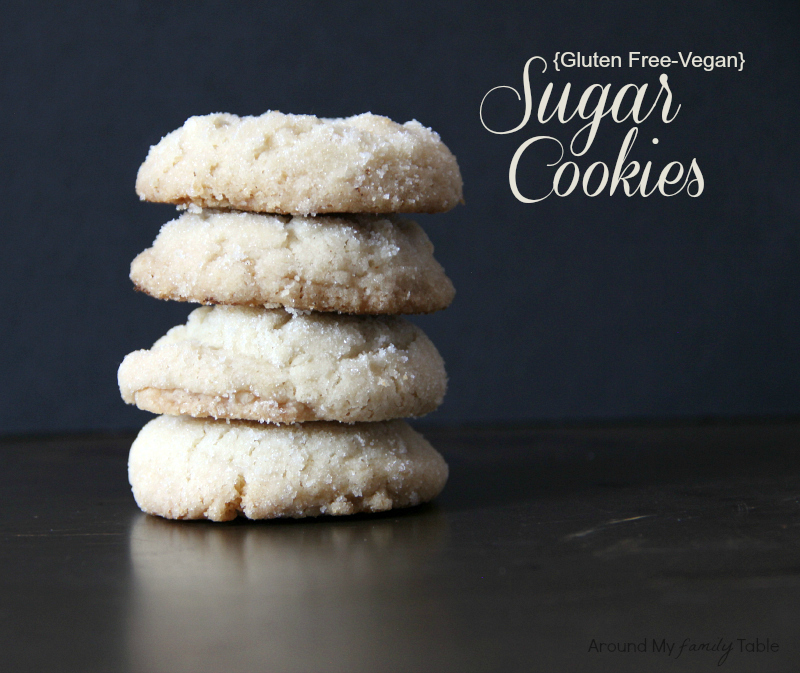 I usually make these cookies by doubling this recipe, scooping up balls of dough, freezing them, and then storing them in a ziptop baggie. Then I can pull out how ever many cookies I want to make for a quick treat without messing up the kitchen. Love it. (Note: I have not tried freezing the gf, vegan version yet.)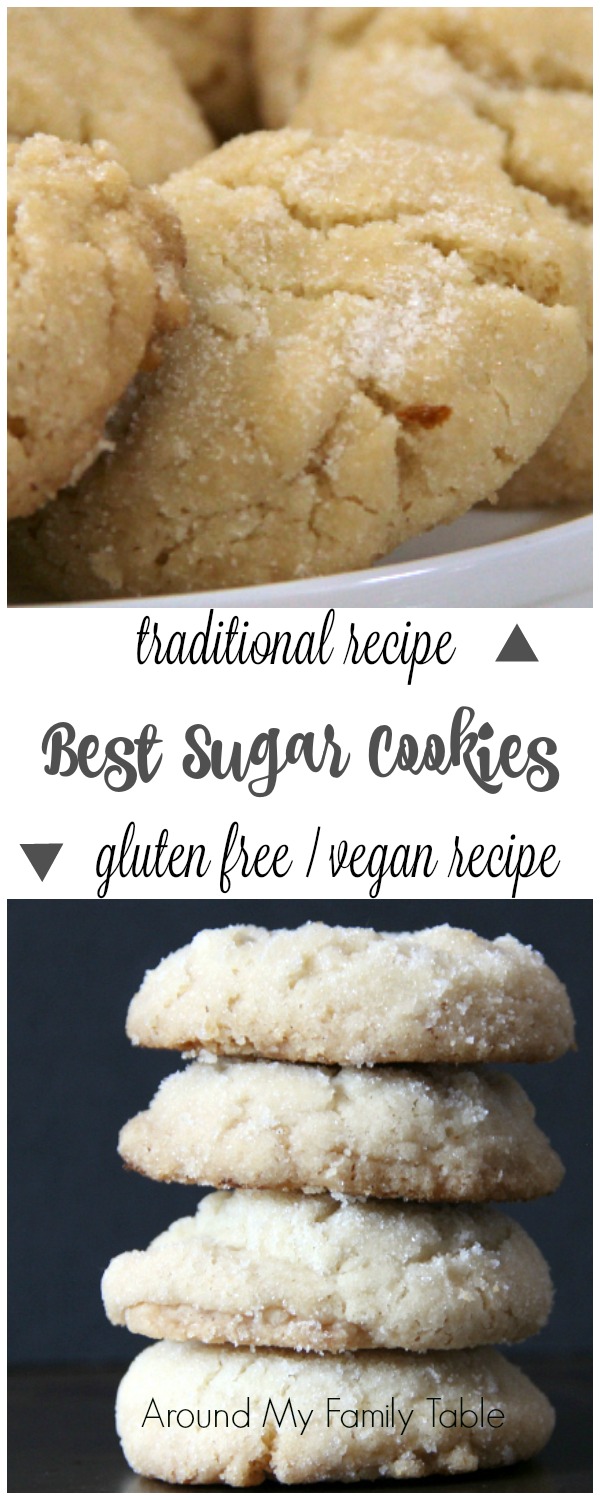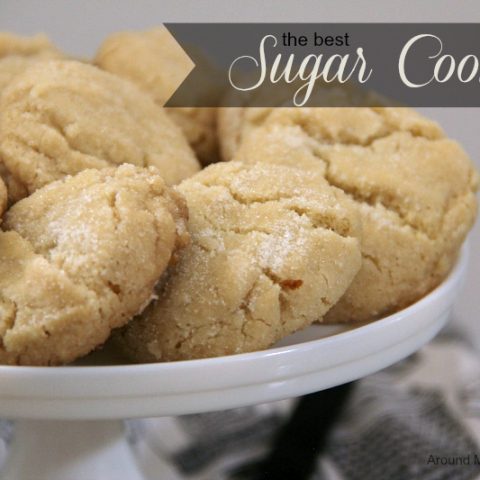 Homemade Sugar Cookies
Homemade sugar cookies are a classic holiday cookie. They're easy to make, freeze well, and are perfect for an anytime treat. This recipe is gluten free and dairy-free.
Ingredients
1/2 cup butter (or vegan baking sticks, I like Earth Balance), softened
1 cup sugar
1 egg (or egg replacer equivalent)
1/2 cup oil
3 cups white flour (or gluten free flour that substitutes cup-for-cup, such as mine or King Arthur
1 tsp baking soda
1 tsp cream of tartar
1 tsp pure vanilla
extra sugar for dipping
Instructions
Preheat oven to 350F.
Mix all ingredients together in a mixer on medium speed until well combined. Scoop into 1 inch balls.
Roll balls in extra sugar and place on a greased baking sheet.
Bake 10-15 minutes or until edges start to turn a golden brown.
Remove pan from oven and wait 2 minutes, then transfer cookies to wire rack to cool completely.
©Around My Family Table
Notes
Make a large batch and freeze individual cookie balls for a quick cookie treat.
Gluten Free/Vegan: I make these with the complete substitutions for gf, vegan and they work great. Substitute what you need and this cookie should work perfectly!
Nutrition Information:
Yield:

24
Serving Size:

1
Amount Per Serving:
Calories:

191
Total Fat:

9g
Saturated Fat:

3g
Trans Fat:

0g
Unsaturated Fat:

6g
Cholesterol:

26mg
Sodium:

89mg
Carbohydrates:

25g
Fiber:

1g
Sugar:

9g
Protein:

3g
{Last week: Mashed Potatoes Next Week: Hollandaise Sauce}