This post may contain affiliate links. Please read my disclosure.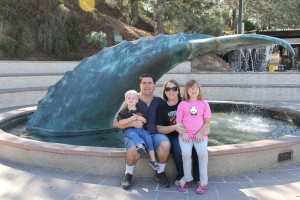 We had so much fun in San Diego. This is my last post about our trip and I wanted to share some of the fun things we did. We are such nerds in our family and always visit tons of museums. This trip was no different. We spend an entire afternoon in Balboa Park visiting a couple of the museums. We decided on the Air & Space Museum, Automotive Museum, and the Model Railroad Museum. You could spend an entire day at Balboa Park and not see everything…even if you skipped the zoo there is still so many wonderful places to visit.
This afternoon was all about my son! He was in heaven with all the plans, trains, and automobiles! The Air & Space Museum was full of hands on activities just perfect to keep the kids attention. Ummm…it even held my attention. I'm not going to tell you that Maverick's flight helmet was there. Come on, you know who Maverick is, don't you?!?! Top Gun! There was even a nice little cafe outside to grab a bite to eat.
The Automotive Museum did not float my boat; however, my son was over the moon. Even more than he was for the Air & Space Museum. He ran around the whole time saying, "Look at dat one!" "Look at dat one!" It was a small one room museum, but worth it for the car lover in your family. I guess it was cool to see the DeLorean from Back to the Future.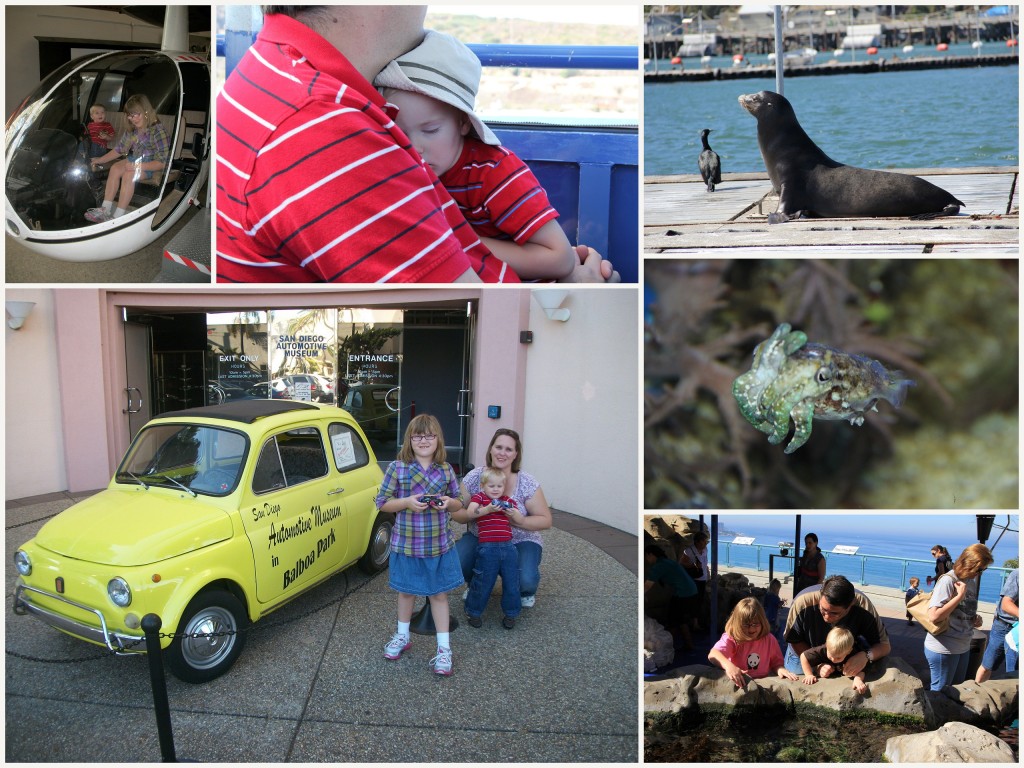 The Model Railroad Museum was really cool. It kept everyone entertained. Again, it was small, but you could easily spend hours in there looking at all the details and still not notice everything. At 28,000 square feet, it is the world's largest operating model railroad museum.
Earlier that day, we took the Seal Tour out of Seaport Village. This was so much fun! It was probably one of the neatest tours we did. The tour starts off on land, then the bus becomes the boat as it drives straight into the ocean, and then back to bus as it finishes the tour. The crew shares stories and history of San Diego as we traveled through the city. The highlight of the tour is stopping at the lounge area for hundreds of sea lions. It is amazing….they just sit there and watched us float by. I got a little video that I want to share (cross your fingers…I hope it works).
I took that video with the
Coby SNAPP
swivel camcorder. It is amazingly small and light weight. It was so easy to travel with and carry around…I didn't have to carry some big bulky video camera with us. In fact, it fit right in my pocket. It is a decent little camcorder that is perfect for beginners. I think it would be perfect for teenagers too! I'm thinking Christmas gifts. I wouldn't say it's the best camcorder, but it does the job nicely. The
Coby SNAPP
is 3MP and sells for around $35-$40 on Amazon. Nice! I think the only thing I didn't like about it was how sensitive the microphone is. Whenever I used the zoom it would pick up the noise on the mic, but other than that I really liked and my kids did too!
On our last day, we stopped by the Birch Aquarium. It is hands down my favorite place to visit in San Diego. The view is beautiful. There are hands on activities, a little cafe, and some of the most amazing sea creatures. It is just a short drive to La Jolla from San Diego and totally worth it. In fact, I didn't realize how close our hotel in La Jolla was to the aquarium until we got there. We could see our hotel from the look out.
Follow San Diego on Facebook and Twitter for great travel ideas and things to do while you're in town!
*I was not financially compensated for this post. I received a sample of the product for review purposes. The opinions are completely my own based on my experience.*